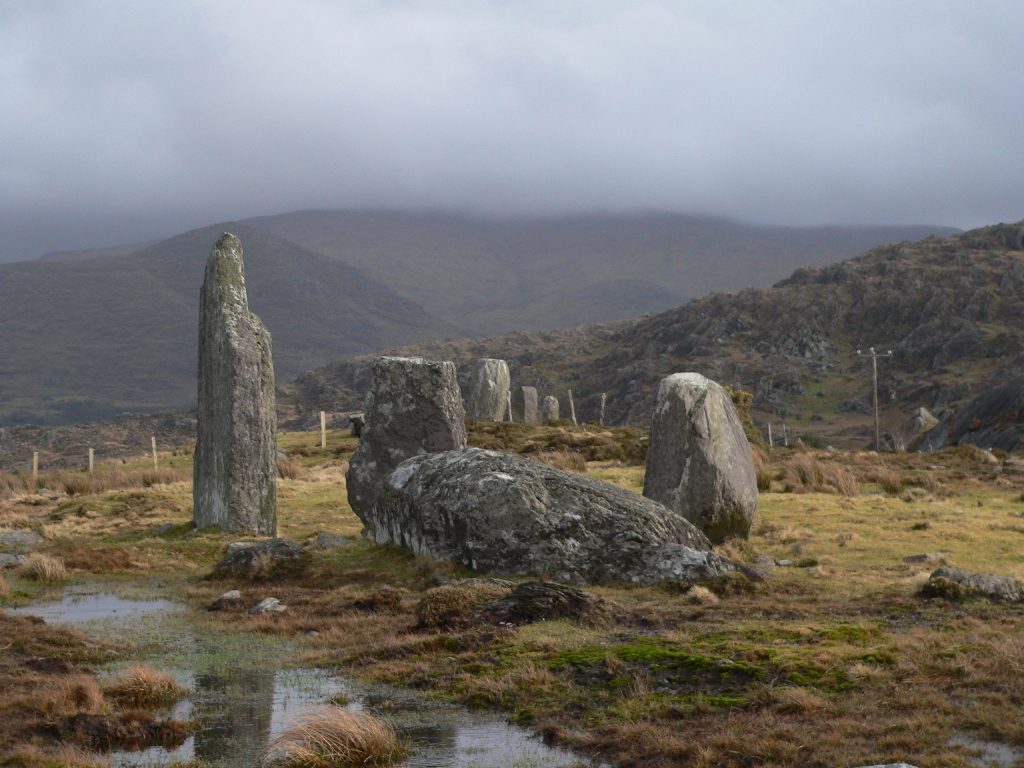 Ireland's PLACES OF RESURRECTION in 2015


May 15-24, 2015


Tour Ireland's Southwestern Region
9 days – 34 sites – 18 group excursions including  3 islands
$2249 + air
Just Added->Optional Fishing Trip added on Lough Derg Day 4
In this Thin Places tour of Ireland you will walk deep into the southwestern landscape, through some of the most mystical and ancient sites in western Europe. Rather than rush around traveling from one place to the next covering long distances, you will take your time immersed in ancient energies, the Irish mysticism, culture and heritage.  Though we'll only travel through 5 counties, you'll see all the elements of the Irish landscape – the Atlantic coast, the highest mountains, bogs, lush valleys, enchanted lakes, three islands and many vibrant towns and villages. You'll travel with a small group of people who will become your friends. Our tour groups are small – 15 to 25 people – so as to be flexible and intimate.
The Focus is thin places
The focus of all our tours is "thin places" or places where the veil between this world and the eternal world is thin… where both worlds are woven together.  And as on all of our Ireland tours you'll see the unspoiled hidden places few visitors ever see on other commercial tours. You'll be traveling within the context of a story while peeping into the ancient past of mystical hills, stone circles, passage tombs, holy wells, monastic ruins, castle ruins and archeological wonders.
Places of Resurrection is this tour's theme.  Places of resurrection are places where your spirit feels totally at home. If you are lucky enough to discover your own place of resurrection, your soul will become part of that place and that place will become part of you. The essence of that place will be embedded in your spirit while you live and you will carry it with you, and after you die your spirit will live on in that place of resurrection.
Ireland is full of places of resurrection. And the spirits who claimed them are still there  woven into the sense of that place. We'll be visiting many places of resurrection and retelling the stories of the people who shaped them. Here's a video of your tour operator, Mindie Burgoyne talking about places of resurrection and showing many of the sites we'll be visiting on the May 2015 tour.
Ireland's Amazing Southwestern Landscape
As you traverse Counties Clare, Galway, Limerick, Kerry and Cork, you'll see some of Ireland's most amazing landscape wonders – the Burren with its flat rock, moonscape terrain and MacGillycuddy's Reeks – the highest mountain peaks in Ireland. You'll visit Inis Oirr, the smallest of the Aran Islands, as well as Holy Island, a retreat founded by St. Kevin in the middle of Lough Derg. It still houses the remains of six churches and a round tower. You'll visit the largest stone circle in Ireland and the mystical lake beside it where gold offerings left by Bronze-age residents were found when part of the lake was drained. You'll visit the Beara Peninsula, which is seldom visited by large tour groups because of its unspoiled remoteness and narrow roads. It is filled with mythological sites and megaliths with stunning Atlantic views.
You'll visit Dursey Island at the edge of the Beara, which is only accessed by cable car. Then you'll spend two days in Dingle – the western most part of Ireland with its wild, windy landscapes chocked full of megalithic treasures and a seaside culture. And you'll have an opportunity to hike part of Mount Brandon, the holy mountain where St. Brendan prayed and launched his fleet headed for the Promised Land. You'll see stone circles, monastic ruins, holy mountains, holy wells, standing stones, oratories, wedge tombs, dolmens, round towers, castle ruins and mythological sites like the Hag of Beara and the landing site of the Children of Lir.  And you'll enjoy four specialty tours with private guides who are experts in archeology, history and culture.  You'll learn to use dowsing rods and a bit about identifying earth energies. Evenings you'll have time to yourself to relax or explore the vibrant towns of Ennis, Dingle, Killarney and Limerick.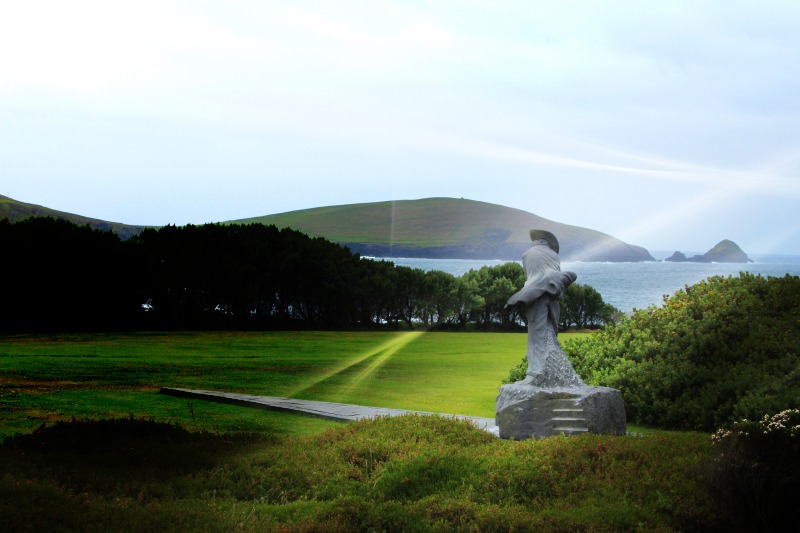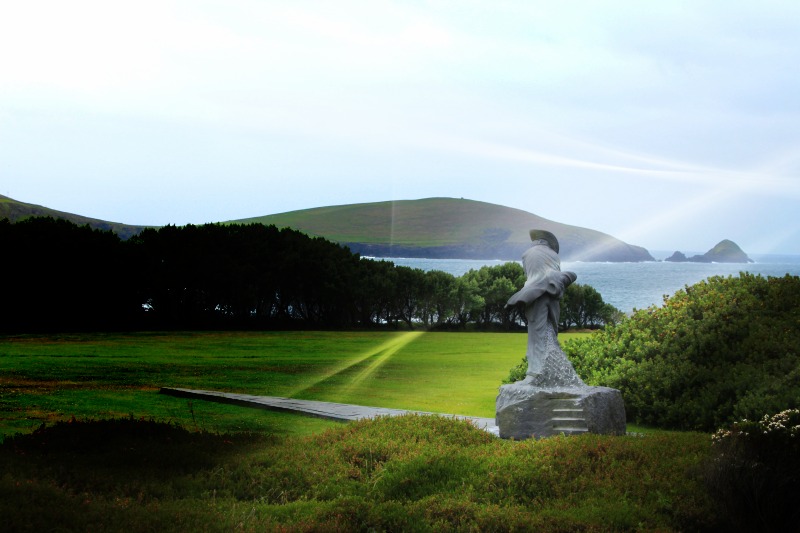 Artists, Spiritualists, Energy Workers and Healers.
While these tours are not religious, they are ideal for those who have a focus on earth energies, Reiki, the healing arts, Shamanic journeying and artists.  Nothing sets the mind free like being in a thin place.  These thin places are a balance between ancient megaliths, castle ruins, monastic sites, mountains, valleys and the rugged southern coast shoreline.
We'll have fun, too. The tour, however, isn't all just thin places and mystical sites.  There will also be plenty of time for fun with overnight stays in the vibrant city centres. You'll be able to relax, take in the music, food, culture and experience the "craic" Irish people are so famous for.
 What's Included?
Small tour group with private coach – 15 to 25 guests.
This is half the size of most tour groups. It keeps us flexible, comfortable and feeling more like friends and less like cattle.
More than one night stay in hotels.
Except for the first and last nights, you won't have the stress of packing and toting all your gear to get to the next place.  We spend 2 nights in Ennis, 3 in Killarney and 2 in Dingle.
Flexible schedule – we don't rush.
We don't rush. We leave after 9 am in the morning and we're back by 5 or 6 pm every day. The evening are yours to spend as you wish, and on days when we're overnighting at the same hotel, you can bow out of that day's activities if you wish, and do what you want in whatever vibrant town we happen to be in.
Airport Transfers
Transportation to and from Shannon Airport to the hotel on the first and last days.  Transportation costs to and from hotels for guests arriving days ahead or staying days after must be incurred by the guest
9 nights – Stay in 3 and 4 star hotels in major city centres.
George Hotel – Limerick  – 4 star (1 night)
Old Ground Hotel – Ennis – 4 star (2 nights)
The Fairview Hotel – Killarney – 4 star (3 nights)
Dingle Benners Hotel – Dingle – 3 star (2 nights)
Treacy's West County Hotel – Ennis – 3 star (1 night)
Full time tour guide and full time coach driver
Your guide and coach driver will be accompanying on all 9 days of your tour.
3 dinners, 9 breakfasts
Welcome dinner on day one at the hotel.
Mid Tour dinner at hotel in Killarney.
Farewell dinner will be a Medieval Banquet at Bunratty Castle
Expert Private Guides for 4 excursions.
Four separate tour excursions will be conductive by local Irish experts in archaeology, history and culture – Walking tour of Ennis, Heart of the Burren Walks with Tony Kirby, Dingle Archaeological Tour with Dennis Ryan and Holy Island tour with Ger Madden.
Admissions, transportation & costs related to 18 group excursions
No need to suffer the stress of driving on remote roadways and finding your way to these many sites.  Your transportation admissions are covered on these group events:

Limerick City highlights
Tour of Ennis Friary
Walking tour of Ennis – a Medieval town (private guide)
A drive through the Burren (4 sights)
Heart of the Burren Walking Tour (private guide)
Aran Island visit to Inis Oirr (4 sites) includes Ferry
Tour of Holy Island on Lough Derg, includes boat ride to the island (private guide)
(optional) Fishing tour, with guide on Lough Derg
Tour of Ballyvourney (St. Gobnait's bed, church and holy well)
Tour of Gouganne Barra (St. Finbar's oratory & holy well)
A day on the Beara Peninsula (6 sites)
Visit to Dursey Island (cable car ride included)
Slea Head scenic drive
Blasket Heritage Center
A walk to Mount Brandon
Dingle archaeological tour that includes Gallarus Oratory, beehive huts & Dunbeg Fort. (private guide)
Tour of Lough Gur
Visit to Grange Stone Circle, wedge tomb, standing stone
Medieval banqueet at Bunratty Castle.

Alumni Discount
Guests who have been on a previous Thin Places Tours receive a $50 discount for every Thin Places tour they've been on prior to 2015. Many of our guests are repeats.
Free stuff
Themed tote bag with dowsing rods and other goodies.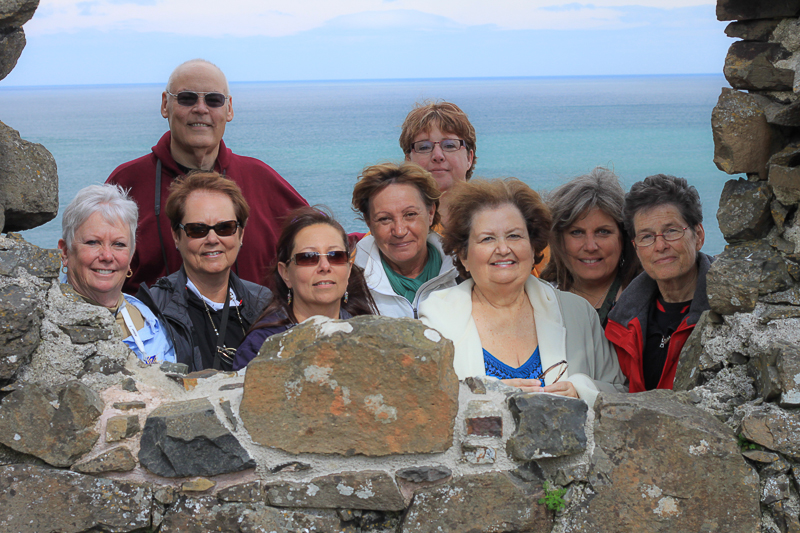 Not Like Other Group Tours
Group Tours – Not a fan?  – Many people resist group touring because they don't want to be crowded into a bus with a bunch of people they don't know, dumped off at random sites with limited time, spending endless hours on the road getting from one site to the next. While large group tours are much more affordable, they offer little flexibility and limited sightseeing.
Self Driving can be stressful – While hiring a car and doing the self-drive tour gives you flexibility, it's more expensive than it's ever been for car and fuel in Ireland.  And stressful with Ireland's narrow, windy roads and driving on the opposite side of the car and roadway. Finding "thin places" is also stressful and difficult because they are often in remote spots. Much time and fuel can be wasted getting lost.
We offer intimate travel with flexibility.  Our tours are small (15-25) and we take our time.  We visit sites most people never get to see on group tours.  You'll still have flexibility in the evening to relax, scout out pubs, shop and visit with the Irish people.  All evenings are free.  Staying back for a day or two to do your own thing is also an option.  You will still get the individual attention you need and you'll make lifelong friends.  Our tours are more like retreats than mass-group tours.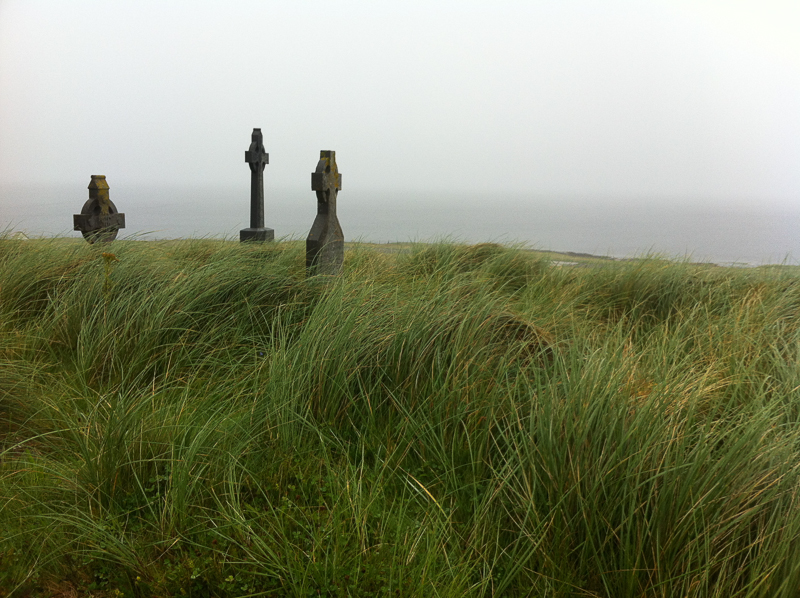 Places of Resurrection TOUR DETAILS

NOTE: Itinerary is subject to change based on availability
Mindie Burgoyne will be with the tour from start to finish as will our Irish coach driver. Mindie is an expert on mystical and sacred sites in Ireland, having researched thin places for over 20 years and traveled thousands of miles across Ireland
Four Expert Irish Site Specific Guides will be present at several of the locations including Holy Island, Ennis, the Burren and Dingle.
COST – $2249 + air
Cost is $2249 is based on double occupancy, and is for the land only. We will happily pair you with another single traveler. For single travelers wishing not to be paired, there is a Single Supplement of $650 (limited spaces for singles). The tour cost includes lodging in 3/4 star hotels, breakfasts, welcome and farewell dinner, three island excursions, one mid-tour dinner, transportation, and admission costs. Scroll through the posts on this blog site to see more about the sites on the tour.
Airfare is not included.  We can assist with questions regarding best options for airfare and booking if necessary.
Single room supplement is $650.
Travel Insurance is recommended
Registration form and deposit of $500 per person must be submitted to hold the spot.
Tour is limited to 25 guests.
Deposit is due on registration and tour balance is due by March 23, 2015
Tour deposits and registrations refundable 60 days prior to the tour departure.
No refunds will be given within after March 23, 2015.
We must have a minimum of 15 guests for the tour to commence.
DISCOUNT FOR ALUMS
Guests who have been on a previous Thin Places Tours receive a $50 discount for every Thin Places tour they've been on prior to 2015. Many of our guests are repeats.
ITINERARY DETAILS – Check the itinerary to see expanded tour details. Space is limited to 25 so reserve your spot soon.
MAKE YOUR RESERVATION TODAY.

RESERVATIONS:  To book your reservation download the registration form, fill it out and send it in with your deposit check.
BROCHURE: Download Places of Resurrection brochure

Still have questions? Email Mindie at mindie@thinplacestour.com