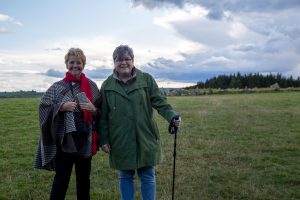 Tour Operators on the Eastern Shore of Maryland
Thin Places Mystical Tours is a division of Travel Hag™ Tours, LLC, an independent tour operator that creates and markets custom tours to mystical sites mostly in Ireland, Scotland and other parts of Celtic Europe.
Owner and Tour Operator – Mindie Burgoyne
Mindie Burgoyne began doing tours to Ireland's thin places back in 1991.  Since then she's developed the kind of tour she always wanted to experience — one that explores hidden landscapes, sacred sites that the big tour buses often pass by, and moves at a slow pace – not "ticking off" site after site.
She created and founded, Thin Places Mystical Tours in 2010 doing her first group tour in 2011. Her tours allow guests to spend more time at the sites than in the car or bus, and eliminate the stress of driving oneself and trying to find these out-of-the-way locations.
Relaxing and Flexible Spiritual Tours
The Thin Places tours provide relaxing transportation to well-known and hidden mystical sites that are all located in a specific region so the time on a bus is minimized.  Guests stay in city centers in 3 and 4-star hotels, all with private baths, with an effort to stay two or three nights at a time venturing out from 3 or 4 locations per tour so the transferring of luggage – packing and repacking – is kept to a minimum.  Almost all evenings are free, so guests have time on their own to roam about, visiting pubs, talking with the Irish or taking a solitary evening walk in a nearby mystical site.
Tour focus is Thin Places
Since our focus is "thin places" or sites where the veil between this world and the eternal world is thin – we don't explore the more secular places – pubs, distilleries, shopping complexes, festivals. However, the tours are usually anchored in the evening in vibrant towns so guests can explore the more secular places at their leisure in the off-time. On tours of 9 days or more, there is always one free day to explore a vibrant town such as Dublin, Kilkenny, Dingle, Derry, Donegal, Edinburgh and Kinsale.
If you want to touch ancient stones that have been standing in a mystical alignment for 3000+ years, or visit a passage tomb that predates the pyramids, or walk the same steps as 5th century monks and saints, or learn the stories of Celtic heroes, villains and saints, or climb a holy mountain, or tie a rag onto a fairy tree, toss a crystal into a holy well or feel the earth energy that vibrates from a holy site, learn to use dowsing rods, or stand beneath a dolman …. our tours will be a good fit for you.
Connecting with the Irish People
Lastly, we believe that the best thing you'll ever do in Ireland is talking to the Irish people and experience the culture through them.  So many of these big tour groups have the guests pop out of the motor coaches, snap some pictures, grab some pub food and pile back in the bus.  There's never time to really visit or get to know the locals.  We hire local guides and provide activities on the tour that connect our guests with Irish people. Meaningful conversations are had and in some cases, the connections our guests make last long after they have returned home.
We hope you'll consider joining us on a Thin Places Mystical Tour of Ireland.
ADDITIONAL INFORMATION:
Recommended Reading before traveling to Ireland