Spiritual Tour of Northern Ireland
October 6-15, 2023
Northern Edges -Ireland
Registration is Closed. 
Tracing the Northern Edge of Ireland's mystical landscape
DOWNLOAD REGISTRATIONS FORM – Call for more information 443.735.2433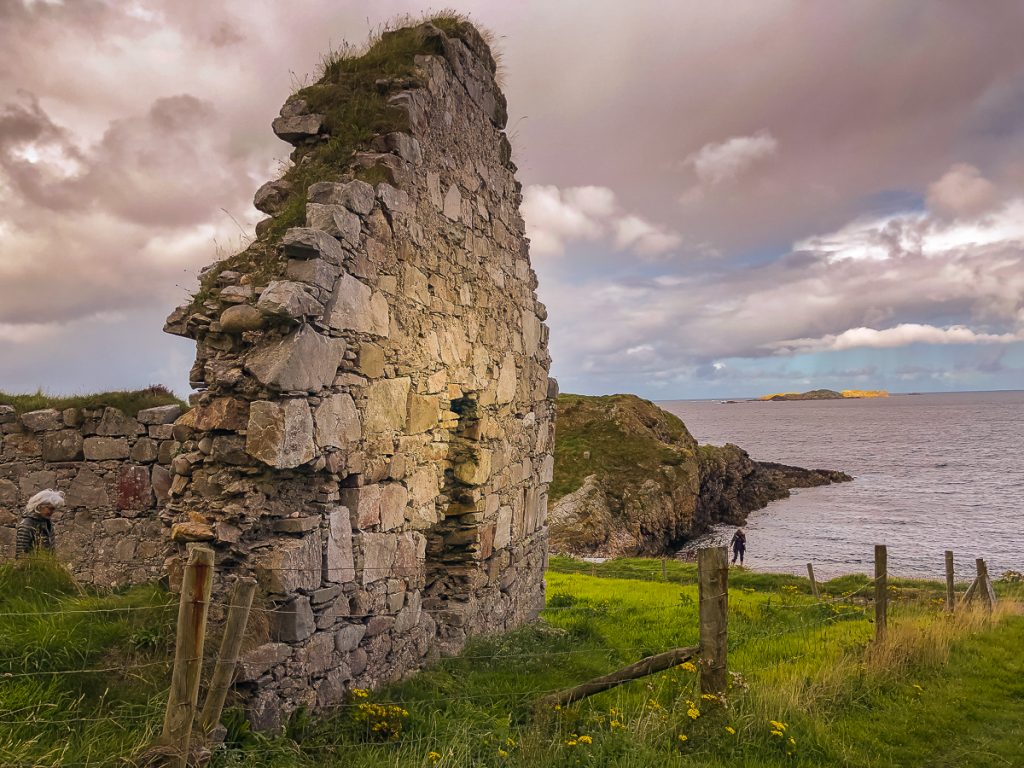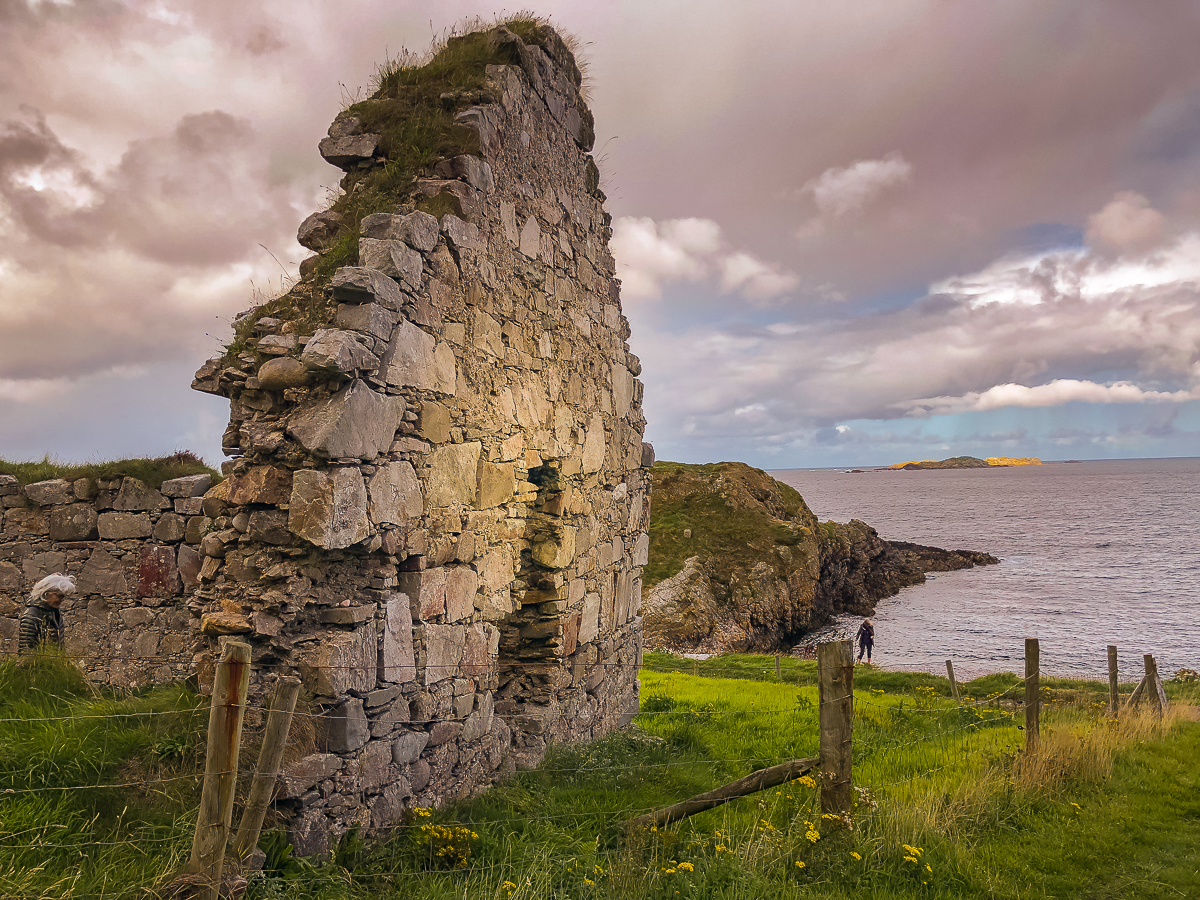 Northern Ireland and Ireland's Northern Edges

OCTOBER 6-15, 2023 – 9 days – $2995 + Air
Counties – Sligo, Donegal, Derry, Antrim, Down, Louth

This tour is CLOSED. Please sign up for our news letter to learn about 2024 tours when they are announced.  
This spiritual tour of the northern edge of the Republic of Ireland and Northern Ireland, Northern Edges starts from Dublin Airport and moves into the northern country, tracing the edge of the land, and touching some of the most ancient, sacred sites in Western Europe.  This is the land of St. Patrick, of St. Brigid, of St. Columba (Colmcille), and the land of Fin MacCool, Cuchullain, and Ossian the poet. This part of Ireland is the least visited and is still relatively untouched by major development. The North has amazing energy, and the elements of the Irish countryside are magnified in this unspoiled landscape.
Mindie Burgoyne invites you to join her on the Northern Edges Ireland tour in October 2023
The tour starts in County Sligo with stops at the Caves of Kesh, Carrowmore Megalithic Cemetery, Creeykeel Court Tomb, Yeats' grave and Dumcliff. Guests will also have a chance to explore Sligo City Centre, and view the coastline as well as the iconic landscape that includes Benbulben and Knocknarae.
The tour will then move through Donegal town, Gartan Hill (the birthplace of St. Columba, the Highlands of Donegal, and the Grianán of Aileach. Then spend an entire day experiencing Malin Head and the Inishowen Peninsula – the northernmost tip of Ireland. The tour will pass through Derry City and on to the magnificent Antrim Coast that includes Dunluce Castle and the Giant's Causeway. Two days in Antrim will not only explore the coast but also the Glens of Antrim, Tiveragh Hill (fairy hill), the ancient stone circle at Ossain's Grave (the poet), and wander through the Dark Hedges made famous by being featured on The Game of Thrones tombs.
The tour will move from Antrim to County Down where guests will have a free day to explore the city of Belfast as well as the Giants Ring (an ancient ritual site with a dolmen in the center). Then on to the Carlingford Lough area where guests will explore the forests and landscape that inspired C.S. Lewis in writing his Chronicles of Narnia.  The final day will be spent in the lower part of County Louth with a private tour of some ancient monuments – exclusive only to our guests.
*** MUSIC & STORYTELLING – This tour also includes a private evening with a traditional Irish music group, and an opportunity to visit with a legendary Irish Storyteller.
A spiritual tour that connects guests with the maternal elements of the land
The Earth is our mother and is associated with the divine feminine. This tour with its selection of sites goes deep into the northern Irish landscape and connects with the understanding of the earth as our mother. Themes of rebirth and accessing ancient wisdom surface all along this tour. This tour is ideal for healers, artists, and those interested in earth energy and nature – especially the wild places. If you feel especially connected to the land, and the spirit of the plants and trees, then this tour will be exhilarating for you.
There will also be time for fun. Guests will stay two nights in Castlegrove Country House, a beautiful old Irish estate with stunning accommodations and food. Then there's a free day in Derry City to explore the city walls, visit the museums, or view the magnificent art. Guests will also be able to engage with local guides who will provide an authentic cultural experience in Ireland.
This tour is limited to 15 people.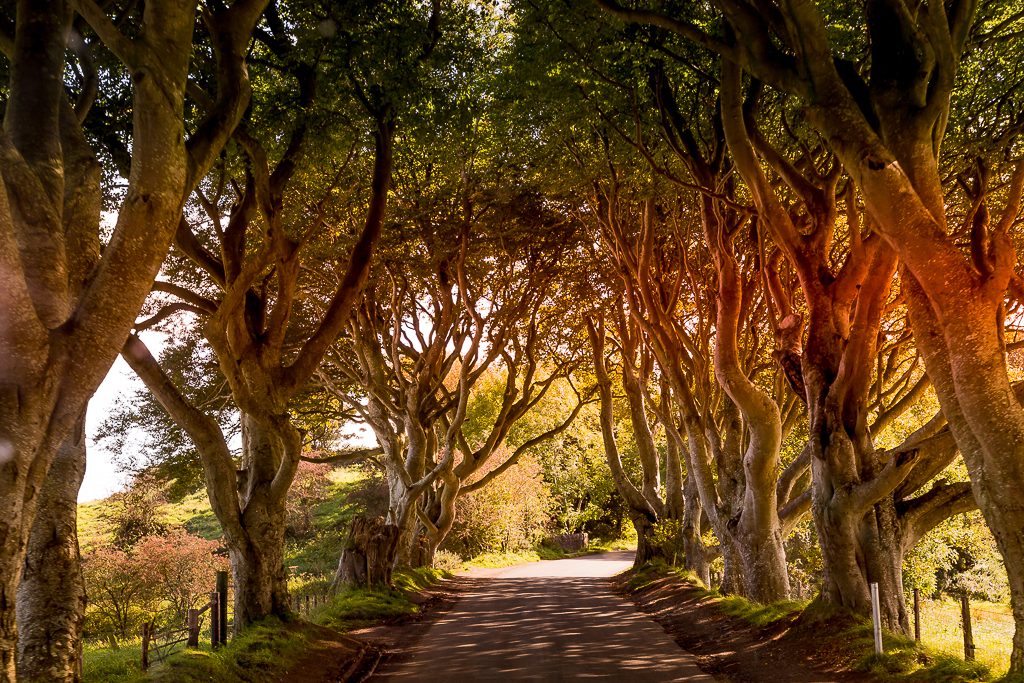 The Focus is on thin places
The focus of all our tours is "thin places" or places where the veil between this world and the eternal world is thin… where both worlds are woven together.  And as on all of our tours, you'll see the unspoiled hidden places few visitors ever see on other commercial tours. You'll be traveling within the context of a story while peeping into the ancient past of mystical hills, stone circles, passage tombs, holy wells, monastic ruins, castle ruins, and archeological wonders.  There will be quiet time as well as fun group excursions. This is a spiritual tour you will never forget.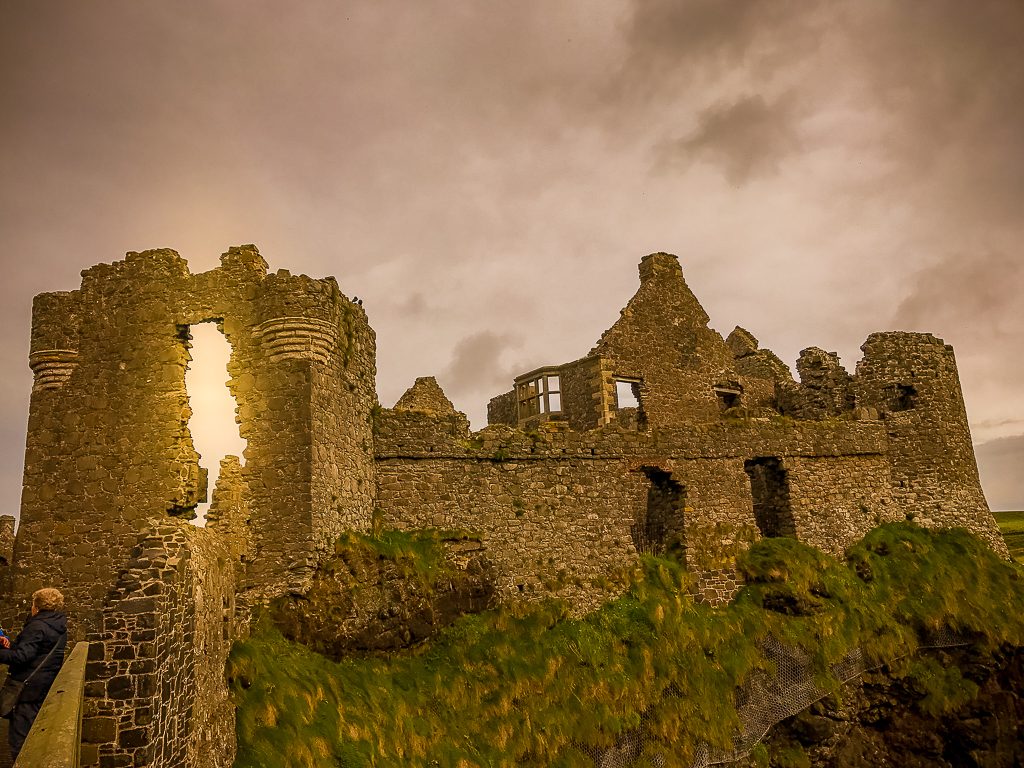 NORTHERN EDGES – ITINERARY & DETAILS
A full-time tour guide will be with the tour from start to finish. The tour has its own private coach and driver for the full nine days.  The guide will be Mindie Burgoyne, writer, tour operator, and owner of Thin Places Mystical Tours. She has a long history of investigating thin places in Western Europe and an understanding of earth energies and the power of spiritual pilgrimage. Overnights will be in Dundalk, Antrim, Derry, Letterkenny, and Dublin Airport.
WHAT'S INCLUDED:
Full-time tour guide / Private Coach – Mindie Burgoyne will be the full-time tour guide. A private motor will be secured for the entire duration of the tour.
All Accommodations in 3 or 4-star hotels
All breakfasts
Four dinners – Welcome and Farewell dinners on the first and last nights, plus two dinners in between. (does not include alcoholic beverages)
All private tours/ guides
Night of music with local Irish musicians
Local guides, musicians, craftspeople
Over 12 Group Excursions
WHAT'S NOT INCLUDED:
Air Fare
lunches and 5 dinners
shopping, incidentals, and expenses incurred on the free day
tips for hotel staff, private guides, and driver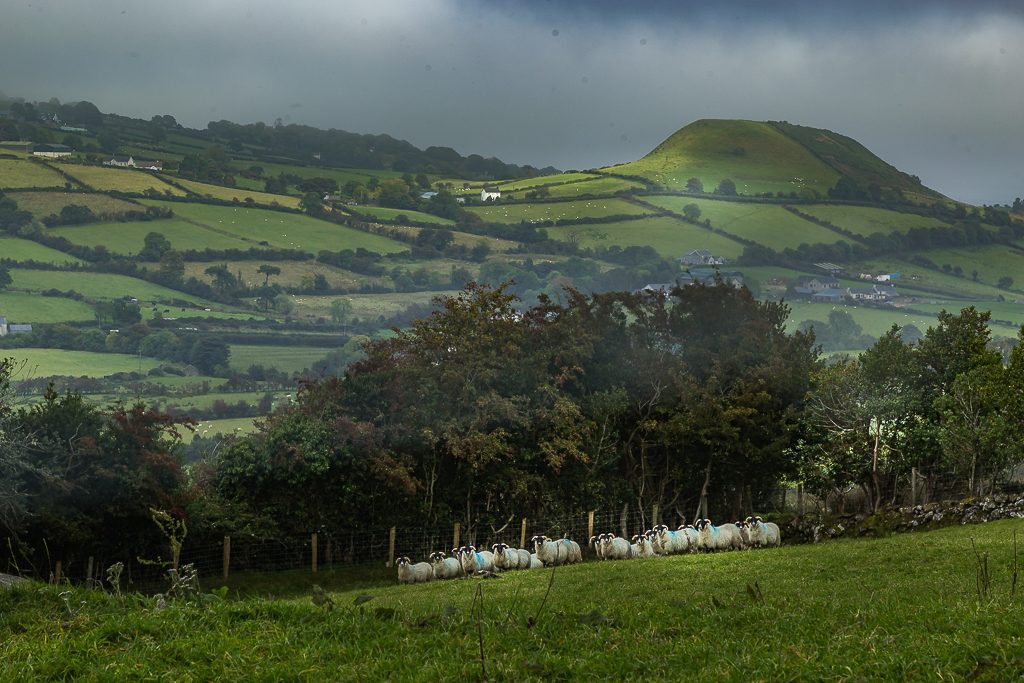 Expert local guides will be with your group in some locations for a more in-depth visitor experience.
Ground Transportation – We enjoy the comfort of our own motorcoach for the entire 9 days. Guests are free to leave things they use daily (walking sticks, jackets, etc) on the bus. The bus may also include an onboard bathroom and wifi (depending on the size of the tour group).
FREE DAY in Belfast City Centre is also included.  Belfast is not only a historic city, but also one of Western Europe's most continental cities of art and culture.  During the free day, guests can opt for tours offered locally – such as the Titanic Museum, Black Cab private city tours, Food tours, Walking tours, Belfast Ghost Tour (evening).
Airfare is not included.  Guests must arrange their own airfare to and from Dublin International Airport. For guests who book both Ireland tours, airfare should be arranged to fly in and out of Dublin Airport.
TOUR START and END – The tour begins when the tour guide and coach driver meet the guests at Dublin International Airport (DUB) at 10 am on October 6, 2023.  Guests are responsible for getting themselves to DUB at that time in order to meet the tour.   A map and exact location will be provided.
On the last night of the tour, guests are booked into a hotel close to Dublin Airport where they can easily take a short cab or shuttle ride to the airport the following morning or extend their stays and continue touring.
NOTE – PRE-NIGHT STAY IS SUGGESTED: Because guests coming in from the USA and Canada have overnight flights, it is wise for guests to consider a PRE NIGHT (s)  on October 5th  in Dublin for a little extra time to unwind, adjust to the time change and visit some sites in Dublin.  Arriving a day early would also protect against missing the first day of the tour if a flight is delayed or circumstances upset the scheduled arrival on DAY 1 of the tour. Thin Places Tours can book a pre-night stay at the Gresham Hotel in Dublin's City Center for you for the cost $235 – bed and breakfast. Most guests choose this option and will be there in case you want to meet people ahead of time.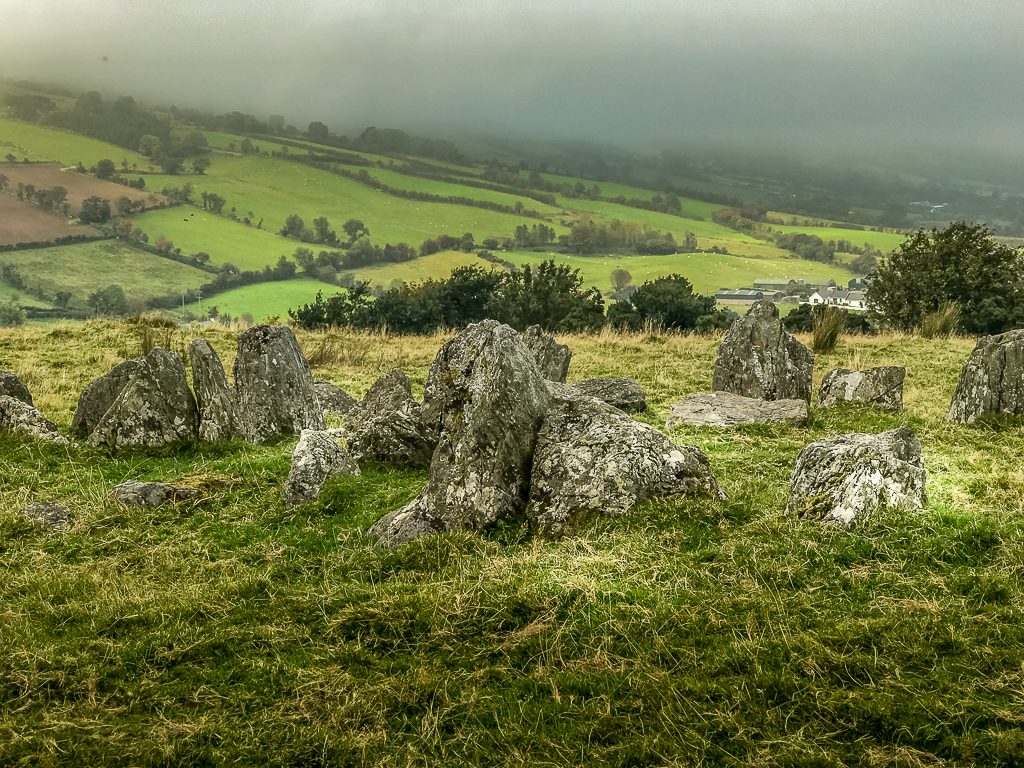 COST – $2995 + AIR
Cost of $2995 (based on double occupancy) is for the land only. It includes lodging, all breakfasts, and four dinners. It also includes land transportation, admission costs to all attractions, and private guides. Posts about some of the sites will appear periodically on the Thin Places blog.  In addition to the cost of the tour, guests would be responsible for airfare, lunches, and dinners that are not included, plus any incidental expenses unrelated to the group tours and accommodations.
Single room supplement is $750, and is due with the registration deposit. There are a limited number of Single rooms available.
Booking the Tour -A deposit of $1000 (plus a $750 single supplement if applicable) per person must be submitted with the online form to hold the spot.  The deposit is refundable for 7 days. The deposit also locks in the price.  Due to the unpredictability of the EURO exchange rate, the price of the tour may rise before the tour date but a deposit locks in the price of the tour from the time when you make your deposit.
The tour balance is due 6 weeks before the tour start date – August 24, 2023.
Travel Insurance –We suggest guests purchase travel insurance on their own. Thin Places Mystical Tours does not sell Travel Insurance or represent any travel insurance vendor, though we can make recommendations based on what other guests have used.
The tour is limited to 25 guests.
DISCOUNT FOR THIN PLACES ALUMNI
Guests receive a $50 discount for every Thin Places tour they've been on prior to 2023 (7 tour maximum – $350 discount)
ITINERARY – Northern Edges
Day 1,  Oct 6 –  SLIGO
Guests will depart from Dublin at 10 am and travel across to the northwest side of Ireland. There will be a stop at the Caves of Kesh, then on to the hotel in Sligo City Centre for a welcome dinner.
Welcome Dinner and overnight in Sligo at the Riverside Hotel.
Day 2, Oct 7  – Sligo sites
Carrowmore Megalithic Cemetery, Hazelwood Forest  (the inspiration and site where W.B. Yeats wrote The Song of Wandering Aengus,  Yeats' grave, and Dumcliff Church and monastic ruins. Guests will also have a chance to explore Sligo City Centre and view the coastline as well as the iconic landscape that includes Benbulben and Knocknarae.
Overnight in Sligo at the Riverside Hotel.
Day 3, Oct 8 – Donegal Town, Gartan, Highlands and Ardara
The tour will then move through Donegal town, Gartan Hill (the birthplace of St. Columba, the Donegal  Highlands, and the small town of Ardara, rich in the Irish Weaving culture where guests will meet Eddie Doherty, one of the most famous weavers in all of Ireland.
Dinner and overnight at Castle Grove Country House in Letterkenny.
Day 4, Oct 9 – Inishowen Peninsula, Wee Cave, Grianan of Aileach
Guests will depart early for a day on the Inishowen Peninsula – the northernmost part of Ireland. They will spend a few hours at the Malin Wee Cave, situated on a beach covered with semi-precious stones of many colors. There will be a quick visit to Malin Head… the northernmost point in Ireland and then a visit to the Sun Palace – Grianán of Aileach, an ancient ring fort with views of six counties and the sea.  Then head to the hotel within the historic walled city of Derry.
Overnight at Castle Grove Country House in Letterkenny.
Day 5, Oct 10 – Dark Hedges, Whitepark Bay, Giants Causeway, Dunluce Castle
This is a day for popular tourist sites. Begin with a visit to the Giant's Causeway – a World Heritage Site, then head to the famous ruins of Dunluce Castle, also an inspiration for C.S. Lewis' Narnia and many other writers. Guest will walk the magical beach of Whitepark Bay and then head for The Dark Hedges, an ancient road lined with beech trees that were featured as a setting in The Game of Thrones.
Overnight at the Portrush Atlantic Hotel.
Day 6, Oct 11 – Glens of Antrim, and Ossian's Grave
Then they'll have a scenic view of the Glens of Antrim and finish the day with a brisk walk up a sacred hill dedicated to poets everywhere – the site is known as Ossian's Grave. It's marked by a stone circle and sits in view of Tiveragh Fairy Hill. Remarkable scenery this day.
Overnight at the Fitzwilliam Hotel in Belfast City Centre.
Day 7, Oct 12 – Free Day in Belfast
Belfast is not only a historic city, but also one of Western Europe's most continental cities of art and culture.  During the free day, guests can opt for tours offered locally – such as the Titanic Museum, Black Cab private city tours, Food tours, Walking tours, and Belfast Ghost Tour (evening).  At 2pm on this day, Alumni Guests will have a special event at 2pm.
Overnight at the Fitzwilliam Hotel in Belfast City Centre.
Day 8, Oct 13 – County Down – Carlingford Lough
Guests will visit the largest ritual site in northern Ireland – the Giant's Ring – and have an opportunity to crawl into a 5000-year-old dolmen. Then travel through the north side of Carlingford Lough. Sites include Rostrevor Fairy Glen, the inspiration for C.S. Lewis's Narnia. Other sites include Kilbroney Church and Cross. Overnight at Carrickdale Hotel and Spa – County Louth.
Day 9, Oct 14 – Megaliths, Monuments and more
On this final day, guests will start the morning at St. Brigid's Holy Well near her birthdayplace in Faughart. The hill itself is associated with mystical energy going back 5,000 years.  Guests will then make a short visit to the Proleek Dolment and then be off to the Forge, of artist, Tom King who practices the ancient Celtic art of ironwork. Guests will be able to learn about the craft and even try their own hand at it (with close supervision).  The final event of the day will be visiting the sacred Hill of Tara – said to be the charged with mystical, sacred energy. Tara is the spot chosen for the coronation of the High Kings of Ireland. At the Hill of Tara, guests will be able to visit the gallery and meditation room of sacred artist, Courtney Davis famous for his intricate Celtic knotwork designs as well as spiritual symbolic representations of Irish mythological figures. Courtney will address the guests about his own spiritual journey through his art. Then guests will make their way back to Dublin for a Farewell Dinner.
Overnight and Farewell Dinner at the Maldron Hotel Dublin Airport. 
Day 10, Oct 15 – Depart – FLY HOME (no itinerary)
Guests depart from Dublin Airport or extend their stay on their own
The itinerary is subject to change considering weather and availability factors.  Overnights are in Sligo, Letterkenny, Antrim, Belfast, Dundalk, and Dublin Airport

MAKE YOUR RESERVATION TODAY.   CALL 443.735.2433

$1000 per person deposit is needed to reserve your spot (plus the $750 single supplement if applicable). The final balance is due to be paid 60 days before the tour.
Still have questions? Email  contact @ thinplacestour.com or call  443.735.0771