Scotland April 15-24, 2023

The Monk's Trail
Travel from the North Sea to the Atlantic Ocean exploring the holy islands of Iona and Lindisfarne with stops in the Highlands and near Loch Lomond.
DOWNLOAD REGISTRATIONS FORM – Call for more information 443.735.2433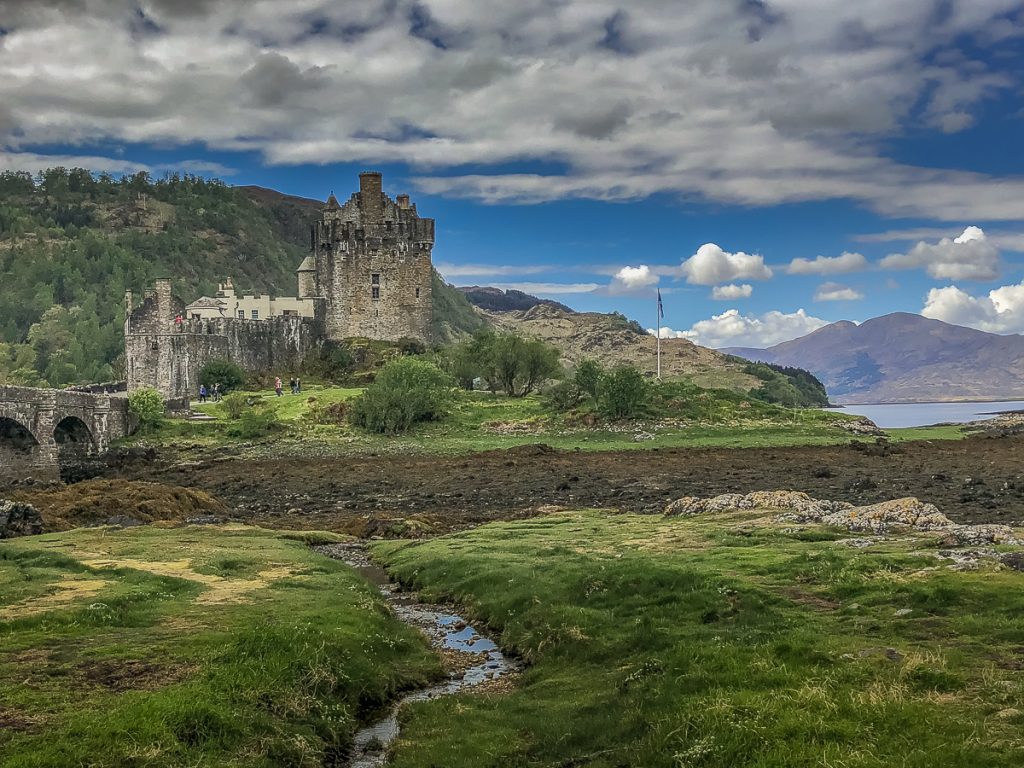 Join us for a Spiritual Tour of Scotland

April 15-24, 2023

– 9 days –

$3495 + Air  


the Borderlands and the Highlands Book online now!


Mindie invites you to the 2023 Scotland Tour

This spiritual tour of Scotland begins with Iona (2 nights) and ends at the North Sea at Lindisfarne (which is actually England) the two sacred places where Sts. Columba and Aidan founded two large monastic communities on opposite sides of Britain – forming a "monks trail."

5 ISLANDS – What sets this Scotland tour apart from other spiritual tour is the five islands that are included on the tour. Islands have always been considered sacred places.  Surrounded by water, which amplifies existing energy and elementals, all four elements can come together in a mix that generates an "otherworldliness."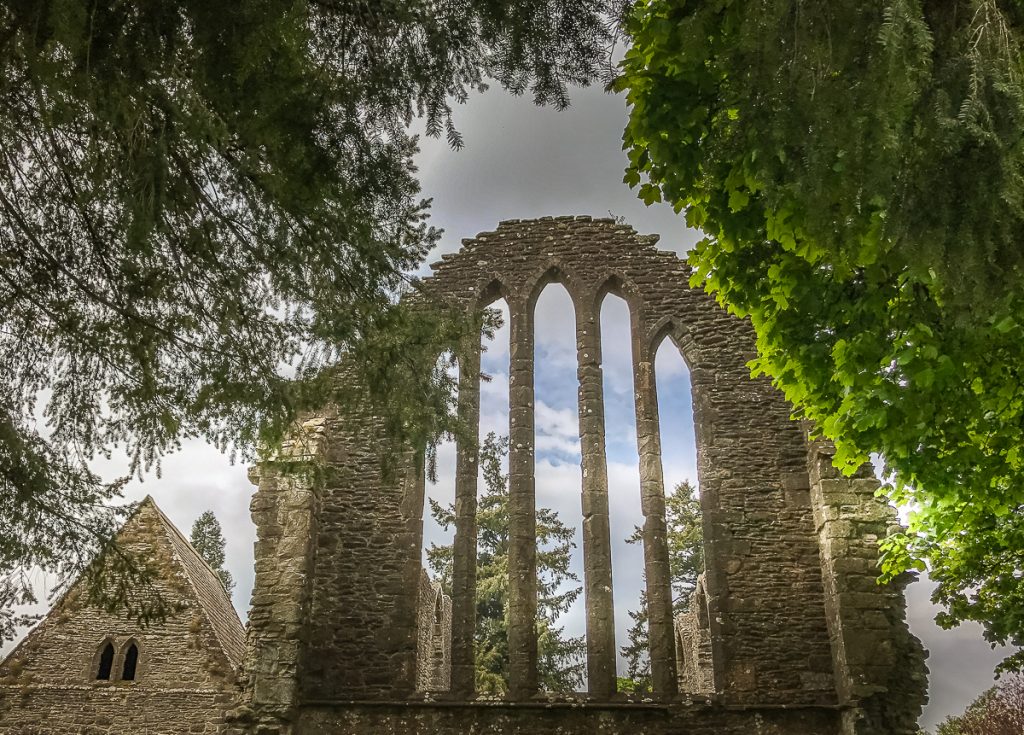 On this tour, guests spend two nights on Iona – a mystical, spiritual thin place that is unmatched for beauty and spiritual energy.  On one of the two days spent on Iona, guests will be able to venture out to Staffa – a pillar island with rare seabirds and amazing rock formations that mirror the Giant's Causeway in Northern Ireland. Staffa also has a sea cave with acoustics that produce a melodious musical sound.
Guests will also enjoy a scenic drive across the Isle of Mull with its mountains, shadows, brilliant colors, and picturesque villages.  On the first day, guests will take a short boat ride across the Lake of Menteith and visit Inchmahome (Island of my Home), a small island with the ruins of a monastery – one that sheltered little Mary Queen of Scots when her mother placed her in hiding for her protection. This island has an ancient forest with 500-year-old Spanish Chestnuts. The woodland is enchanting.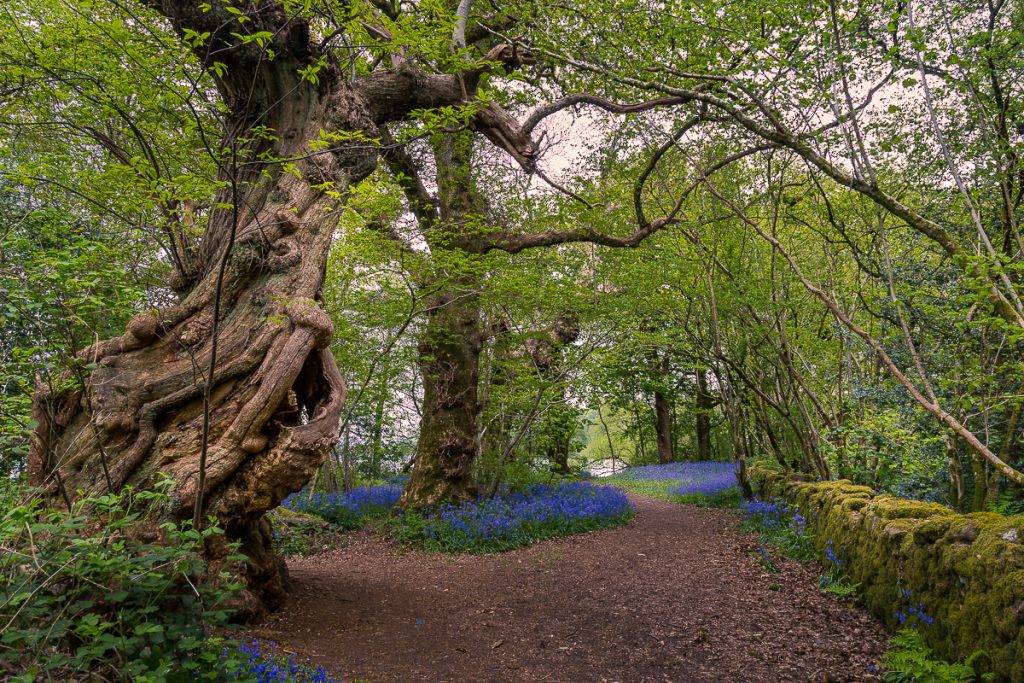 On the final day of this tour, guests will visit Holy Island – also known as Lindisfarne – an island twice a day at high tide, set in the North Sea on the east coast of Northumberland – the borderlands between England and Scotland.  Lindisfarne is as magical as Iona with its ruins of the old abbey founded by St. Aidan, Cuthbert's Isle, Lindisfarne Castle, a labyrinth, walled gardens, sea glass beach, and islanders with many stories to tell.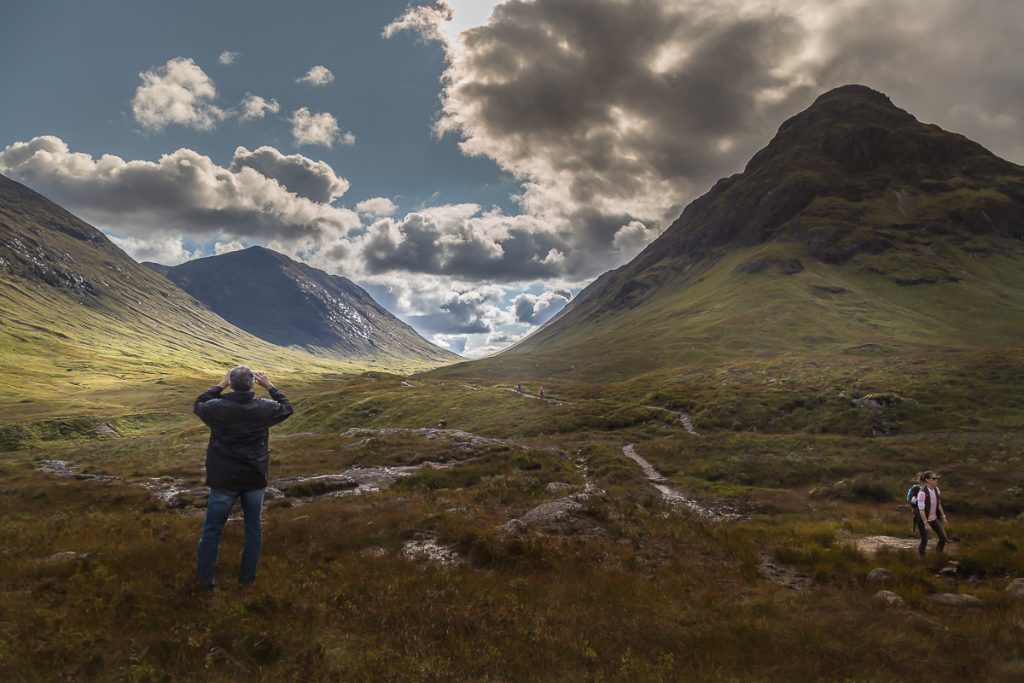 MONASTIC RUINS, MEGALITHS, and FAIRIES –
The tour moves within the context of the old stories of the monks of Iona who followed a sacred trail forged by kings, queens and the ancient pre-Christian people of Scotland and England. The tour also diverts to some of the stunning scenery of the Scottish Highlands with a visit to Glencoe and the Kilmartin Valley, the home of Dunadd Fort and the largest collection of ancient monuments in Scotland. Guests will also visit Rosslyn Chapel (made famous by The DaVinci Code.
FREE DAY IN EDINBURGH – The 7th day of the tour will be a free day on Edinburgh's Royal Mile.  Guests can explore at their leisure and will be provided with a Historic Scotland pass that allows them to enter Edinburgh Castle
FILMING LOCATIONS  -The tour will visit Linlithgow Palace, Rosslyn Chapel, and Glencoe, which are filming sites for the Outlander series, Game of Thrones, and movies Braveheart, Rob Roy, and several Harry Potter movies. Rosslyn Chapel was featured in both the book and the film, The DaVinci Code.
This tour will be 9 packed days of visiting majestic ruins of monastic settlements, castles, passage tombs, stone circles, and trees, and sacred sites with powerful energy with one day completely free to relax and explore Scotland's capital city at leisure. Evenings are also free to explore at leisure.  Guests will also be given a demonstration on how to dowse for energy lines with dowsing rods and pendulums.
Scotland's stunning scenery alone is worth the visit.  But a visit to these thin places in Scotland with this itinerary is not duplicated anywhere.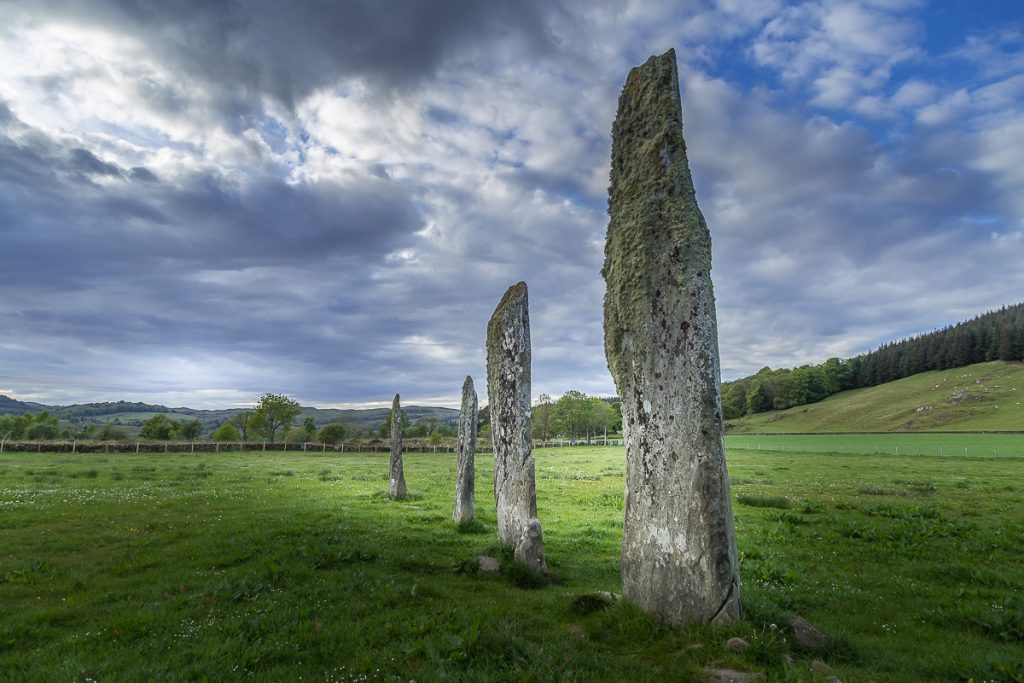 The Focus is on thin places
The focus of all our tours is "thin places" or places where the veil between this world and the eternal world is thin… where both worlds are woven together.  And as on all of our tours, you'll see the unspoiled hidden places few visitors ever see on other commercial tours. You'll be traveling within the context of a story while peeping into the ancient past of mystical hills, stone circles, passage tombs, holy wells, monastic ruins, castle ruins, and archeological wonders. Guests will have the opportunity to connect with the ancient landscape and draw from it that old wisdom that is unique to Scotland.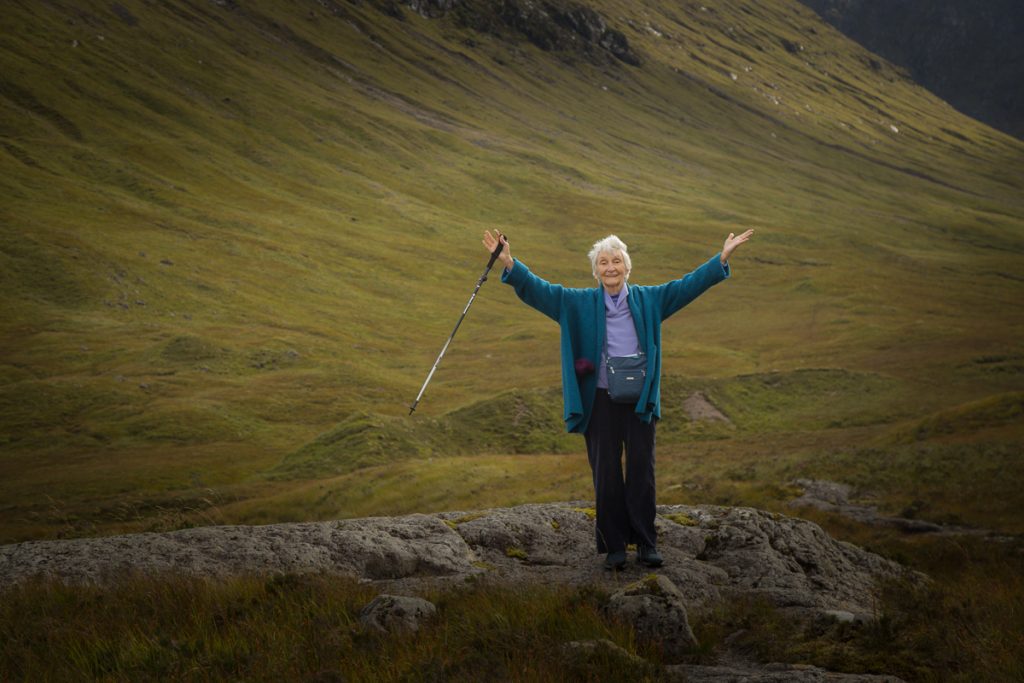 THE MONKS TRAIL – ITINERARY

& DETAILS
A full-time tour guide will be with the tour from start to finish as will a coach driver. The guide will be Mindie Burgoyne, tour operator and owner of Thin Places Mystical Tours. She has a long history of investigating thin places in Western Europe and an understanding of earth energies and the power of spiritual pilgrimage. 
WHAT'S INCLUDED: 
Full-time tour guide / Private Coach – Mindie Burgoyne will be the full-time tour guide. A private motor will be secured for the entire duration of the tour.
All Accommodations in 3 or 4-star hotels.
All breakfasts
Four dinners – Welcome and Farewell dinners on the first and last nights, plus one dinner in Iona and one in Edinburgh.
Lunch in Kilmartin Valley
All private tours/ guides & attraction admissions
Historic Scotland Explorer Pass – allows admission to Edinburgh Castle (on the free day)
Ferry tickets for 4 island excursions.
Over 15 Group Excursions that include – Inchmahome Priory and Forest • Isle of Mull Scenic Drive • Iona Abbey and Nunnery • Cruise to Staffa and Fingal's Cave • Glencoe Valley and monuments • Castle Stalker • Dunadd Fort • Kilmartin Valley and museum •  Linlithgow Palace •  Kilchurn Castle•  Free day on Edinburgh Royal Mile • Rosslyn Chapel •  Melrose Abbey •

 

Holy Island – Lindisfarne
Book online now!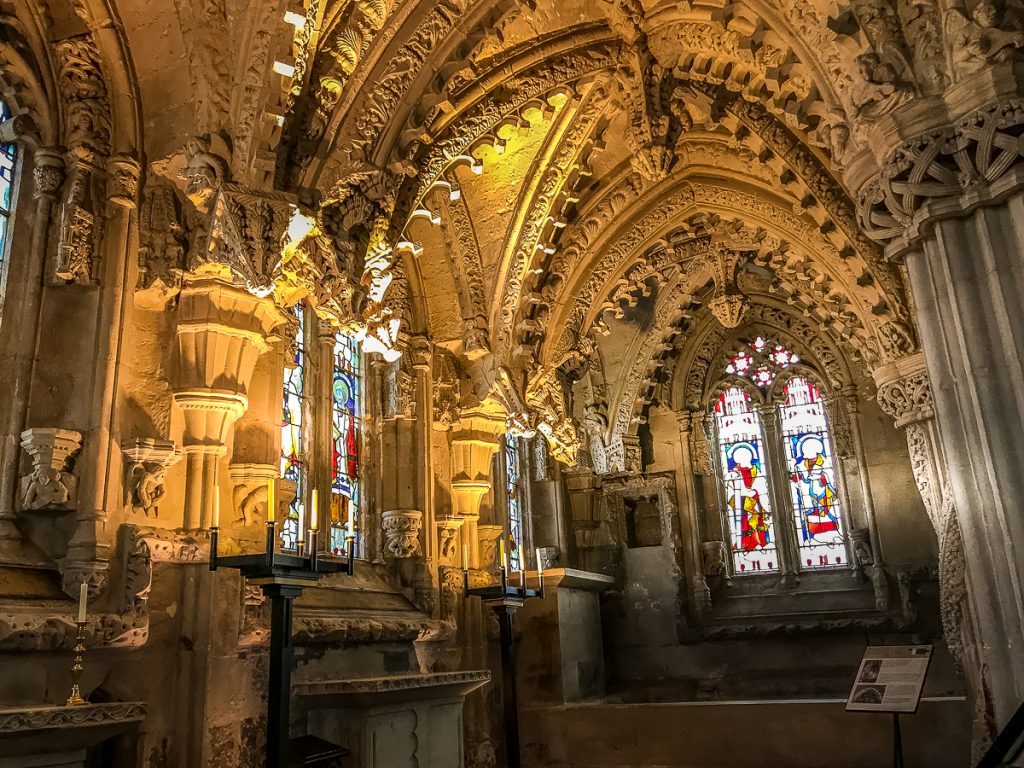 Expert local guides will be with your group for a more in-depth visitor experience. These guides are local to the area and will be able to speak specifically about some of the sites on the tour.
Ground Transportation – We enjoy the comfort of our own motorcoach for the entire 10 days. Guests are free to leave things they use daily (walking sticks, jackets, etc) on the bus. The bus may also include an onboard bathroom and wifi (depending on the size of the tour group).
FREE DAY in Edinburgh – On the 7th day of the tour, unwind in your hotel. Use your Explorer Pass (provided by Thin Places Tours) to visit Edinburgh Castle. Walk the mile to see Arthur's Seat, Holyrood Palace, St. Giles Cathedral, the Scottish Storytelling Museum or some of the other amazing stops on this one-mile road.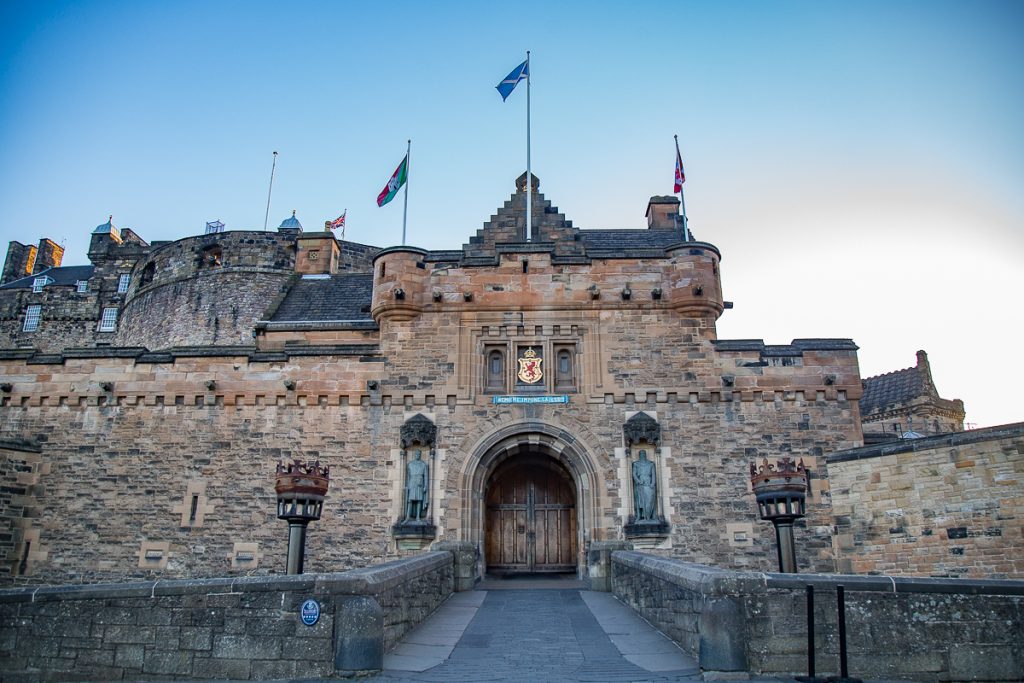 Airfare is not included.  Guests must arrange their own airfare to and from Edinburgh International Airport.
TOUR START and END – The tour begins April 15th, 2023 at 10am when the tour guide and coach driver meet the guests at Edinburgh International Airport (EDI). Guests are responsible for getting themselves to EDI at that time in order to meet the tour.  A map and exact location will be provided.
The tour ends on April 23, 2023, with a farewell dinner and overnight at a hotel near Edinburgh Airport. The morning of April 24, 2023, guests can either extend their stays through private arrangements or get a taxi to the airport. April 24th is the day to book airfare home.  There are no scheduled activities on April 24th, but breakfast is included that morning through the hotel.
Thin Places Mystical Tours staff can help guests arrange to extend their stays after the tour or book pre-nights in Edinburgh before the tour begins if assistance is needed.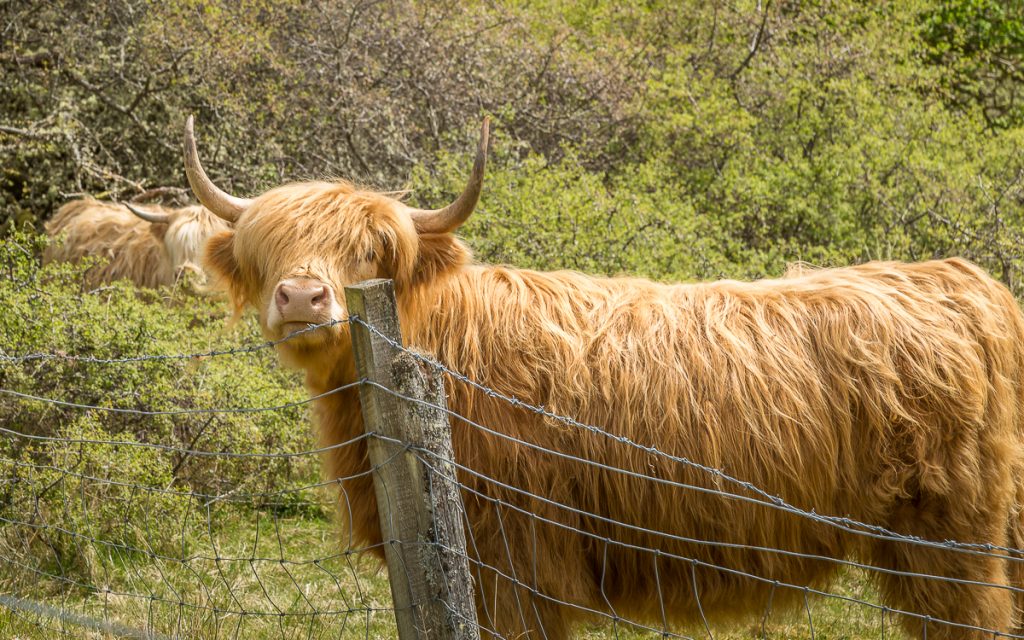 COST – $3495+ AIR (single supplement is $750)
The cost is $3495 (based on double occupancy) and is for the land only. It includes lodging, all breakfasts, four dinners, a group lunch, transportation, admissions, ferry passages, and private guides.  Posts about some of the sites will appear periodically on the Thin Places blog.  All expenses are paid except airfare, lunches, 5 evening meals, and any incidental expenses unrelated to the group tours and accommodations.
Single room supplement is $750, and is due with the registration deposit. There are a limited number of Single rooms available.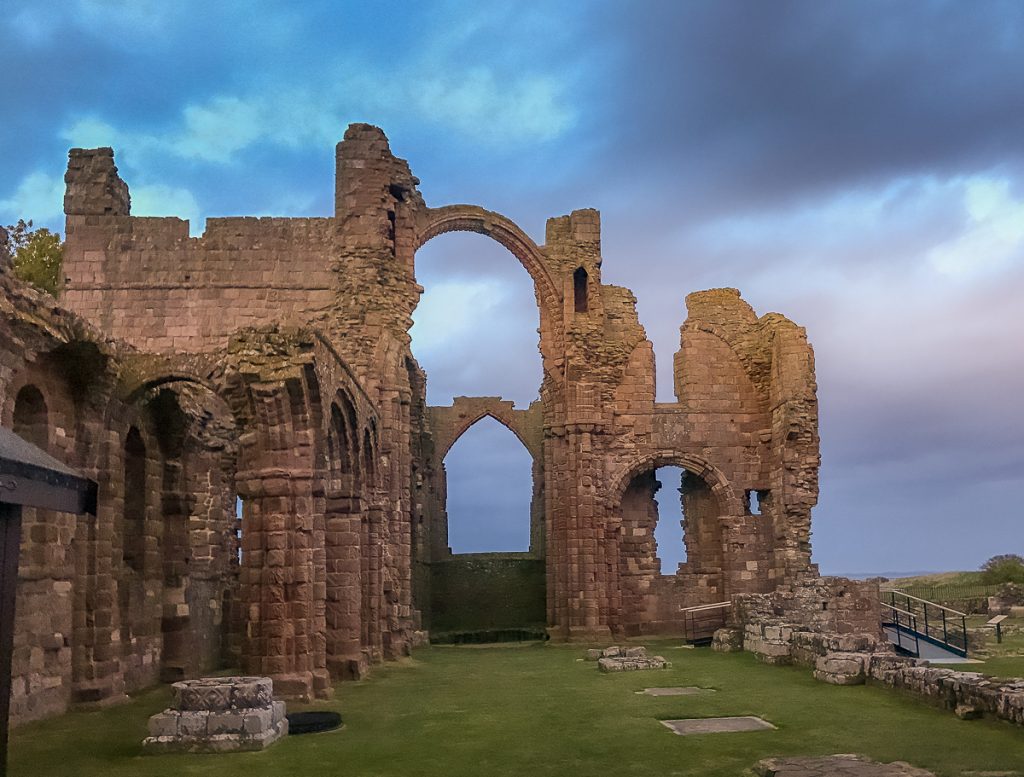 Booking the Tour –Deposit of $1000 (plus $750 single supplement if applicable) per person must be submitted with the online form to hold the spot (click Book Now button below).  Deposit is refundable for 30 days. The deposit also locks in the price.  Due to the unpredictability of the British Pound exchange rate, the price of the tour may rise before the tour date.  But a deposit locks in the price of the tour.
Tour balance is due 30 days before the tour start.
Travel Insurance – We strongly suggest guests purchase travel insurance on their own. Thin Places Mystical Tours does not sell Travel Insurance or represent any travel insurance vendor, though we can make recommendations based on what other guests have used.
Tour is limited to 20 guests.
DISCOUNT FOR THIN PLACES ALUMNI
Guests receive a $50 discount for every Thin Places tour they've been on prior to 2023. Please note your previous tours in the online registration.
Book online now!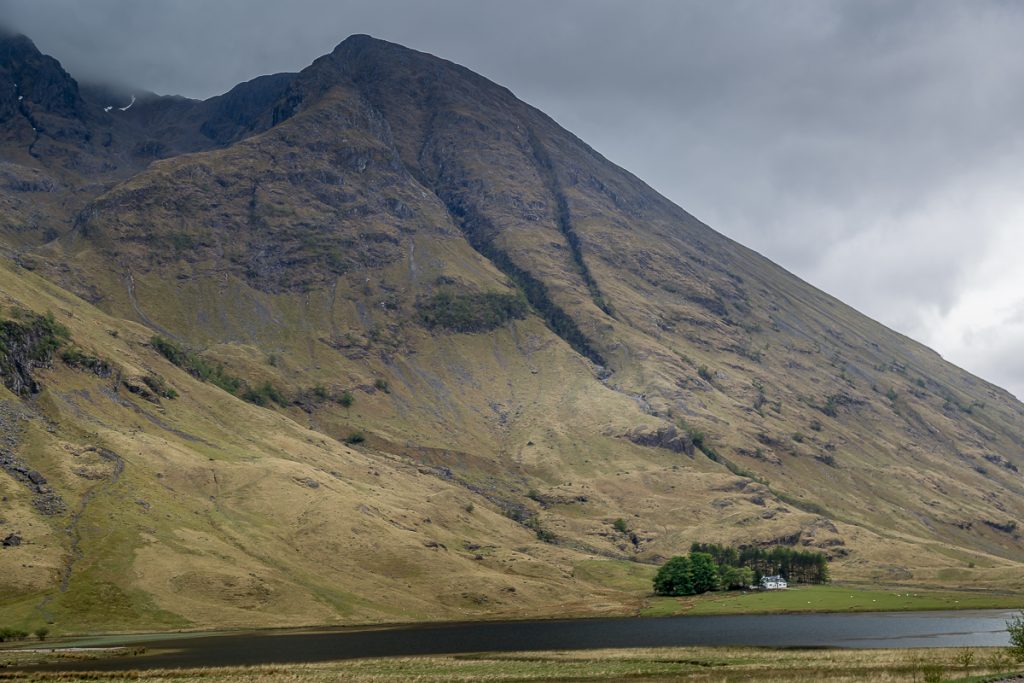 ITINERARY – The Monk's Trail
Day 1,  April 15 – CASTLES, PALACES, AND OFF TO OBAN
Guests will visit Linlithgow Palace where Mary Queen of Scots was born – also a well-known filming location most recently in Outlaw King. There will also be a stop at Kilchurn Castle on the banks of the magical "Lough Awe." – a wonderful photo opportunity. Finally, guests will stop and see Kelpies – a magnificent metal sculpture of two mythological horse heads representing. This is the largest equine sculpture in the world.  From there, guests will head to Oban, the gateway to the Inner Hebrides.
Overnight in Oban – Welcome Dinner
Day 2, April 16 – Isle of Mull – Arrive in Iona
Guests will board a ferry to cross over onto the Island of Mull – the second-largest island of the Inner Hebrides. You'll hear stories of mystical patches that transcend our existence and take in the sweeping scenic views in Mull. Then guests board another (small) ferry and land on the Isle of Iona – a place many believe is suspended in time – sacred – existing in two worlds at once.  This is where St. Columba founded his monastery in the sixth century and began converting the feisty Picts.  Guests will participate in a short walking tour of the island and have a little free time to walk the beach before settling in at their hotel adjacent to Iona Abbey. One of the greatest features of spending a night on a remote island is a night walk under a massive starry sky.
Overnight at St. Columba Hotel.
Day 3, April 17 -FREE DAY ON IONA  and FINGAL'S CAVE
There is nothing quite like waking up on a sacred island – an island that draws spiritual travelers from all over the world. Spend the day on Iona for private mediation or mingling with the Islanders. Guests can attend a service at Iona Abbey, walk a labyrinth, explore the beach, shop for books, crafts, or art, or walk through the ruins of the old nunnery (with a Sheelagh na gig). At noon, guests can take a 3-hour tour (weather permitting) out to the island of Staffa to see Fingal's Cave a sea cave with amazing natural acoustics. The 60 million-year-old island is named for Fionn mac Cumehaill (aka Finn MacCool, the mythological Irish giant) who is said to have built a causeway between Ireland and Scotland in order to have easy access for his warriors.  The rock formations at Fingal's Cave are similar to those hexagonal basalt columns found at the Giant's Causeway in Northern Ireland. After returning from Staffa, guests can walk the beach and search for some of the green stones that Iona is known for.  Then enjoy a group dinner. Perhaps take another night walk under the stars and listen to the sea breaking against the rocks.
Dinner and Overnight at St. Columba Hotel.
Day 4, April 18 – KILMARTIN VALLEY 
Guest will visit the Kilmartin Valley, a two-mile stretch in a valley that contains the largest concentration of ancient monuments in Scotland. Guests will start with a visit to Dunadd Fort – the royal center of Dál Riata where the first Scottish kings were crowned – and where St. Columba likely traveled to converse with an early king. Hear that story, place your foot on the inauguration stone and look out over the Kilmartin Glen – dotted with megaliths. Then take a walk through the glen where there are over 150 prehistoric monuments located within a 6-mile radius. This is one of the most important concentrations of Neolithic and Bronze age monuments in all of Scotland. Visit standing stones, tombs, and stone circles.  Enjoy a group lunch at the museum.
Group lunch and Overnight in Oban
DAY 5,  April 19 – GLENCOE and the Highlands
Guests will leave Iona in the early morning and head for the mainland. After lunch in Oban guests will take a drive out to Glencoe in the Scottish Highlands and enjoy the stunning views. Glencoe is a haunted place where a terrible betrayal and massacre of thirty-eight McDonald clan members took place. It was the betrayal more than the murders of MacDonalds in their sleep that has kept this story alive for over three-hundred years. Take a short hike at the foot of the mountains, and visit the village and the memorial. The guide will point out where Hagrid's Hut was located in Harry Potter movies. Learn about the Isle of Discussion and see where the remote burial site of the McDonalds and other Glencoe clans. Glencoe is one of the most scenic places in Scotland – so scenic that it's been the site of many films including Braveheart, Rob Roy, and Harry Potter and the Prisoner of Azkaban.
Overnight at the in Oban
Day 6, April 20 – INCHMAHOME ON LAKE OF MENTEITH
Today you head for the Trossachs – some of the most beautiful countryside in Scotland. You'll arrive at a boat docking area on the Lake of Menteith and board a small boat ride over to Inchmahome ("Island of my home") Island and explore the 13th-century ruins of an Augustinian Priory and walk the mystical forest among trees believed to date back to the 1500s. This was a place that once sheltered the child Mary Queen of Scots. Guests will walk in the old forest among the 700-year-old Spanish Chestnuts and feel the energy of this sacred island and forest. Here you will learn to connect with tree energy and enjoy a lovely few hours in an island woodland.
Overnight in Edinburgh – Group dinner
Day 7, April 21  -FREE DAY IN EDINBURGH
Guests can enjoy a free day in the Medieval City of Edinburgh. Walk the Royal Mile and tour Edinburgh Castle (passes to the Castle are included), Holyrood Palace and Abbey, St. Giles Cathedral, Arthur's Seat, and all the sites in between.
Overnight in Edinburgh
Day 8, April 22 -ROSSLYN CHAPEL – MELROSE ABBEY
Today you will enjoy a visit to the mysterious Rosslyn Chapel where some believe the Holy Grail ended up. Rosslyn is filled with mystery and a very heavy energy.  The chapel (which is located on a private estate) has the most ornately carved interior in the British Isles AND is believed to have been crafted by the first Masons (fraternal order). Guests will also visit the abbey ruins of Melrose Abbey, where Robert the Bruce's heart is buried.
Overnight in Edinburgh
Day 9, April 23 – LINDISFARNE – Holy Island  
Guests will visit this special island in Northumberland which is an island twice a day when the North Sea high tide rolls in. And similar to Mont San Michel in Brittany, this island has an abbey and a castle (though the abbey is a ruin and the castle is more contemporary). The views around "Holy Island," as it is known, are subtle but spectacular in the spiritual sense. Guests may visit the monastic ruins, walk the sea glass beach, hear the stories of monks and princes and Vikings that have occupied the island. You can trek out to Cuthbert's Isle for reflection and the views. Take a walk down to the castle, the Gertrude Jekyll garden. Birdwatch. . Guests will never forget the special day in this most magical place.
Farewell Dinner and overnight in Edinburgh 
Day 10,  April 24 – Fly Home
Guests returning home on this morning will take taxis to Edinburgh Airport or take a bus to Glasgow Airport to catch flights. Guests not returning home can continue their journies at their leisure from this point.
The itinerary is subject to change considering weather and availability factors.  Overnights are in Iona, Oban, and Edinburgh 
MAKE YOUR RESERVATION TODAY.   Call us at 443.735.2433
NOTE: A PRE-NIGHT STAY IS SUGGESTED FOR APRIL 14TH
A pre-night in Edinburgh is highly recommended.  Coming in a day early not only allows you to rest and shake some jet lag, but it also protects you from trying to catch the tour in progress if your flight is delayed or you miss a connection. Thin Places Tours can book the prenight for you at a hotel in Edinburgh. 
QUESTIONS? Email us contact @ thinplaces.net or call  443.735.2433
Book online now!