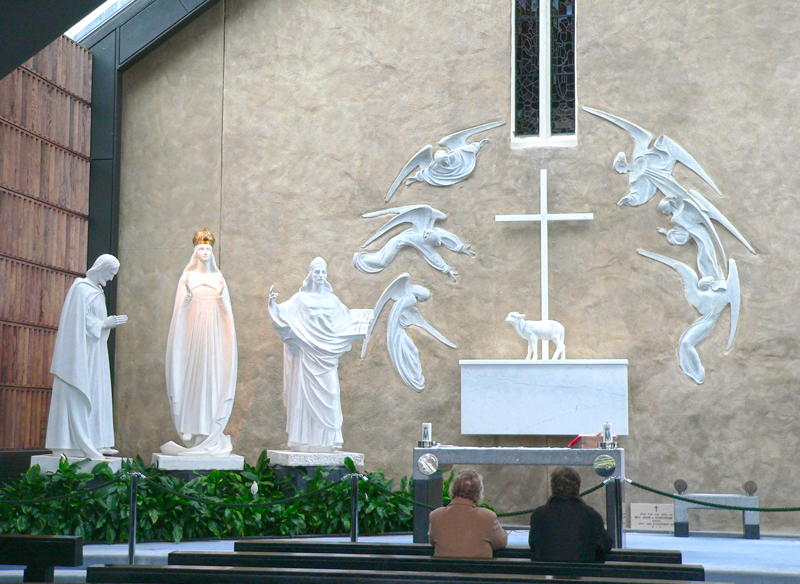 On a rainy Thursday evening, August 21, 1879, in the small village of Knock, located in the Northwestern part of Ireland in County Mayo several villagers saw something strange at the back of the church.  Against the gable wall was a lighted scene with three people who seemed to be hovering above the ground.  There was also a lamb on an altar.
The first to see the vision was Mary McLoughlin who was serving as a housekeeper to the parish priest. Mary saw a light at the end of the church wall which appeared to be three standing figures. When she looked closer, she saw who she believed to be Mary, the mother of Jesus with her eyes lifted heavenward.  Beside the Virgin Mary was her husband St. Joseph and St. John the Evangelist who was holding a book in one hand. There lamb on an altar seemed to  have angels hovering over it.
Mary left the scene frightened but word spread throughout the village about the illuminated figures behind the church. Eventually fifteen people – men, women and children – gathered at the church wall and saw the same vision. Statements came later from other villagers that they could see a "light" hovering over the church from a distance, through the rain.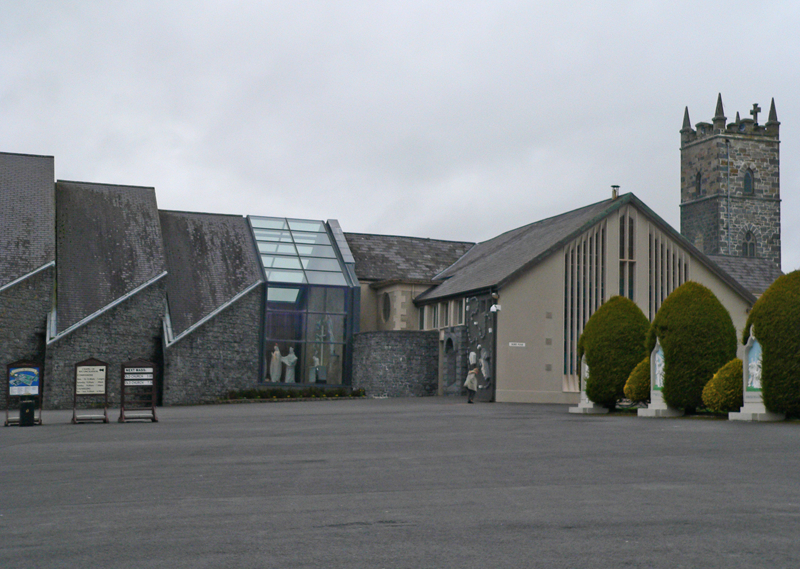 Once word of the Knock apparition spread, people from all over Ireland began came to the site to pray and ask for healing. Eventually those numbers climbed into the thousands and in 1976 a new church had to be built. Today visitors and pilgrims to Knock exceed one million each year. Life-size statues of the Virgin, St. Joseph, St. John and the lamb with angels were commissioned and placed at the gable wall exactly as they appeared in the apparition.  Glass now covers the recreation, and a chapel has been built which extends from the rear of the old church.  Statues were commissioned and put in place based on descriptions given by the visionaries.
KNOCK TODAY
I visited Knock on my first trip to Ireland in the early nineteen nineties. I knew the story from song "Lady of Knock" recorded by Dana and had sung it many times at church, weddings and special events. We visited Knock in August and it was crowded.  We realized we had unintentionally arrived on a Marian feast day – the feast of the Assumption – August 15th.  We attended Mass there in the chapel of the apparition.
My second visit was in February of 2007.  I was traveling alone and wanted to see Knock one more time – sort of make my own pilgrimage.  I was there, mid-week in the lowest season for tourists in Ireland, the place was had a good number of pilgrims.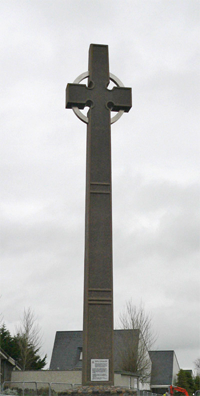 There is a large, high cross now erected in the Knock church complex. It marks a visit to Knock by Pope John Paul II in September of 1979 – 100 years after the apparition.
A sign on the high cross reads:
This is the cross of the altar on which our Holy Father, Pope John Paul II celebrated Mass on the occasion of his visit to the Knock Shrine.
The cross itself, modeled on the ancient Celtic Cross of Ahenny, remains in grateful remembrance of the greatest event in Irish history since the coming of St. Patrick.
Standing at the foot of this cross, Pope John Paul II as "a pilgrim" addressed 450,000 other pilgrims and said, "Here I am at the goal of my journey to Ireland – the shrine of Our Lady of Knock."
KNOCK IS A THIN PLACE
I almost didn't make it to Knock when I was visiting in 2007. I had only a few hours of daylight to get back to Shannon from Castlebar on my last day in Ireland. It was a rainy, gloomy day…. good weather for reflection. I didn't get a real sense of thinness when I first approached.
Knock is now the most visited pilgrimage site in all of Ireland.  It's become a bit like  Disney World. There's now a huge church that holds 2000 people, a complex for walking and meditation, spigots that will provide holy water from Knock for taking home, and restrooms that would rival any airport or stadium restrooms in the States.
Once I got in the chapel in front of the statues and sat awhile, the thinness washed over me. I have wondered for years why she was silent when she appeared in Knock. What is the meaning of her silence?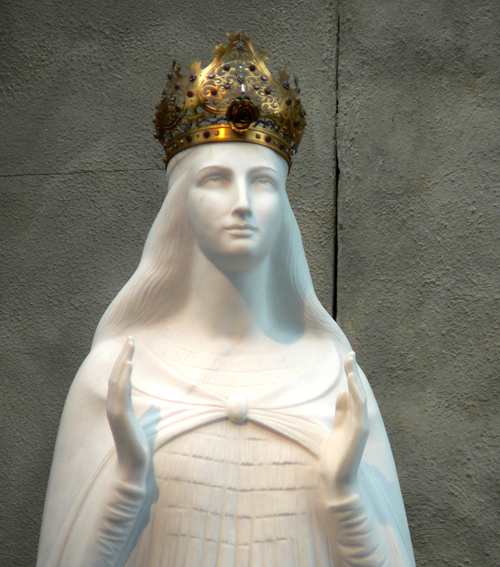 Mother Teresa spoke about silence …
God is the friend of silence. See how nature – trees, flowers, grass – grows in silence; see the stars, the moon and the sun, how they move in silence…we need silence to be able to touch souls.
Perhaps the Virgin Mary was silent because she listening. The statue reminds us that she's still there … listening.
MY OWN LITTLE KNOCK MIRACLE
My son, Daniel married a wonderful woman – Amber.  They have twin girls and in 2007 the girls were three years old.  Amber was raised Methodist and Daniel didn't practice his Catholic religion.  The girls – Mia and Grace – had not been baptized when I made this trip to Knock. I feared they never would be.
I didn't want to intrude and suggest they get them baptized in our Catholic Church, and Amber didn't have a Methodist church that she liked.  Amber and Daniel had recently moved to a new area and they weren't church goers.  My hounding them would only cause conflict.  So I was silent on the matter.
And Mia and Grace were not baptized.
I went to the holy water spigots near the church and filled up a bottle with blessed water from Knock.  I said a little prayer to Our Lady of Knock, asking her to guide my granddaughters and their parents on a solid faith journey.  I prayed that the girls would be baptized one day and thought maybe, if by some miracle their parents would baptize them – they could be baptized with this water from Knock.
When I got home I visited with Amber and the girls.  I pulled the little gifts out of my bag that I had brought for them – and then noticed the bottle with the holy water from Knock.  I told Amber the story and said …"If you ever decide to get the girls baptized, you're welcome to use this water."
Amber said, "Well we should do that."
And we did.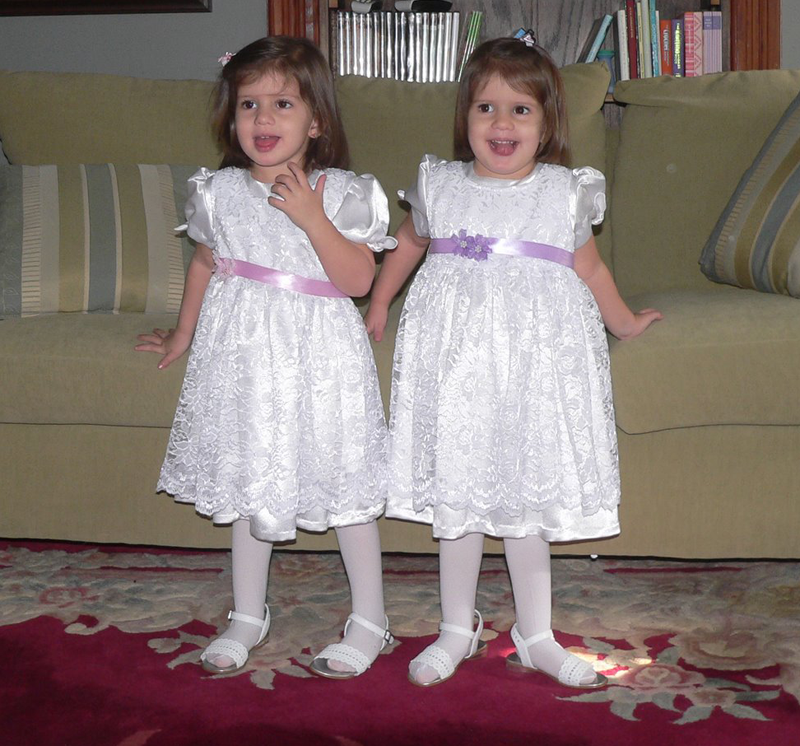 Knock is a site on our Thin Places Mystical Tour of Ireland for 2012.
*