Spiritual Tour of Ireland 10/1-10, 2019

Western tour of thin places
Follow the West Coast of Ireland from Mayo to Kerry with a focus on mystical sites and the Divine Feminine
TOUR CONFIRMED AND NEARLY FULL 
ONE Double room left
NO Single rooms left for this tour. Please consider the Hag's Journey North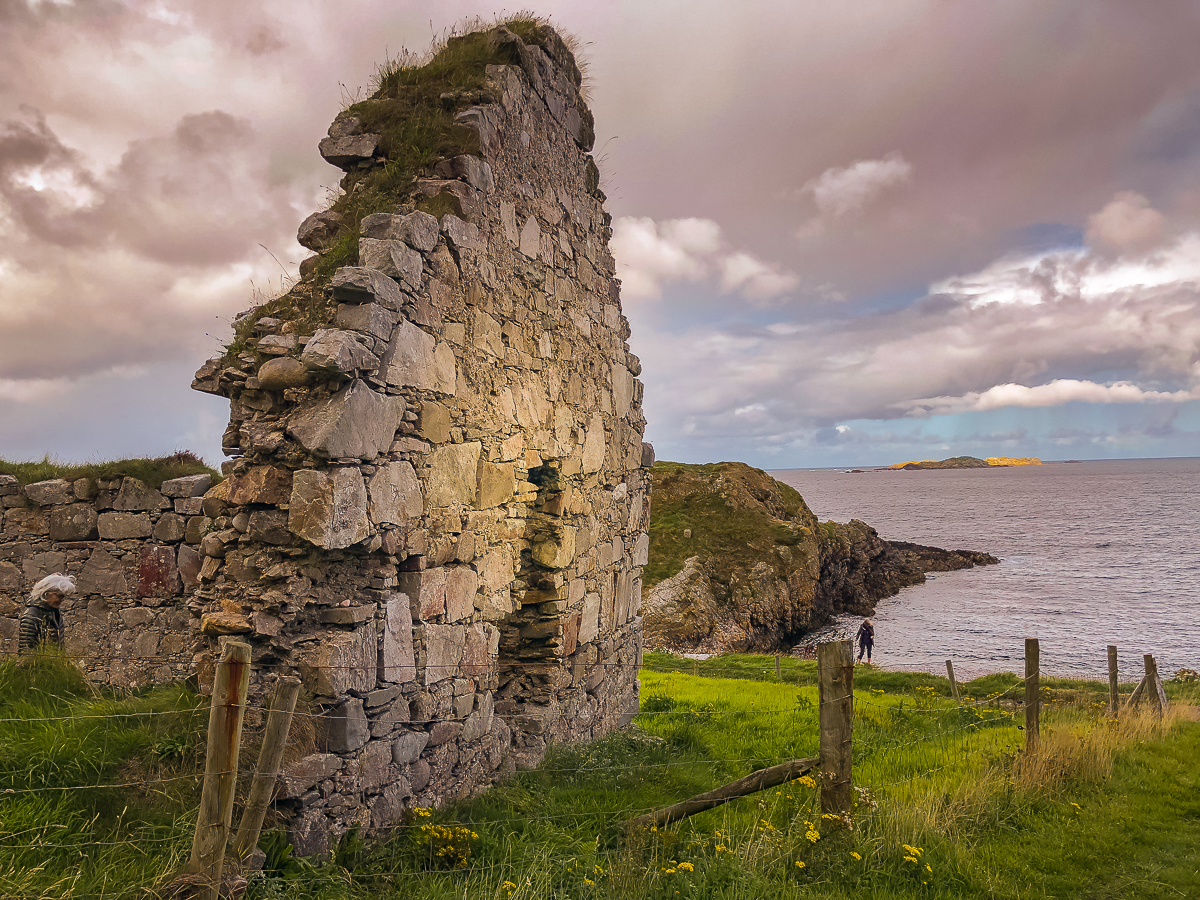 Ireland – The Hag's Journey – West
October 1-10, 2019
10 days and nights   $2699 + Air
This spiritual tour of the west of Ireland focuses on the divine feminine, tracing a path of the Cailleach or "hag" – the older, wiser, and sometimes more dangerous dimension of the ancient triple goddess. The region traveled includes Counties Clare, Galway, Mayo, Limerick, Kerry with stops in West Cork, Ring of Kerry and the Beara Peninsula. Overnights will be in the areas of Galway, Mulranney, Limerick, Killarney, Kenmare, and Ennis.
Book online now!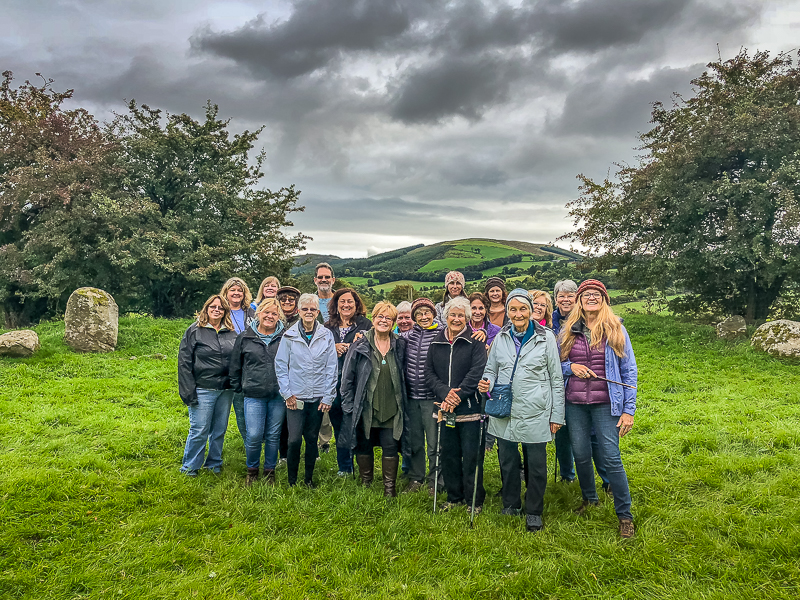 Though this tour is completely independent of the preceding tour in September, The Hag's Journey – West continues the story of that tour exploring feminine energies, stories and mythology on the western edge of Ireland from County Mayo to County Kerry including The Hag of Beara on the Beara Peninsula in West Cork – a prominent entity on both "Hag Journey" tours. Guests will travel within the context of the stories of goddesses and heroines of Ireland starting with St. Brigid followed by Aíne (the sun goddess), Grania (Grace) O'Malley the red-headed pirate Queen, St. Gobnait finding her places of resurrection, Dierdre of the sorrows, the Cailleach – Hag – of Beara, St. Ita the teacher, and Lady Augusta Gregory, a modern heroine who understood and interpreted the mystical landscape of Ireland.
Guests will also seek out a half dozen Sheela na Gigs along the way and ponder their meaning.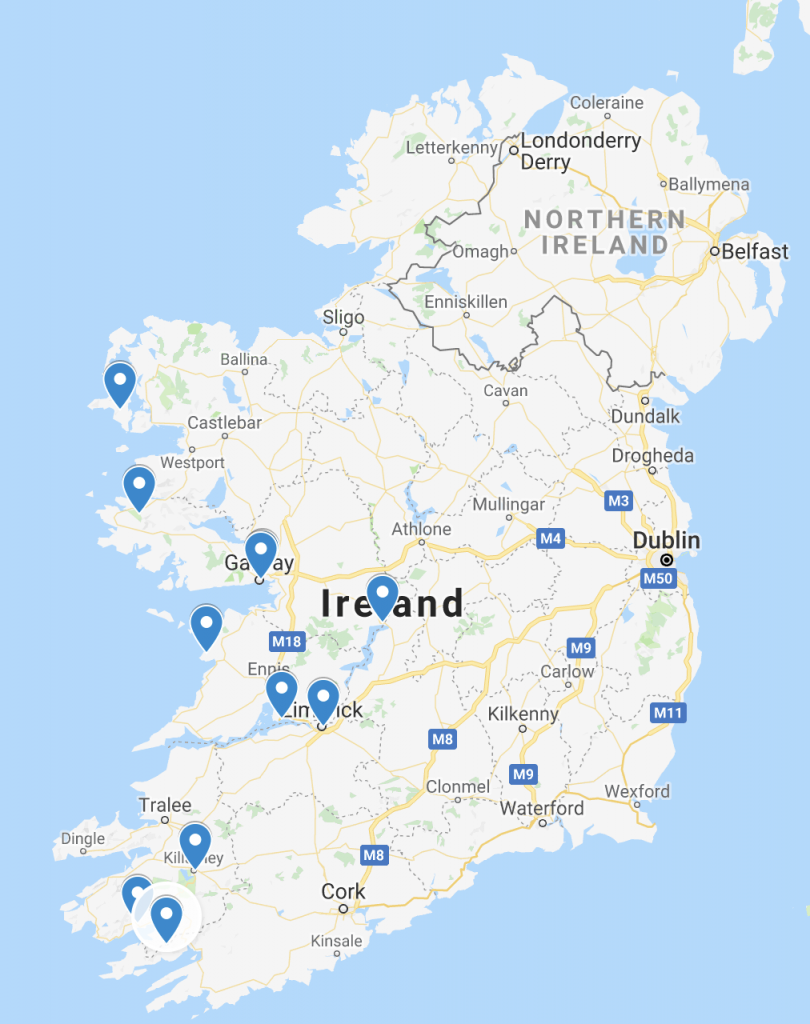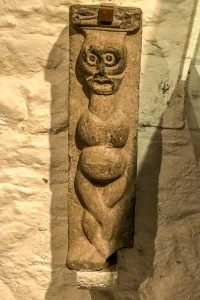 TOUR HIGHLIGHTS  – The tour begins in West Clare and a view of "Hag's Head" at the Cliffs of Moher and a visit to St. Brigid's Holy Well. Guests will travel to Lady Gregory's Coole Park and walk in its amazing "Seven Woods" and from there go on to Lough Carra with views of "Hag Island." Guests will visit Achill Island and the Castle of Grace O'Malley, the pirate queen who was a contemporary of Queen Elizabeth I. Then they'll walk in the ruins of the deserted village of Slievemore, listening to the stories of a local historian and author. Guests will experience the vibrant towns of Galway, Limerick, and Killarney and take in the scenic mountains and valleys of Connemara.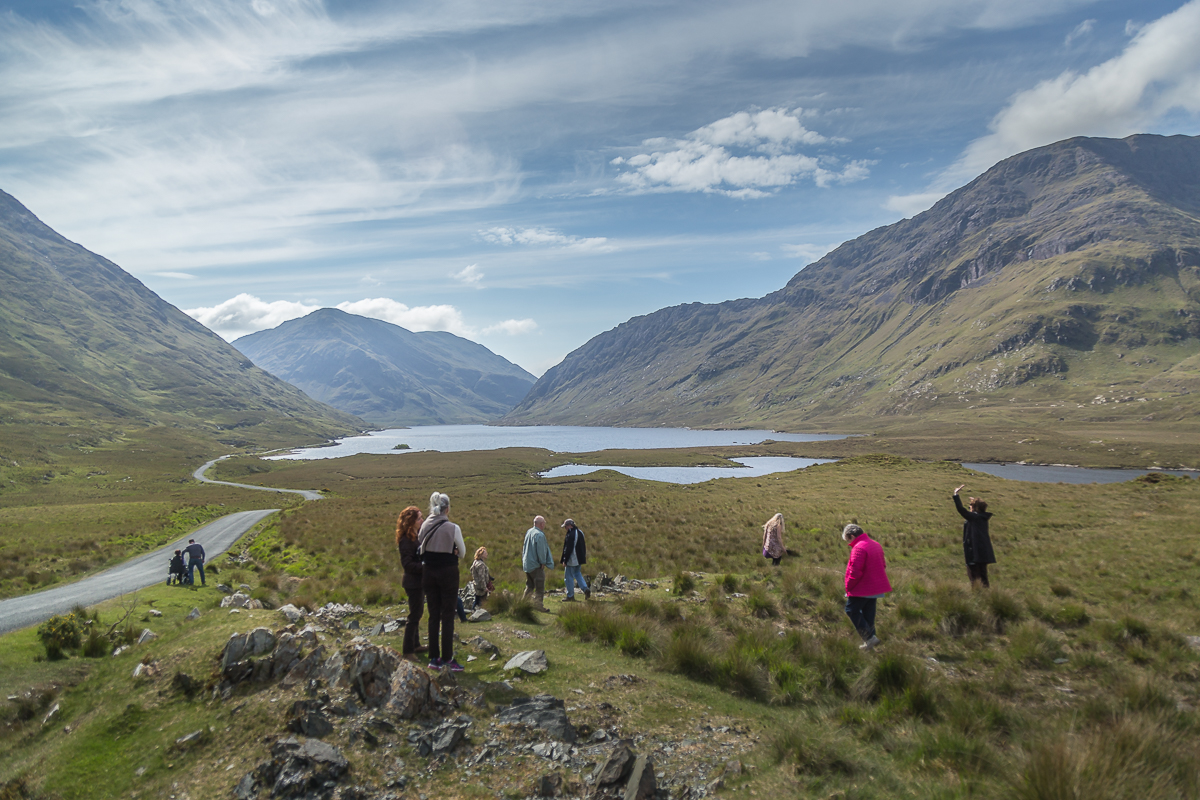 There will be an overnight in Galway City and then a visit to East Clare where guests will get an inside view of an Irish Workhouse and the struggles of Irish mothers in the 1840s and 50s. Guests will learn of St. Ita who was a remarkable educator and fosterer of young children – including St. Brendan. Guests will visit Brian Boru's homestead in Killaloe and Clonfert Cathedral where St. Brendan is buried, and then the group will be headed for Killarney in County Kerry.
Guests will walk in a mystical forest in Killarney National Park and take in the stunning panoramic vistas at the Ladies View outside of Killarney town, named for Queen Victoria's Ladies in Waiting who visited there in 1861. There will be a visit to Muckross Abbey in Killarney where guests will see and a private walk through a magical forest. There will be a full day exploring the mystical Ring of Kerry. Final days of the tour will be spent seeing the ancient sites on the Beara Peninsula including the Hag of Beara and several stone circles. Guests will visit one of the most magical landscapes in Ireland – one that features Ireland's largest stone circle, passage tombs, standing stones, and an enchanted lake. On the final day, guests will visit Ballyvourney and St. Gobnait's Holy Well after learning about "The Nun of Kenmare" and spending some time in Kenmare town. The final night and Farewell Dinner will be at one of our favorite places in Ireland – The Old Ground Hotel in Ennis.
This tour includes a day with the archaeologist, Michael Gibbons, and an afternoon on Achill Island with Mayo writer, Patricia Byrne, author of The Veiled Woman of Achill.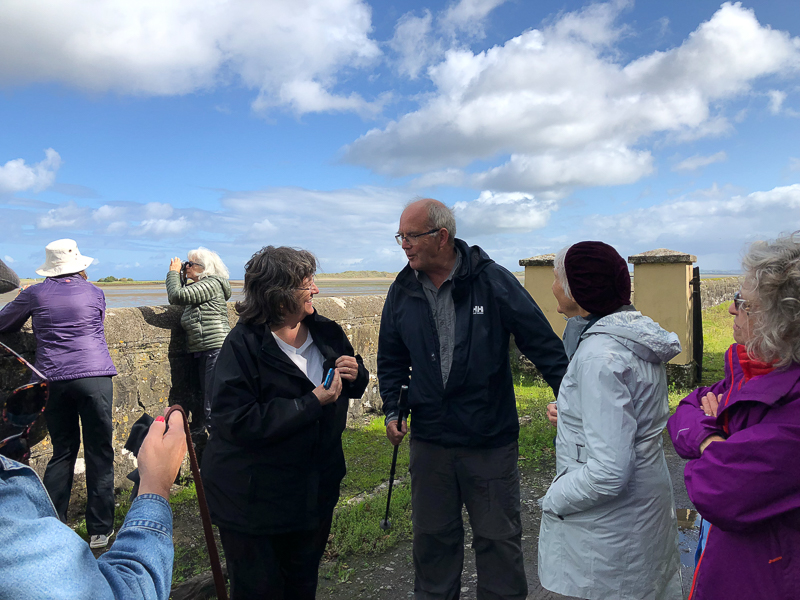 This spiritual tour of thin places along the west coast of Ireland allows guests to connect with Ireland's mystical landscape within the context of the "story of the hag."  Guests will visit some of Ireland's last totally wild places and places associated with a goddess or feminine energy and legends. Sites include stunning cliffs, expansive beaches, and rugged mountains. The pace is leisurely and guests will interact with local experts who will share information on Ireland's archaeology, history, and mystical connections.
A spiritual tour that connects guests with the feminine elements of the land
The Earth is our mother and is associated with the divine feminine. This tour with its selection of sites goes deep into the northern Irish landscape and connects with the understanding of the earth as our mother. Themes of rebirth and accessing ancient wisdom surface all along this tour. This tour is ideal for healers, artists, and those interested in earth energy and nature – especially the wild places. If you feel especially connected to the land, the spirit of the plants and trees, then this tour will be exhilarating for you.
There will also be time for fun. Guests will stay in and visit vibrant cities such as Ennis, Galway, Limerick, Killarney, and Kenmare an entire day free in Killarney. Guests will also be able to engage with local guides who will provide an authentic cultural experience in Ireland.
This tour is limited to 15 to 25 people – so as to be flexible and intimate.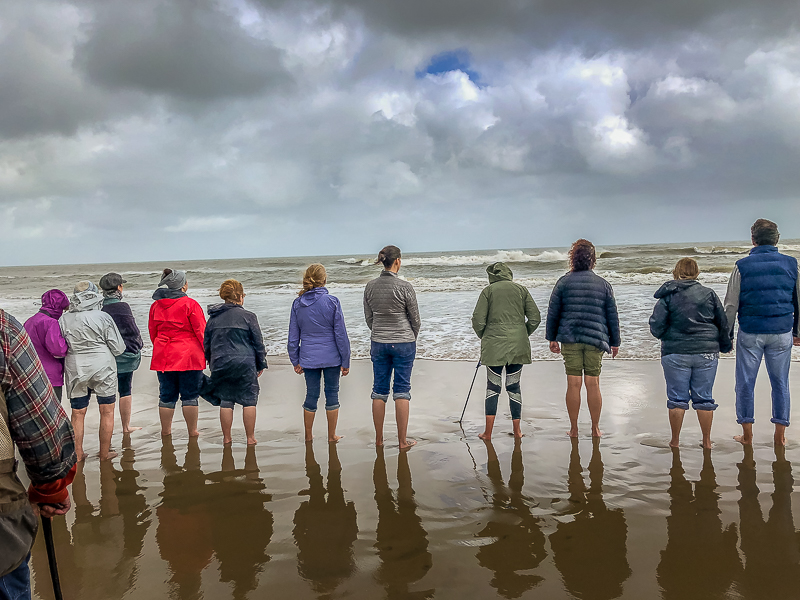 The Focus is thin places
The focus of all our tours is "thin places" or places where the veil between this world and the eternal world is thin… where both worlds are woven together.  And as on all of our tours, you'll see the unspoiled hidden places few visitors ever see on other commercial tours. You'll be traveling within the context of a story while peeping into the ancient past of mystical hills, stone circles, passage tombs, holy wells, monastic ruins, castle ruins, and archeological wonders.  There will be quiet time as well as fun group excursions. This is a spiritual tour you will never forget.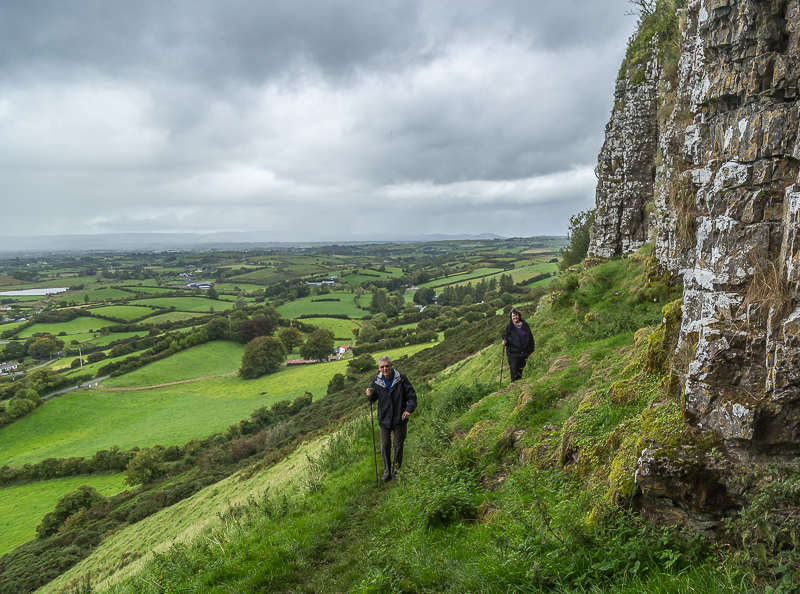 THE HAG'S JOURNEY (WEST) – ITINERARY & DETAILS
A full-time tour guide will be with the tour from start to finish as will a coach driver. The guide will be Mindie Burgoyne, tour operator and owner of Thin Places Mystical Tours. She has a long history of investigating thin places in Western Europe and an understanding of earth energies and the power of spiritual pilgrimage. Overnights will be in Ennis, Galway, Limerick, Killarney and Kenmare.
WHAT'S INCLUDED:
Full-time tour guide / Private Coach – Mindie Burgoyne will be the full-time tour guide. A private motor will be secured for the entire duration of the tour.
All Accommodations in 3 or 4-star hotels or high-end B&Bs
10 breakfasts
5 dinners – Welcome and Farewell dinners on the first and last nights, plus one dinner in Mulranney, Killarney, and Kenmare.
All private tours/ guides
All admissions to attractions
Private day tours with Michael Gibbons (archaeologist) and Patricia Byrne (author, storyteller).
Over 25 Group Excursions that include: Cliffs of Moher • St. Brigid Shrine and Holy Well • Coole Park • Thoor Ballylee • Lough Carra • Moore Hall • Achill Island • Croagh Patrick • Stone of Boheh• Connemara Scenic Drive • Clonfert Cathedral • Irish Workhouse Museum  • Killaloe – Brian Boru's Kincora site • Killarney National Park and Forest • Muckross House • Molls Gap / Ladies View • Free Day in Killarney • Muckross Abbey • Uragh Stone Circle • Hag of Beara • Kealkill Stone Circle • Lough Gur • Grange Stone Circle • St. Gobnait's Holy Well • Kenmare Town
Book online now!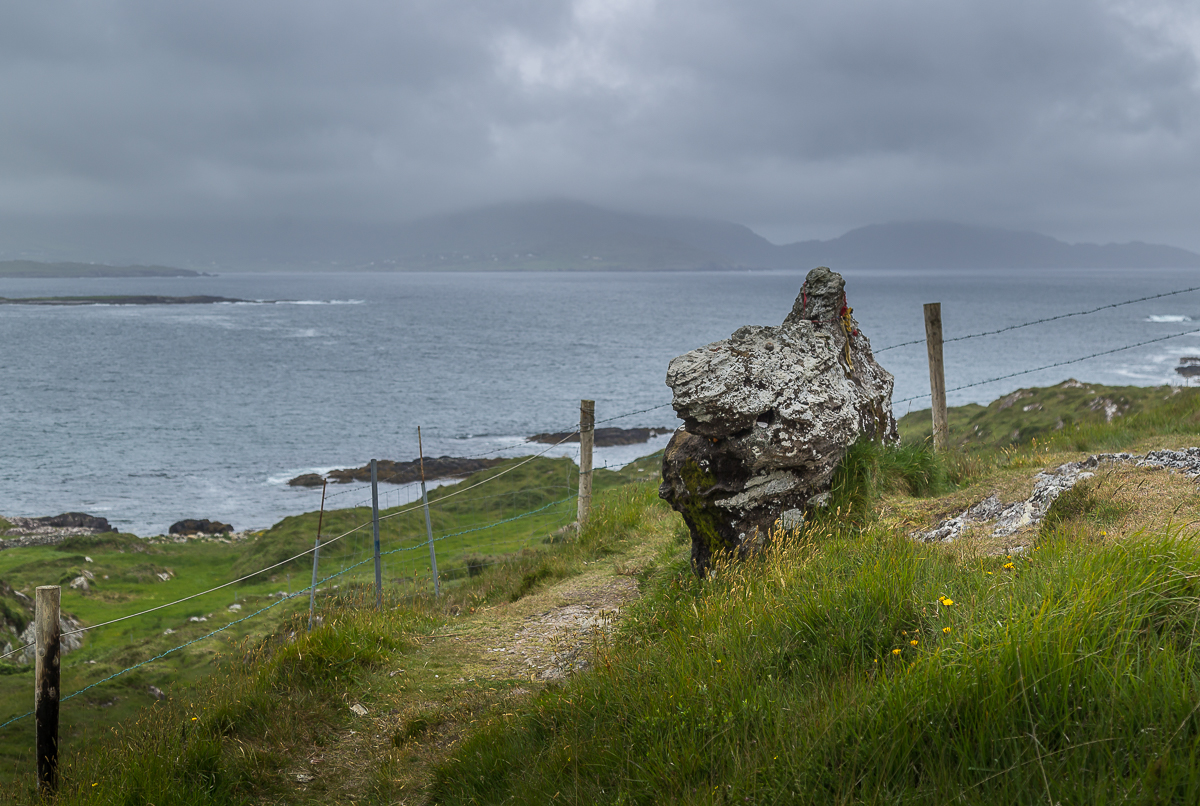 3 Expert local guides will be with your group for a more in-depth visitor experience. These guides are local to the area and will be able to speak specifically about some of the sites on the tour. The Hag's Journey – West includes two privately guided tours by local experts. There will be a day with the archaeologist, Michael Gibbons, and an afternoon on Achill Island with Mayo writer, Patricia Byrne, author of The Veiled Woman of Achill.
Ground Transportation – We enjoy the comfort of our own motorcoach for the entire 9 days. Guests are free to leave things they use daily (walking sticks, jackets, etc) on the bus. The bus may also include an onboard bathroom and wifi (depending on the size of the tour group).
FREE DAY in Killarney is also included.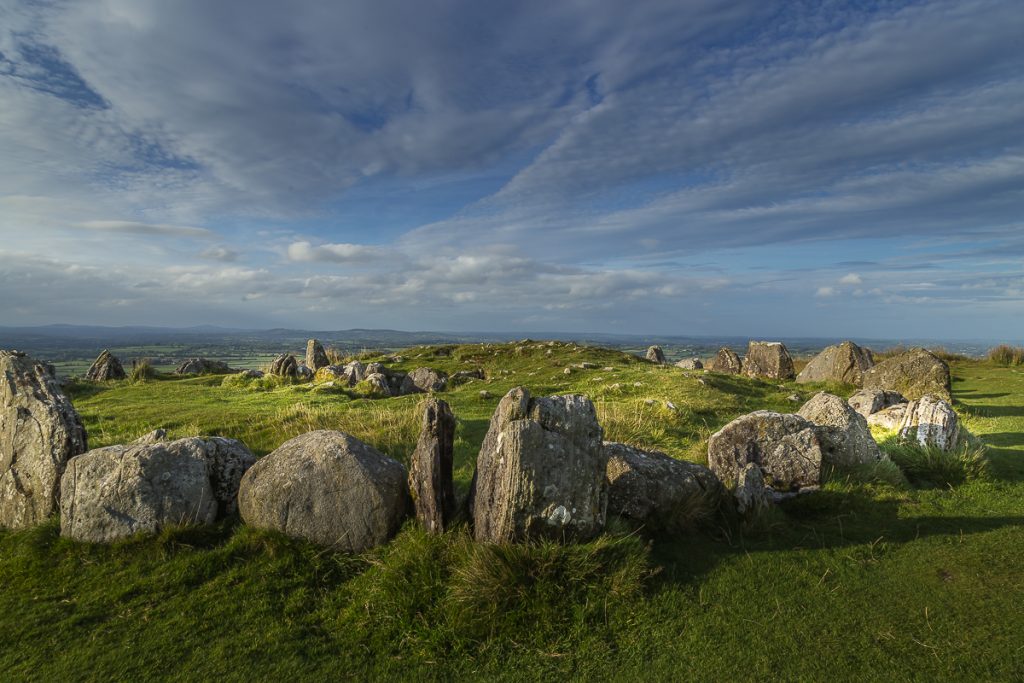 Airfare is not included.  Guests must arrange their own airfare to and from Shannon International Airport
TOUR START and END – The tour begins when the tour guide and coach driver meet the guests at Shannon International Airport (SNN) in the arrivals hall at 10 am on October 1st.  Guests are responsible for getting themselves to SNN at that time in order to meet the tour.  A map and exact location will be provided.  On the last night of the tour, guests are booked into a hotel close to SNN Airport where they can easily take a short cab or shuttle ride to the airport the following morning or extend their stays.
NOTE: Guests may want to consider a PRENIGHT(s)  on September 30th  in Ennis for a little extra time to unwind, adjust before the tour and visit some sites the lovely town of Ennis or Limerick. From there, guests can take a bus back to the airport on October 1st to meet the group. Thin Places Tours can help with hotel suggestions before and after the tour. Arriving a day early would also protect against missing the first day of the tour if a flight is delayed or circumstances upset your scheduled arrival on September 20th.
SEE NOTE BELOW FOR GUESTS BOOKING BOTH IRELAND TOURS
COST – $2699 + AIR
Cost of $2699 (based on double occupancy) is for the land only. It includes lodging, all breakfasts, and five dinners. It also includes land transportation, admission costs, and private guides. Posts about some of the sites will appear periodically on the blog.  In addition to the cost of the tour, guests would be responsible for airfare, lunches, and dinners that are not included, plus any incidental expenses unrelated to the group tours and accommodations.
Single room supplement is $550, is due with the registration deposit. There are a limited number of Single rooms available.
Single Rooms are limited. Single supplement will go up when the limit (6) is reached. We will try to pair people who request a roommate but cannot guarantee a roommate.
There is one single female guest for this tour who is looking to share a room.
Booking the Tour – Deposit of $500 (plus $550 single supplement if applicable) per person must be submitted with an online form to hold the spot.  Deposit is refundable for 30 days and also locks in the price.  Due to the unpredictability of the Euro, the price of the tour may rise before the tour date.  But a deposit locks in the price of the tour.
Tour balance is due 60 days before the tour start.    Download Registration Form
Travel Insurance –We suggest guests purchase travel insurance on their own. Thin Places Mystical Tours does not sell Travel Insurance or represent any travel insurance vendor, though we can make recommendations based on what other guests have used.
Tour is limited to 25 guests.
DISCOUNT FOR THIN PLACES ALUMNI
$50 discount for every Thin Places tour they've been on prior to 2018.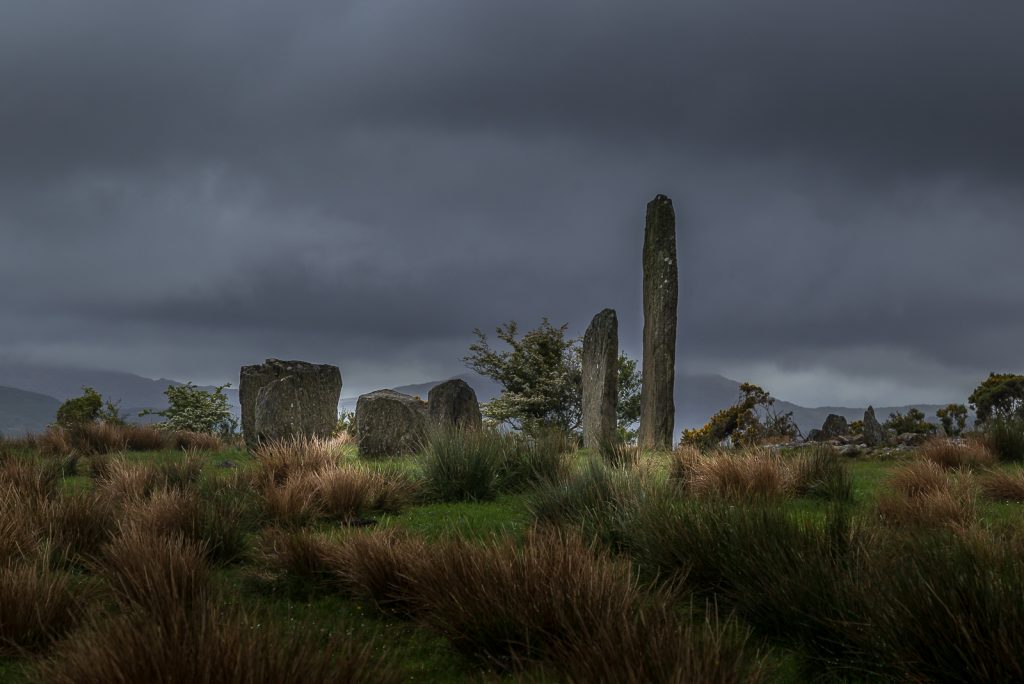 ________________________________________________________
Special "Hag's Journey" Double Tour Rebate – $100 off total cost of both tours (per person).  
For guests who would like to attend both Ireland tours listed below – The Hag's Journey – North AND The Hag's Journey – West, a discount of $100 plus transportation from Dublin to Shannon will be offered and assistance with booking a hotel for the two nights in between. (hotel cost for those two nights not covered)
Note that tour 1 (Hag's Journey – North) begins and ends in Dublin, and tour 2 (Hag's Journey – West) begins and ends in the Shannon Airport region in County Clare in the west of Ireland. Guests doing both tours will be responsible overnight accommodations for the two nights between tours but Thin Places Tours will cover the cost of bus transport from Dublin to Shannon and help those guests locate hotel rooms for those nights in between the tours – removing the logistical efforts of getting from one place to another. This offer can also be combined with alumni discounts.
________________________________________________________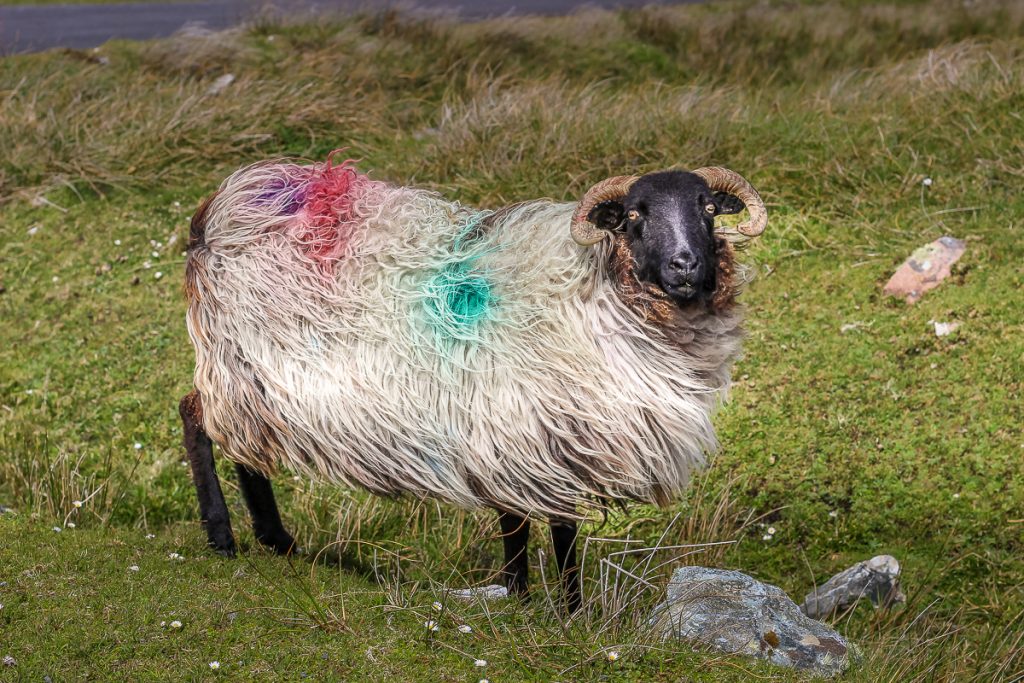 ITINERARY – The Hag's Journey (west)
Day 1, October 1st – Cliffs of Moher, Loop Head, St. Brigid's Well
Guests will meet the tour group at Shannon Airport at 10 am and then head for the Cliffs of Moher with views of Hag's Head and it's a mythical tie to the Hag of Beara (a common theme throughout the tour). Then a stop at St. Brigid's Shrine and Holy Well at Liscannor. Then off to the hotel for a welcome dinner and a good night's sleep. 
Overnight and Welcome Dinner at The Hotel Meyrick in Galway
Day 2, October 2nd– Coole Parke, Thoor Ballylee, Moore Hall
Guests will leave early in the morning for a trek to County Mayo stopping in County Galway at Coole Park (the estate of Lady Augusta Gregory) with its "Seven Woods" and autograph tree followed by a visit to the grounds of Thoor Ballylee, the tower house castle formerly owned by W.B. Yeats (a thin place). Then guests will head north to Lough Carra and Moore Hall and take in the views of Hag Island.
Overnight at Mulranney Park Hotel in Westport.
Day 3, October 3rd – Achill Island
Guests will head to Achill Island – the largest of Ireland's off-shore islands – stopping along the way at Rockfleet Castle, one of the strongholds of Grainne (Grace) O'Malley, the red-headed pirate queen. On the Island guests will explore the holy well of St. Dymphna, Kildavnet cemetery, Slievemore Deserted Village, the White Cliffs of Ashleam, a megalithic tomb and some of the most beautiful beaches in all of Ireland.  This day also includes a private tour from the author, Patricia Byrne, an expert on Achill Island. Then back to the hotel for a group dinner.
Overnight and dinner at Mulranney Park Hotel in Westport.
Day 4, October 4th – Connemara
Guests will stop at Croagh Patrick, the holy mountain for Christians as well as the pagans before them. Next will be a stop at the Stone of Boheh with ancient carvings that may represent celestial movements. Then guests will take the scenic drive south through Connemara and enjoy a private tour with one of Ireland's most well-known archaeologists, Michael Gibbons.
 Overnight at the Clayton Hotel Galway
Day 5, October 5th – Portumna and East Clare
Guests will leave Galway and head for Portumna and the Irish Workhouse Museum. This restored workhouse interprets the plight of the Irish during and after the Famine of the 1840s. It particulalry details the plight of women. Later hear about St. Ita, known as the "foster mother of the saints of Erin." She fostered St. Brendan the Navigator and educated him as a young boy. Then visit Clonfert Cathedral with its magnificent Romanesque doorway. St. Brendan is said to be buried there. Next guests will visit Killaloe in County Clare and see the foundation of Brian Boru's famous "Kincora" homestead and hear about the woman healer, Biddy Early.
Overnight at The George Hotel in Limerick
Day 6, October 6th – Killarney National Park – Muckross Abbey and Yew tree
Guests leave early for the trek to Killarney and will explore Killarney National Park with its forest walks, waterfalls, and trails. They a visit to Muckross Abbey, built in 1448 as a Franciscan Abbey. It's now been reconstructed and restored to give guests a clear view of monastic life in the 15th century. The Abbey has an ancient yew tree in the cloister garth believed to be planted by the Franciscans 550 years ago, but some historians believe the yew is older than that and the abbey was built around the yew. Guests will also enjoy the scenic views of Macgillycuddy's Reeks at Moll's Gap and the Ladies View.
Overnight at The Great Southern Hotel in Killarney.  
Day 7, October 7th – Free Day in Killarney
Killarney is one of Ireland's most vibrant towns. Guests will have all day and evening to themselves to explore, shop, or book themselves on an optional day trip to Dingle.
Overnight at The Great Southern Hotel in Killarney
Day 8, October 8th – Ring of Kerry
Guests will spend the day doing the full Ring of Kerry with stops in Sneem, Portmagee, Valentia Island and Cahergal Fort.
Overnight and dinner at the Brook Lane Hotel in Kenmare
Day 9, October 9th – Beara Peninsula
This will be a mystical day as the Ring of Beara seems to sit in two worlds. Guests will explore several ancient stone circles including Kealkill and Uragh. They will also make a stop at the final resting place of the Hag of Beara, Ireland's goddess of winter. She is said to have been standing on the hills above Coolagh Bay waiting for her her husband Manannan, the god of the sea to return – but waited so long that she turned to stone. The stone is still there and people pay homage to the Hag of Beara, leaving tokens and gifts at the stone.  Guests will also visit Castletownbere with its famous "McCarthy's Bar" and then onto Glengarrif before returning to their hotel in Kenmare.
Overnight at the Brook Lane Hotel in Kenmare
Day 10, October 10th – Lough Gur and Grange Stone Circle
As guest head back toward the Shannon region, they will explore the mystical landscape at Lough Gur, an enchanted lake in County Limerick known for its legends, it fairy hill and trees and its megalithic tombs.  When the lake was partially drained to allow for more agricultural land, gold implements, weapons and other tokens of devotion that had been cast into the lake were recovered. Lough Gur has a mystical "Lady of the Lake." Guests will end the tour at the Grange Stone Circle – the largest stone circle in Ireland and a site with a very high energy vibration. At the end of this day, there will be a farewell dinner at a hotel near the airport.
Overnight and dinner at The Old Ground Hotel in Ennis
Day 11, October 11th – Depart
The tour is ended. No activities for this day. Guests will head home or depart travel on their own.
The itinerary is subject to change considering weather and availability factors.  Overnights are in Ennis, Westport, Galway, Limerick, Killarney, Kenmare and Shannon Airport

Thin Places Tours can help guests make arrangements for pre-night stays. There is also a $100 rebate and transportation for guests that want to do a pre-tour on The Hag's Journey – North.
MAKE YOUR RESERVATION TODAY.

$500 per person deposit needed to reserve your spot (plus the $550 single supplement if applicable). Final balance due to be paid by 60 days before the tour.
Still have questions? Email  contact @ thinplacestour.com or call  301.648.2010
Book online now!