Spiritual Tour of Ireland 9/20-29, 2019

The Hag's Journey – North
13 Counties across the northern region of Ireland
focus on mystical sites and the Divine Feminine
TOUR REGISTRATION CLOSED – Call for more information 443.735.2433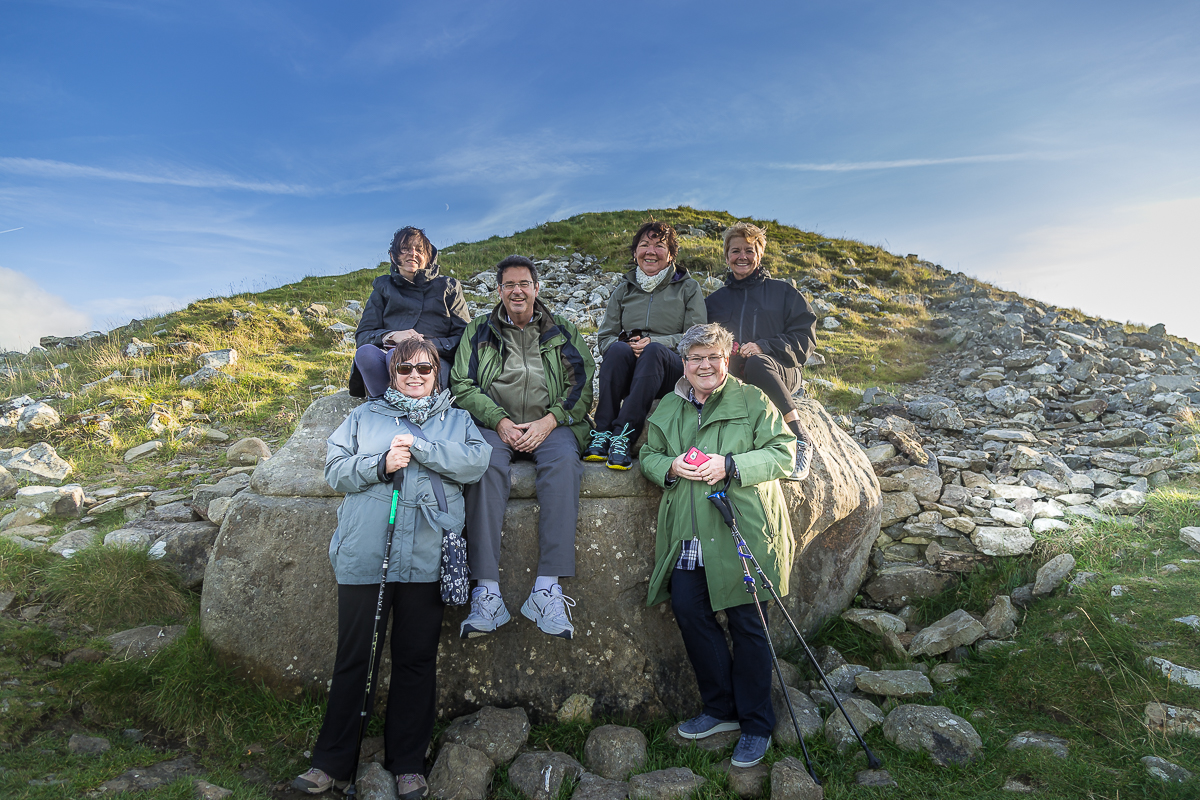 Ireland – The Hag's Journey – North

Sept. 20-29, 2019 – 9 days – $2599 + Air
Armagh, Derry, Tyrone, Donegal, Sligo, Uisneach, Loughcrew & Knowth
Book online now!
This spiritual tour of the northern region of Ireland (including Northern Ireland), The Hag's Journey – North starts from Dublin Airport and moves into the north country – the area in Ireland that is least visited and is still relatively undeveloped. The north has an amazing energy, and the elements of the Irish countryside are magnified in this unspoiled landscape. The first stops are in County Louth – St. Brigid's birthplace and holy well and the Hill of Ward – an ancient druidic site. Then guests will head to County Armagh and then explore sacred sites through Counties Tyrone, Derry, Donegal, Fermanagh, Sligo and some surrounding counties – 13 counties in all. Sites include passage tombs, stone circles, holy wells, natural caves, and sacred mountains. The second half of this tour traces the west to east line that of major monuments in Ireland- many affiliated with feminine deities – Carrowmore, Keshcorran, Rathcroghan, Loughcrew, and Knowth.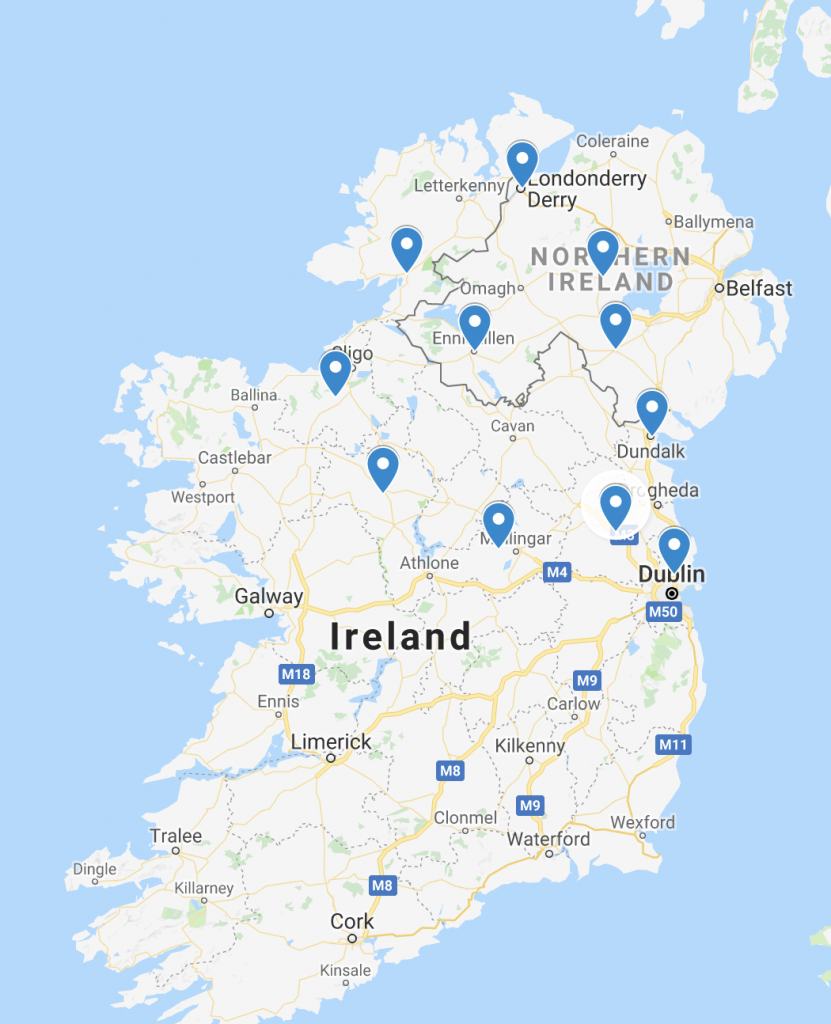 Sites include St. Brigid's birthplace and holy well, Bective Abbey, Navan Fort, Slieve Gullion, Loughcrew (Hill of the Hag), Beaghmore Stone Circles, St. Moninna's Holy Well, Slieve Gallion, Inishkeel, The Rock of Doon, Caldragh Ancient Cemetery, Lisadell House, Drumcliffe (Yeats' grave), Carrowmore Megalithic Cemetery, Knocknashee, Rathcroghan, Keshcorran Caves, the Hill of Uisneach, the Hill of Ward and finally – Knowth in the Boyne Valley.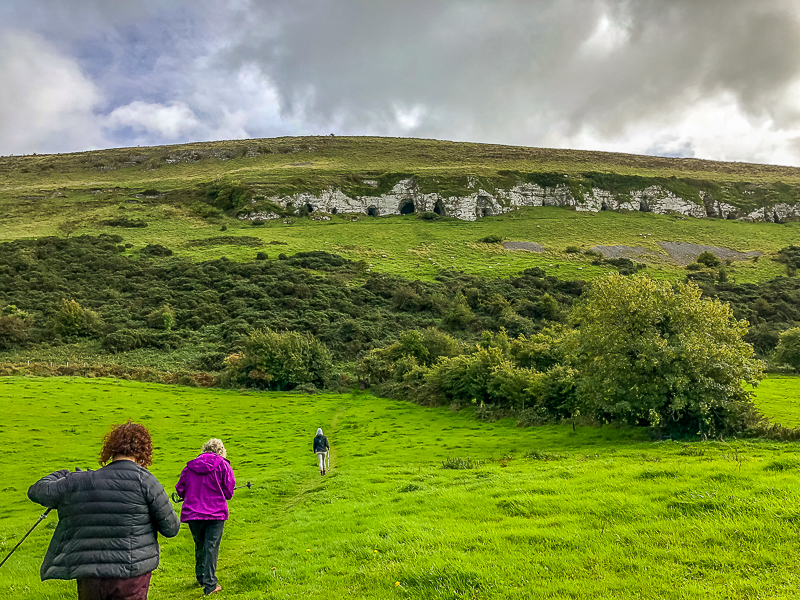 Feminine deities explored include are Brigid (both goddess and saint); Macha of Eamhain Mhacha (Navan Fort – Armagh); Aíne, sun goddess; Queen Maeve of Connaught; Ériu, from whom Ireland (Eire) takes its name; and the Cailleach or the Hag of Beara- whose story stretches from the Beara Peninsula through Sligo and across to Sliabh na Cailleach – aka the Hill of the Hag – where this tour ends.
Guests on this tour will visit sites and ancient monuments that are off the typical tourist routes – sites that are deep in the northern Irish landscape.
*** MUSIC & STORYTELLING – This tour also includes a private evening with a traditional Irish music group, an opportunity to visit with a legendary Irish Storyteller, a free day in Sligo town and a day with Anthony Murphy of Mythical Ireland who will privately guide the tour of Loughcrew and Knowth.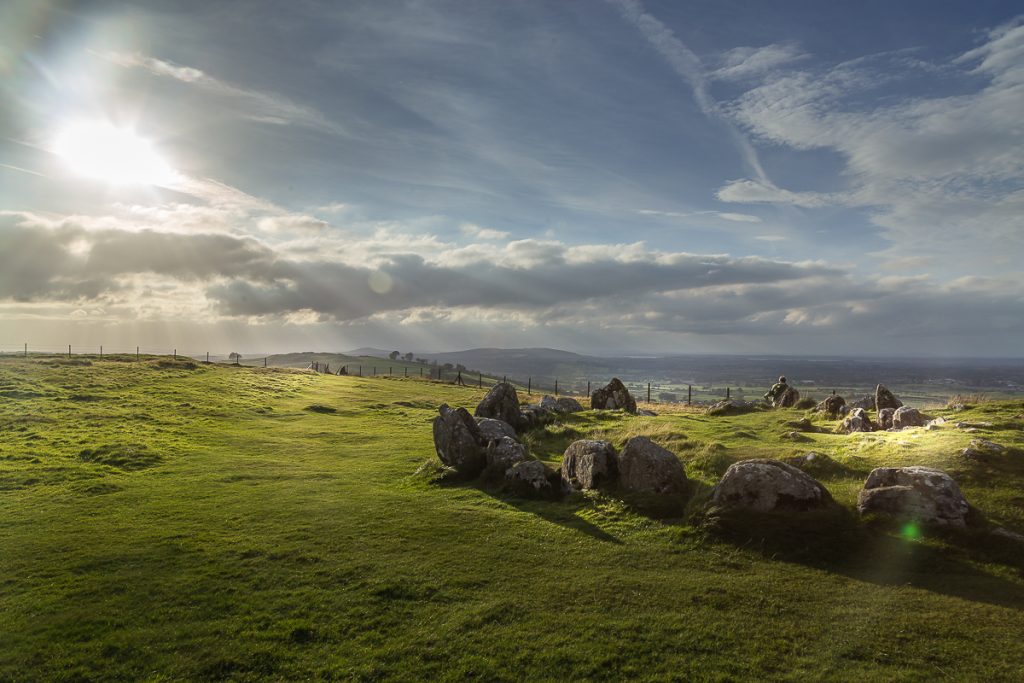 A spiritual tour that connects guests with the maternal elements of the land
The Earth is our mother and is associated with the divine feminine. This tour with its selection of sites goes deep into the northern Irish landscape and connects with the understanding of the earth as our mother. Themes of rebirth and accessing ancient wisdom surface all along this tour. This tour is ideal for healers, artists, and those interested in earth energy and nature – especially the wild places. If you feel especially connected to the land, the spirit of the plants and trees, then this tour will be exhilarating for you.
There will also be time for fun. Guests will stay in and visit vibrant cities such as Sligo, Donegal, and Derry, with an entire day free in Sligo. Guests will also be able to engage with local guides who will provide an authentic cultural experience in Ireland.
This tour is limited to 15 to 25 people – so as to be flexible and intimate.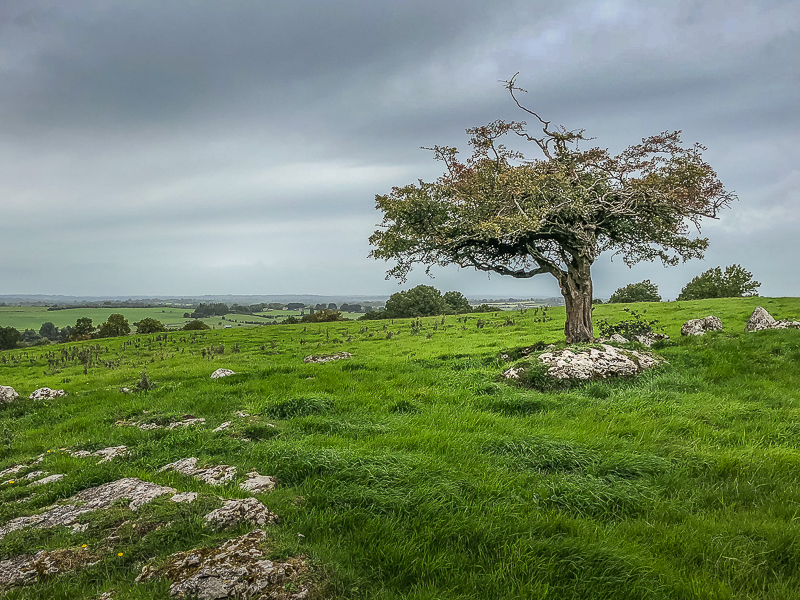 The Focus is thin places
The focus of all our tours is "thin places" or places where the veil between this world and the eternal world is thin… where both worlds are woven together.  And as on all of our tours, you'll see the unspoiled hidden places few visitors ever see on other commercial tours. You'll be traveling within the context of a story while peeping into the ancient past of mystical hills, stone circles, passage tombs, holy wells, monastic ruins, castle ruins, and archeological wonders.  There will be quiet time as well as fun group excursions. This is a spiritual tour you will never forget.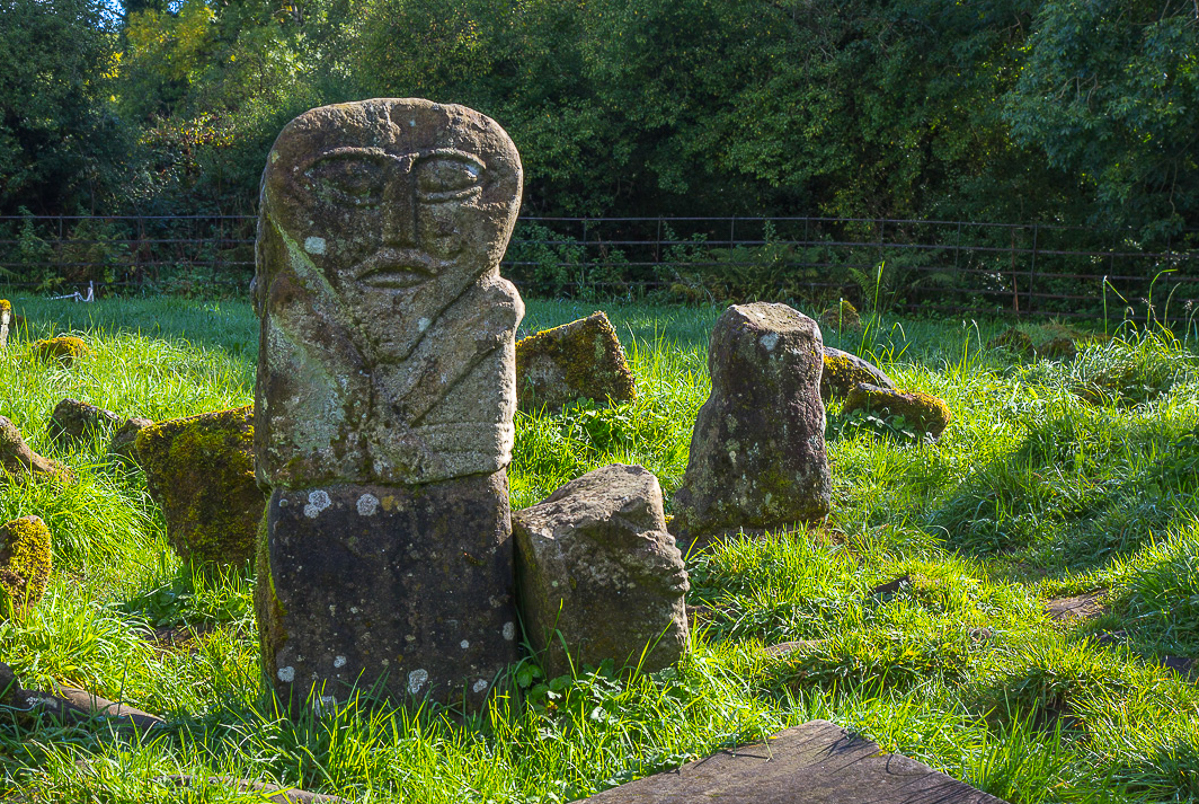 THE HAG'S JOURNEY (NORTH) – ITINERARY & DETAILS
A full-time tour guide will be with the tour from start to finish as will a coach driver. The guide will be Mindie Burgoyne, tour operator and owner of Thin Places Mystical Tours. She has a long history of investigating thin places in Western Europe and an understanding of earth energies and the power of spiritual pilgrimage. Overnights will be in Dundalk, Letterkenny, Sligo and Dublin Airport.
WHAT'S INCLUDED:
Full-time tour guide / Private Coach – Mindie Burgoyne will be the full-time tour guide. A private motor will be secured for the entire duration of the tour.
All Accommodations in 3 or 4-star hotels or high-end B&Bs
All breakfasts
Four dinners – Welcome and Farewell dinners on the first and last nights, plus one dinner in Donegal and Sligo.
Lunch in Armagh
All private tours/ guides & attraction admissions
An Evening of Irish Music – local musicians will play traditional and folk music and discuss the musical craft and traditional instruments.
2 Private tours with Anthony Murphy of Mythical Ireland on the final day.
Over 25 Group Excursions that include: Bective Abbey • Hill of Ward • St. Brigid's Shrine and Holy Well • Navan Fort • Slieve Gullion • St. Moninna's Holy Well • Beaghmore Stone Circles • Auglish Stone Circle • Slieve Gallion • Derry City • Grianan of Aileach • Lacknacoo – stone of loneliness • Assaranca waterfall  • Caves of Maghera • Inishkeel • Glenties Scenic Drive • Creevykeel Court Tomb • Drumcliff – Yeats' Grave • Caldragh Graveyard • Lissadel House • Carrowmore Megalithic Cemetery • Sligo Town • Rathcroghan • Keshcorran • Hill of Uisneach, Loughcrew and Knowth.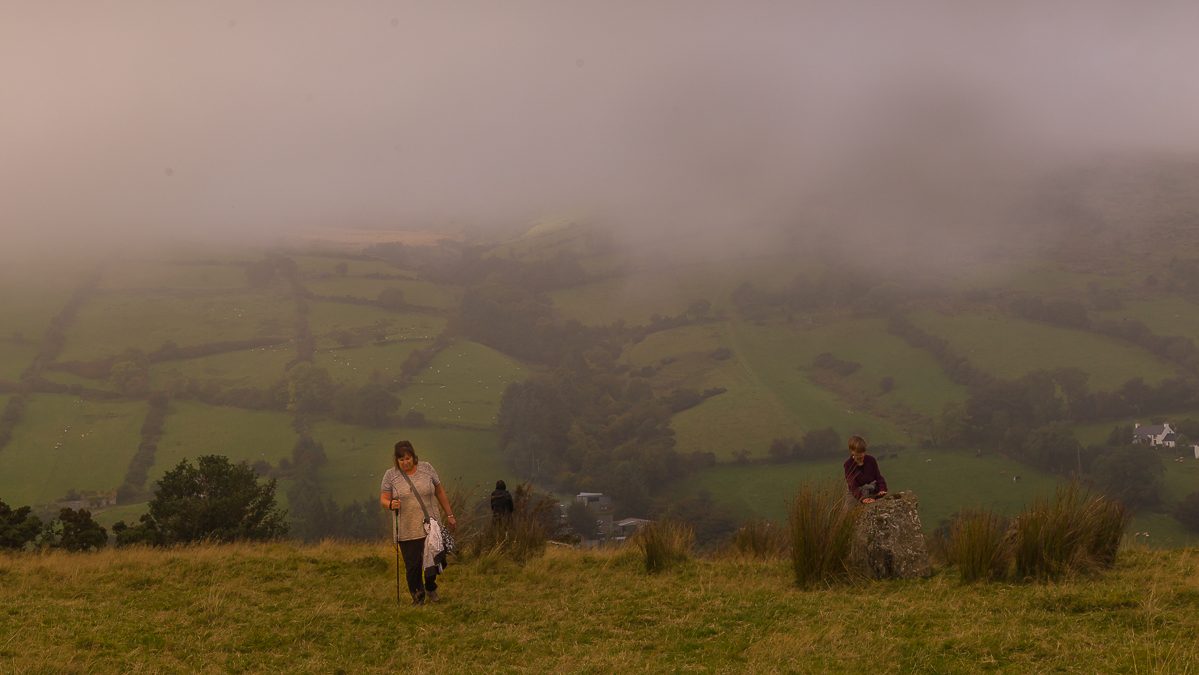 Expert local guides will be with your group for a more in-depth visitor experience. These guides are local to the area and will be able to speak specifically about some of the sites on the tour. The Hag's Journey – North includes a guided tour with one of Ireland's leading authorities on ancient sites, especially in and near the Boyne Valley –Anthony Murphy of Mythical Ireland . and an evening with Irish Musicians.
Ground Transportation – We enjoy the comfort of our own motorcoach for the entire 9 days. Guests are free to leave things they use daily (walking sticks, jackets, etc) on the bus. The bus may also include an onboard bathroom and wifi (depending on the size of the tour group).
FREE DAY in Sligo town is also included.  Sligo is a city of ancient history and art. Enjoy having lunch in a "snug" at Hargadon's, visit the amazing wood carving artist and storyteller Michaels Quirke, walk the river walk, visit Sligo Abbey, take in the public art and sculpture, see what's playing at the Hawkswell Theater or shop in the boutique stores.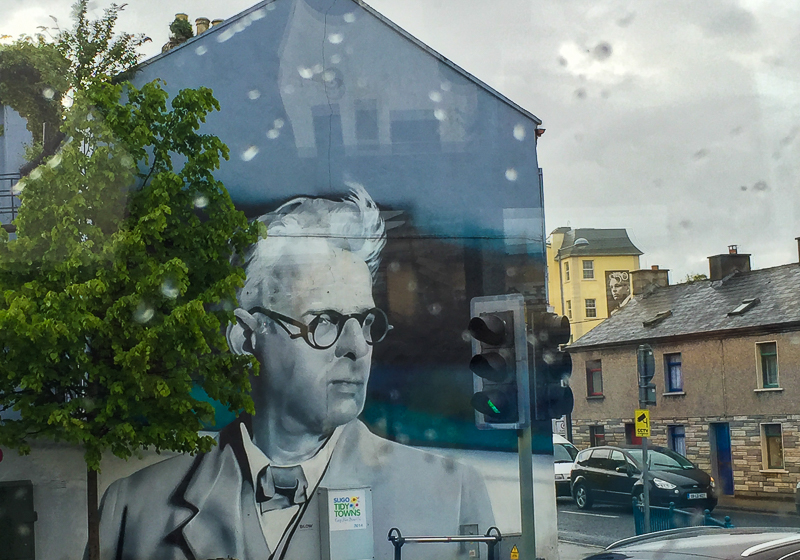 Airfare is not included.  Guests must arrange their own airfare to and from Dublin International Airport. For guests who book both Ireland tours, airfare should be arranged to fly into Dublin and out of Shannon.
TOUR START and END – The tour begins when the tour guide and coach driver meet the guests at Dublin International Airport (DUB) at 10 am on September 20th.  Guests are responsible for getting themselves to DUB at that time in order to meet the tour.  A map and exact location will be provided.  On the last night of the tour, guests are booked into a hotel close to Dublin Airport where they can easily take a short cab or shuttle ride to the airport the following morning or extend their stays.
NOTE: Guests may want to consider a PRENIGHT(s)  on Sept 19th  in Dublin for a little extra time to unwind, adjust before the tour and visit some sites in that popular European city. From there you can take a bus back to the airport on September 20th to meet the group. Thin Places Tours can help with hotel suggestions before and after the tour. Arriving a day early would also protect against missing the first day of the tour if a flight is delayed or circumstances upset your scheduled arrival on September 20th. For guests who expect to spend a few extra days in Ireland, it is best to put those days on the front end of the tour.
SEE NOTE BELOW FOR GUESTS BOOKING BOTH IRELAND TOURS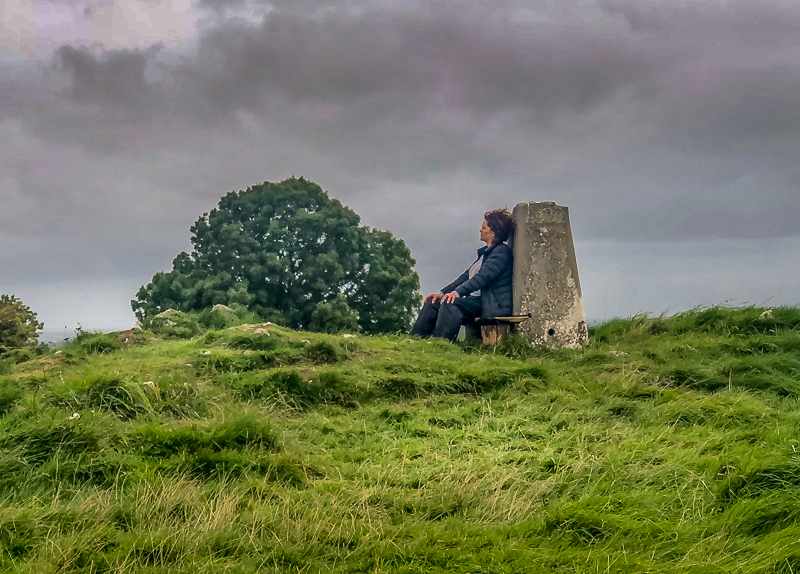 COST – $2599 + AIR
Cost of $2599 (based on double occupancy) is for the land only. It includes lodging, all breakfasts, and four dinners. It also includes land transportation, admission costs to all attractions, and private guides. Posts about some of the sites will appear periodically on the Thin Places blog.  In addition to the cost of the tour, guests would be responsible for airfare, lunches, and dinners that are not included, plus any incidental expenses unrelated to the group tours and accommodations.
Single room supplement is $550, is due with the registration deposit. There are a limited number of Single rooms available.
Single Rooms are limited. Single supplement will go up when the limit (6) is reached. We will try to pair people who request a roommate but cannot guarantee a roommate.
There is one single female guest for this tour who is looking to share a room.
Booking the Tour –Deposit of $500 (plus $550 single supplement if applicable) per person must be submitted with the online form to hold the spot.  Deposit is refundable for 30 days. The deposit also locks in the price.  Due to the unpredictability of the British Pound exchange rate, the price of the tour may rise before the tour date.  But a deposit locks in the price of the tour.
Tour balance is due 60 days before the tour start.
Travel Insurance –We suggest guests purchase travel insurance on their own. Thin Places Mystical Tours does not sell Travel Insurance or represent any travel insurance vendor, though we can make recommendations based on what other guests have used.
Tour is limited to 25 guests.
DISCOUNT FOR THIN PLACES ALUMNI
Guests receive a $50 discount for every Thin Places tour they've been on prior to 2019
Book online now!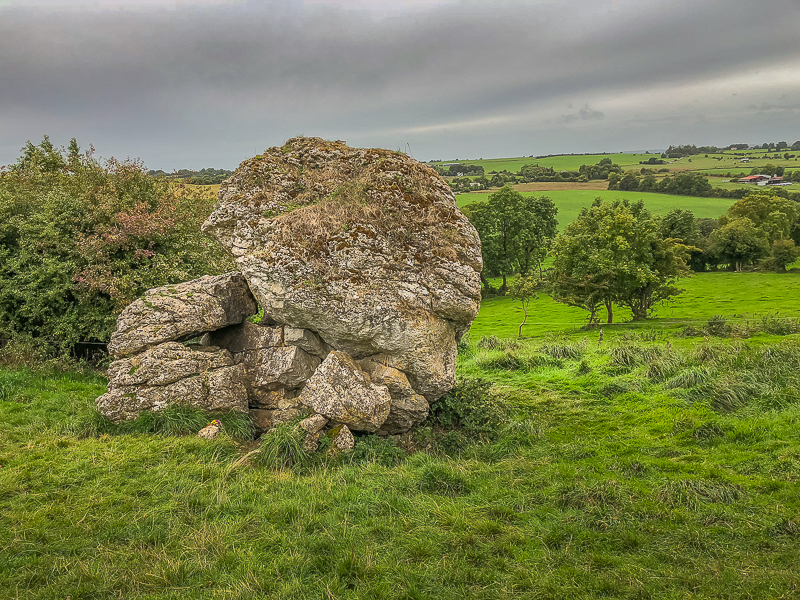 ________________________________________________________
Special "Hag's Journey" Double Tour Rebate – $100 off total cost of both tours (per person).  
For guests who would like to attend both Ireland tours listed below – The Hag's Journey – North AND The Hag's Journey – West, a discount of $100 plus transportation from Dublin to Shannon will be offered and assistance with booking a hotel for the two nights in between. (hotel cost for those two nights not covered)
Note that tour 1 (Hag's Journey – North) begins and ends in Dublin, and tour 2 (Hag's Journey – West) begins and ends in the Shannon Airport region in County Clare in the west of Ireland. Guests doing both tours will be responsible overnight accommodations for the two nights between tours but Thin Places Tours will cover the cost of bus transport from Dublin to Shannon and help those guests locate hotel rooms for those nights in between the tours – removing the logistical efforts of getting from one place to another. This offer can also be combined with alumni discounts.
________________________________________________________

Sligo Musicians play for Thin Places tour group
ITINERARY – The Hag's Journey (North)
Day 1,  Sept. 20th – HILL OF WARD – ST BRIGID'S BIRTHPLACE
Guests will meet tour guide and coach at Dublin Airport at 10 am (flights should be arranged to arrive by 9 am on 12/20)
From there they will make a visit to several stops in the Boyne Valley including a mystical abbey ruin and the Hill of Ward, an ancient ritual site associated with winter fires (Samhain) and a red-haired female druid named Tlachtga who gave birth to triplets – 3 sons – on this hill.  The pregnancy was the result of a rape. The birth of the three sons sapped all her strength. She died after the last son was born. They say she's buried there and her beating heart can be felt in the earth below bare feet that walk on the hill.  This site was widely used for druidic practices, and later became a defensive structure believed to be home to kings. After Hill of Ward, guests will arrive at the birthplace of St. Brigid in Faughart. They will visit the holy well there and explore that ancient site. Then they will head to the hotel for a welcome dinner and early night's sleep.
Overnight Carrickdale Spa Hotel, Dundalk, County Louth.
Day 2, Sept. 21st – Navan Fort & Slieve Gullion
Guests will visit the Navan Fort, also known as Emain Macha after the goddess Macha, who like Tlachtga had a multiple birth (twins) that killed her on a sacred hill at this site. This is a place of powerful earth energy, a former temple that attracted visitors from all over the continent. It's also believed to be the home of the Knights of the Red Branch and Cuchulain. Then guests will visit Slieve Gullion, a sacred mountain with a lake and two passage cairns at its summit.  They are the highest passage tombs in Ireland. The hill is associated with Fionn ma Cumhaill and the Calliagh Birra who in Irish mythology is said to have cast a spell on the giant that left his hair permanently white. Strong feminine energy site. While guest will not make the 8-mile trek to the stop, they will be able to do the 1-mile forest walk and experience some sacred energy there. Guests will also visit St. Moninna's holy well nearby.
Overnight Carrickdale Spa Hotel, Dundalk, County Louth.
Day 3, Sept. 22nd – Beaghmore Stone Circles, Derry City
On day three guests will venture out into County Tyrone – the largest of the counties in Northern Ireland, and they will visit the Beaghmore Stone Circles – a complex of seven circles set on a plateau in the Sperrin Mountains. A stunning landscape. Then they'll head over to see the "Field of Writing" with its ancient ogham stone and story of a curse.  then the group will spend the afternoon in Derry City and have an early dinner there before retiring to the Castle Grove Country House in County Donegal.
Overnight at Castle Grove Country House – County Donegal.
Day 4, Sept. 23rd – Lacknacoo, Kilclooney Dolmen, Inishkeel, Ardara
Guests will get an early start and head for the Donegal Highlands visiting Lacknacoo – the Stone of Loneliness, a flat stone in northern Donegal said to be the birthing stone of St. Columba's mother (she gave birth to him on that stone). It's also a sacred site where pilgrims go to lay down their worries and their troubles. Then guests will head to Portnoo to an expansive beach. If the tide is low they can walk out to the island, Inishkeel and see old monastic ruins and ritual sites.  Then guests will visit the Kilclooney Dolmen near Ardara, a portal tomb dating back to 3500BC, and afterward, guests will visit the town of Ardara famous for its tweed manufacturing.  a scenic drive through Glenties on the way back to the Country House where guests will have a group dinner and enjoy the evening.
Overnight at Castle Grove Country House – County Donegal.
Day 5, Sept. 24th – Caldragh Cemetery, Lissadell, Drumcliff
Day five will be a mix of the ancient and the modern.  Guests will visit Caldragh Cemetery on Boa Island in County Fermanagh and see the Janus figure that has been standing on the site for over a thousand years. The cemetery is surrounded with Hawthorn and Hazel trees. Then guests will head to County Sligo where they'll visit Lisadell House, the home of a prominent female figure in Irish history during the uprising and last fight for independence – Countess Constance Markievicz. From there the group will stop at Creevykeel Court Tomb and Drumcliff where William Butler Yeats rests eternally near the church where his great-grandfather once served as rector. Then guests will settle into their hotel in Sligo City.
Overnight Riverside Hotel, County Sligo 
Day 6, Sept. 25th – Carrowmore Megalithic Cemetery, Keshcorran Caves
Guests will visit Carrowmore megalithic cemetery, the largest collection of megalithic tombs in Ireland where the Hag of Beara is said to have dropped the stones from her apron when flying over Sligo on her way to Loughcrew (the Hill of the Hag). The Ox Mountains that flank Carrowmore are said to be the Hag's resting – as their outline shows the perfect form of a woman reclined. Then guests will head off to Knocknashee, a flat-topped mountain known as the "hill of the fairies." Later they'll travel to the Caves of Kesh – Keshcorran, a mystical grouping of cave atop a hill that is associated with a curse of the goddesses of winter.  These high caves have magnificent views that stretch all the way to Croagh Patrick in County Mayo.
Overnight at Riverside Hotel, County Sligo 
Day 7, Sept. 26th – Free Day in Sligo
Guests can enjoy a free day in Sligo City for shopping, museums, stop in at artist/woodcarver Michael Quirke's shop for a storytelling session, each lunch in a "snug" at Hargadon's, shop in the many galleries and boutique stores, visit Sligo Abbey … or simply relax at the hotel.  In the evening, the tour group will be treated to a visit from local Irish musicians who will sing, play and dance as they talk about the craft of music-making.
Overnight Riverside Hotel, County Sligo 
Day 8, Sept. 27th – Rathcroghan, Hill of Uisneach
Guests leave Sligo and head for Rathcroaghn, the royal site for the kings and queens of Connaught. This complex has multiple megalithic features in a magical landscape that includes a portal to the Otherworld – a cave known as Oweynagat (the cave of the cats).  Guests will eat lunch at the Rathcroghan Center and then will head for the Hill of Uisneach – the mystical center of Ireland from which all four provinces were drawn. Uisneach is said to be the culmination of all the ley lines in Ireland. The "Cat stone" atop the hill at the culmination point is said to mark the eternal resting place of the Goddess Eiru. Uisneach is also known for the fire festival at Bealtaine (May 1st). Enjoy the power and energy of Uisneach.
Overnight Annebrook House Hotel in Mullingar.
Day 9, Sept. 28th – Loughcrew passage tomb, Anthony Murphy
Guests will join historian, Anthony Murphy for a visit to the mystical 6000-year-old tombs atop hills that are the highest point in County Meath – the 5th province of Ireland, also known as the Royal Province where the High Kings of Ireland once ruled from.  The tour will climb to Cairn T – situated on Sliabh na Cailleach – the Hill of the Hag.  Guests will also be able to take a seat in the "The Hag's Chair" – a large stone cut into the shape of a throne. This site is associated with the Autumnal equinox when the rays of the rising sun penetrate Cairn T and illuminate the carved stone in the back of the tomb. After Loughcrew, the group will follow Anthony over to Knowth, the largest passage tomb in the Boyne Valley, known for its megalithic art – mostly carved into its 127 kerbstones.  The energy is palpable at Knowth. A visit to these two sites will be a fitting final day for the Hag's Journey.
 Overnight and Farewell Dinner at Hilton Dublin Airport Hotel. 
Day 10, Sept. 29th – Depart
Guests depart from Dublin Airport or extend stay on their own
The itinerary is subject to change considering weather and availability factors.  Overnights are in Dundalk, Letterkenny, Sligo, Mullingar and Dublin Airport

Thin Places Tours can help guests make arrangements for pre-night stays. There is also a $100 rebate and transportation for guests that want to continue on to the next tour, The Hag's Journey – West.
MAKE YOUR RESERVATION TODAY.   CALL 301.648.2010

$500 per person deposit needed to reserve your spot (plus the $550 single supplement if applicable). Final balance due to be paid by 60 days before the tour.
Still have questions? Email  contact @ thinplacestour.com or call  301.648.2010
Book online now!