Spiritual Tour of Ireland 10/16-24, 2023

Thin Places on the Western Edge 
Unfortunately, the Western Edges tour has been cancelled for this year due two hotel closures. We will be rescheduling a similar tour in April of 2024. Please check back here or add yourself to our email list for updates on next year's tours.
The Northern Edges Ireland Tour for October 6-15, 2023 (one week prior to Western Edges dates) is still taking registrations.
Tracing the western edge of Ireland with ancient monuments, spiritual energy centers, and stone alignments, in Sligo, Mayo, Galway, Clare, and Kerry,
DOWNLOAD REGISTRATIONS FORM
Call for more information 443.735.2433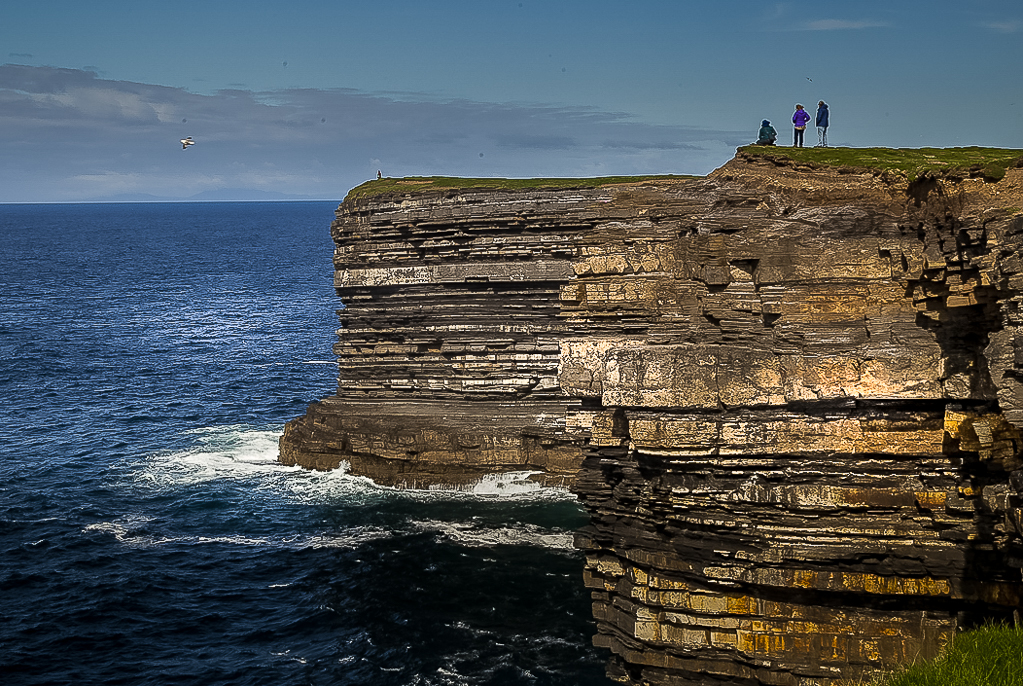 Ireland – Western Edges Tour

Oct 16-24, 2023 – 9 days – $2795 + Air
Sligo, Mayo, Galway, Clare, Kerry
Book online now!
This spiritual tour of the western edge of Ireland, Western Edges starts from Dublin Airport and moves into the northwest country in the northernmost county of Donegal, then tracing the edge of the land, touching some of the most ancient, sacred sites in Western Europe all the way to the Dingle Peninsula. This is the land of stark beauty and stunning seascapes, of culture, music, dancing, literary arts. The landscape ranges from the tallest cliffs in Ireland to the rolling beauty of Connemara and the vibrant cities of Sligo, Westport, Galway, and Dingle. Many think that this is the best of Ireland.
The first stops are in County Roscommon where guests will explore the ancient royal sites in Rathcroghan, the seat of the kings and queens of Connaught. Then the tour moves through Sligo and Yeats Country visiting dolmens, court tombs, stone circles, and sacred mountains. Then up to County Donegal to view the tallest cliffs in Ireland and trace the pilgrimage path of St. Columba through the hills of Donegal.
Stunning Views in a Healing Landscape
Then guests will be on their way to the north Mayo coast stepping out onto the sheer cliffs of Downpatrick Head with spectacular views of Dun Briste (the sea stack) and the blue Atlantic. Guests will awaken in Mayo and visit that giant Amethyst in the sea, Achill Island, a famous haunt of Grainne O'Malley, the red-headed pirate queen of the sixteenth century. Walk into her tower house (castle) and kneel at the holy well of St. Dymphna (patron of emotional illness). The views of Achill Island and energy vibrations are unique. Then guests will head for Westport, Croagh Patrick (the holy mountain), and a day riding through Connemara with local tour guide and archaeologist, Michael Gibbons. Guests will walk deep into the landscape and learn much this day.
From Connemara, the guests visit Galway City to soak up the culture before heading for a day in John O'Donaghue's homeland, The Burren.. a stark landscape that inspired so much of his creativity, poetry, and writings. After the Burren, visit the Cliffs of Moher and St. Brigid's Holy Well. Then a short stop The next morning explore more of County Galway by visiting Quin Abbey, Lady Gregory's Coole Park Estate, Quin Abbey and John Butler Yeats' castle, Thoor Ballylee.
On day 8 of the tour guests will enter Dingle and take the majestic drive around Slea Head. Also, visit the Blasket Center and possibly attend a traditional Irish music concert that evening. The following morning, guests get a guided tour of sites in Dingle and have the rest of the day on their own to enjoy one of Ireland's most culturally rich cities. The final day, guests will make their trek back to Dublin stopping mid-country in County Limerick to explore the forests of Glenstal Abbey and the sacred and magical landscape around Lough Gur including the Grange Stone Circle (Ireland's largest stone circle).
*** MUSIC & STORYTELLING – This tour also includes a private evening with a traditional Irish music group, an opportunity to visit with a legendary Irish Storyteller,
A spiritual tour that connects guests with the maternal elements of the land
The divine feminine elements in the Irish landscape are always highlighted on our tours. This tour with its selection of sites goes deep into the western Irish landscape and connects with the understanding of the earth as our mother. Themes of rebirth and accessing ancient wisdom surface all along this tour. This tour will fill the spirits of healers, artists, and mystics, and those interested in earth energy and nature – especially the wild places. If you feel especially connected to the land, the spirit of the plants and trees, then this tour will be exhilarating for you.
This tour is limited to 20 people – so as to be flexible and intimate.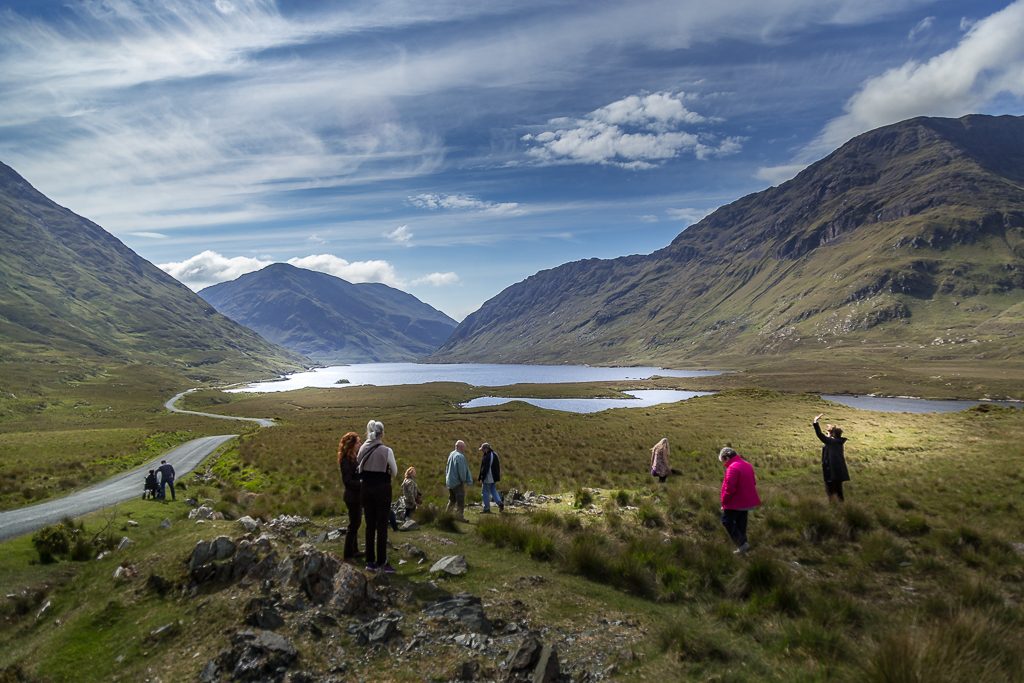 The Focus is on thin places
The focus of all our tours is "thin places" or places where the veil between this world and the eternal world is thin… where both worlds are woven together.  And as on all of our tours, you'll see the unspoiled hidden places few visitors ever see on other commercial tours. You'll be traveling within the context of a story while peeping into the ancient past of mystical hills, stone circles, passage tombs, holy wells, monastic ruins, castle ruins, and archeological wonders.  There will be quiet time as well as fun group excursions. This is a spiritual tour you will never forget.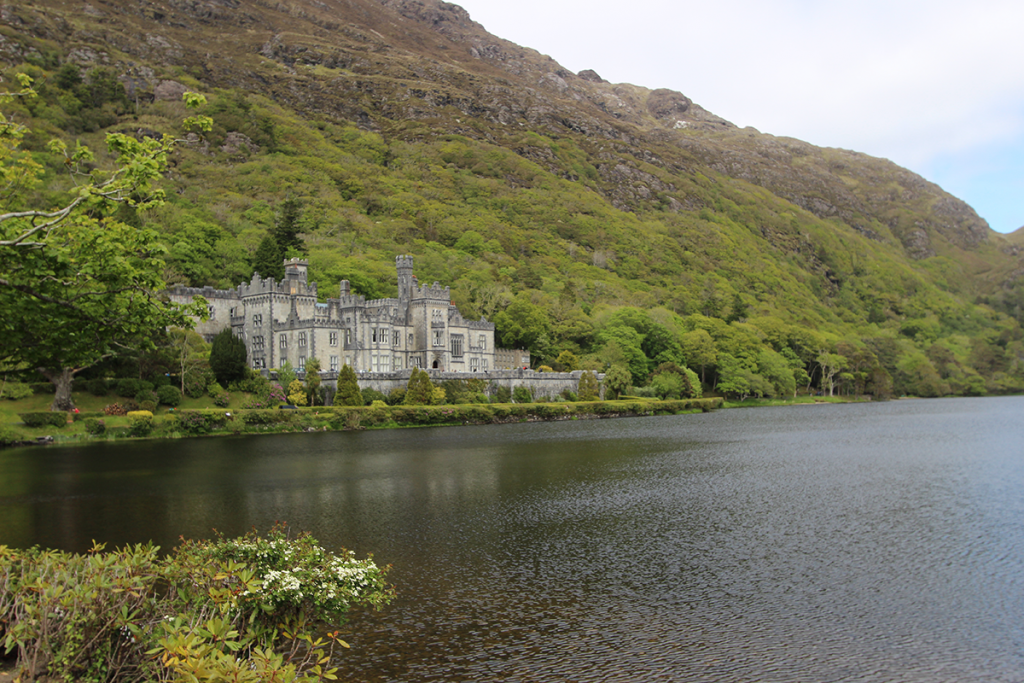 WESTERN EDGES – ITINERARY & DETAILS
A full-time tour guide will be with the tour from start to finish. The tour has its own private coach and driver for the full eleven days.  The guide will be Mindie Burgoyne, writer, tour operator and owner of Thin Places Mystical Tours. She has a long history of investigating thin places in Western Europe and an understanding of earth energies and the power of spiritual pilgrimage. Overnights will be in Sligo, Mulranney, Galway, Dingle, and Dublin Airport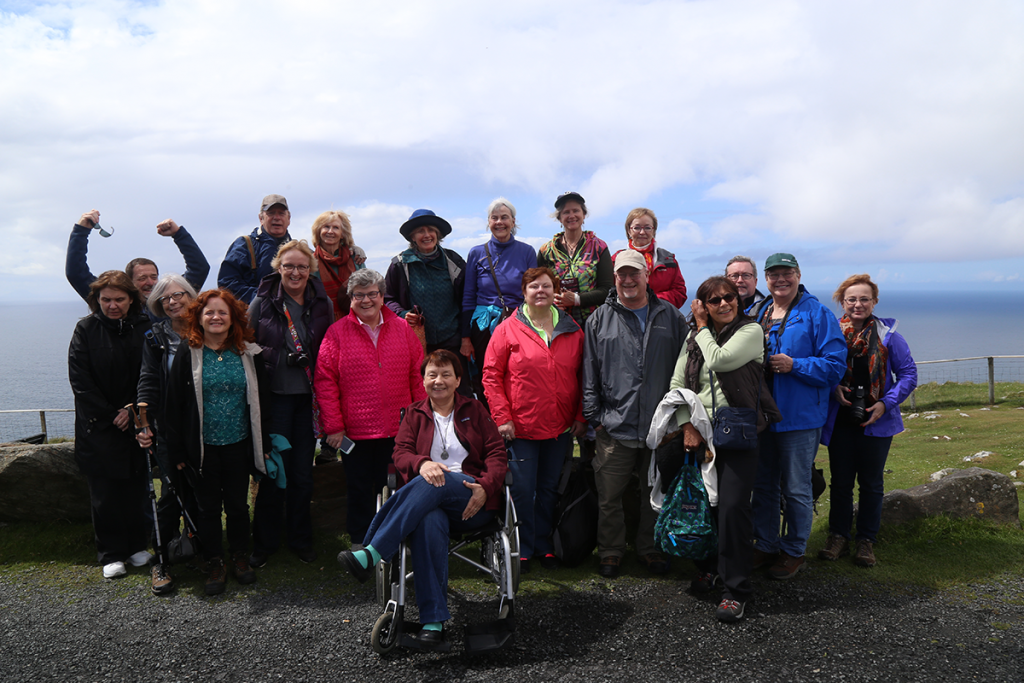 WHAT'S INCLUDED:
Full-time tour guide / Private Coach – Mindie Burgoyne will be the full-time tour guide. A private motor will be secured for the entire duration of the tour.
All Accommodations in 3 or 4-star hotels or high-end B&Bs –
All breakfasts
Four dinners – Welcome and Farewell dinners on the first and last nights, plus one dinner in Mulranney and Galway.
(does not include alcoholic beverages)
All private tours/ guides & attraction admissions
Night of music with local Irish musicians
Over 10 Group Excursions
WHAT'S NOT INCLUDED:
Air Fare
lunches and 5 dinners
shopping, incidentals, expenses incurred on free day in Dingle
tips for hotel staff, private guides, and driver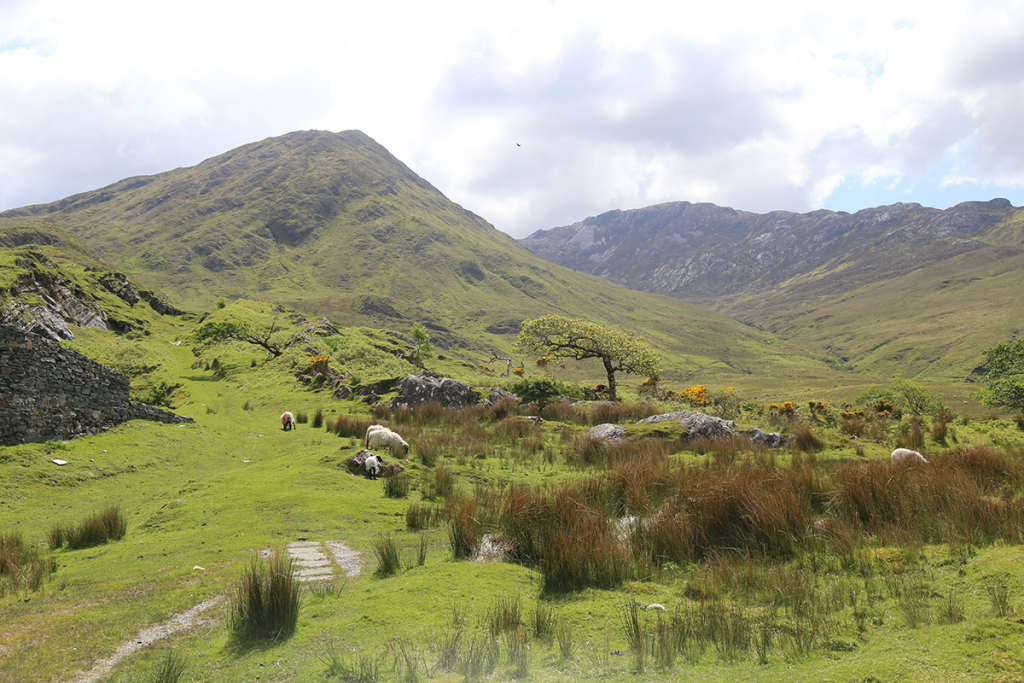 Expert local guides will be with your group in some locations for a more in-depth visitor experience. This includes Achill Island, Connemara, and an evening with Irish Musicians.
Ground Transportation – We enjoy the comfort of our own motorcoach for the entire 9 days. Guests are free to leave things they use daily (walking sticks, jackets, etc) on the bus. The bus may also include an onboard bathroom and wifi (depending on the size of the tour group).
FREE DAY in Dingle town is also included. Dingle is an Irish-speaking province where Irish is the first language learned. It's one of the richest communities in culture and art, with vibrant shops, restaurants, pubs, art venues, and scenic landscape
Airfare is not included.  Guests must arrange their own airfare to and from Dublin International Airport. For guests who book both Ireland tours, airfare should be arranged to fly in and out of Dublin.
TOUR START and END – The tour begins when the tour guide and coach driver meet the guests at Dublin International Airport (DUB) at 10 am on October 16th.  Guests are responsible for getting themselves to DUB at that time in order to meet the tour.  A map and exact location will be provided.  On the last night of the tour, guests are booked into a hotel close to Dublin Airport where they can easily take a short cab or shuttle ride to the airport the following morning or extend their stays and continue touring.
NOTE: Because guests coming in from the USA and Canada have overnight flights, it is wise for guests to consider a PRENIGHT(s)  on Oct 15  in Dublin for a little extra time to unwind, adjust to the time change and visit some sites in Dublin. Thin Places Tours can help with hotel suggestions before and after the tour. Arriving a day early would also protect against missing the first day of the tour if a flight is delayed or circumstances upset your scheduled arrival. Missing the first day also means getting transport to wherever the group is on that day from Dublin Airport. It's also nice for guests who expect to spend a few extra days in Ireland. It is best to put those days on the front end of the tour.
SEE "DOUBLE TOUR" BELOW FOR GUESTS BOOKING TWO BACK-TO-BACK IRELAND TOURS
COST – $2795 + AIR
Cost of $2795 (based on double occupancy) is for the land only. It includes lodging, all breakfasts, and four dinners. It also includes land transportation, admission costs to all attractions, and private guides. Posts about some of the sites will appear periodically on the Thin Places blog.  In addition to the cost of the tour, guests would be responsible for airfare, lunches, and dinners that are not included, plus any incidental expenses unrelated to the group tours and accommodations.
Single room supplement is $750, is due with the registration deposit. There are a limited number of Single rooms available.
Single Rooms are limited. Single supplement will go up when the limit (6) is reached. We will try to pair people who request a roommate but cannot guarantee a roommate.
Booking the Tour –Deposit of $1000 (plus $750 single supplement if applicable) per person must be submitted with the online form to hold the spot.  The deposit is refundable for 7 days. The deposit also locks in the price.  Due to the sometimes unpredictable European currency exchange rate, the price of the tour may rise before the tour date.  But a deposit locks in the price of the tour.
Tour balance is due 30 days before the tour start.
Travel Insurance –We suggest guests purchase travel insurance on their own. Thin Places Mystical Tours does not sell Travel Insurance or represent any travel insurance vendor, though we can make recommendations based on what other guests have used.
Tour is limited to 20 guests.
DISCOUNT FOR THIN PLACES ALUMNI
Guests receive a $50 discount for every Thin Places tour they've been on prior to 2023
Book online now!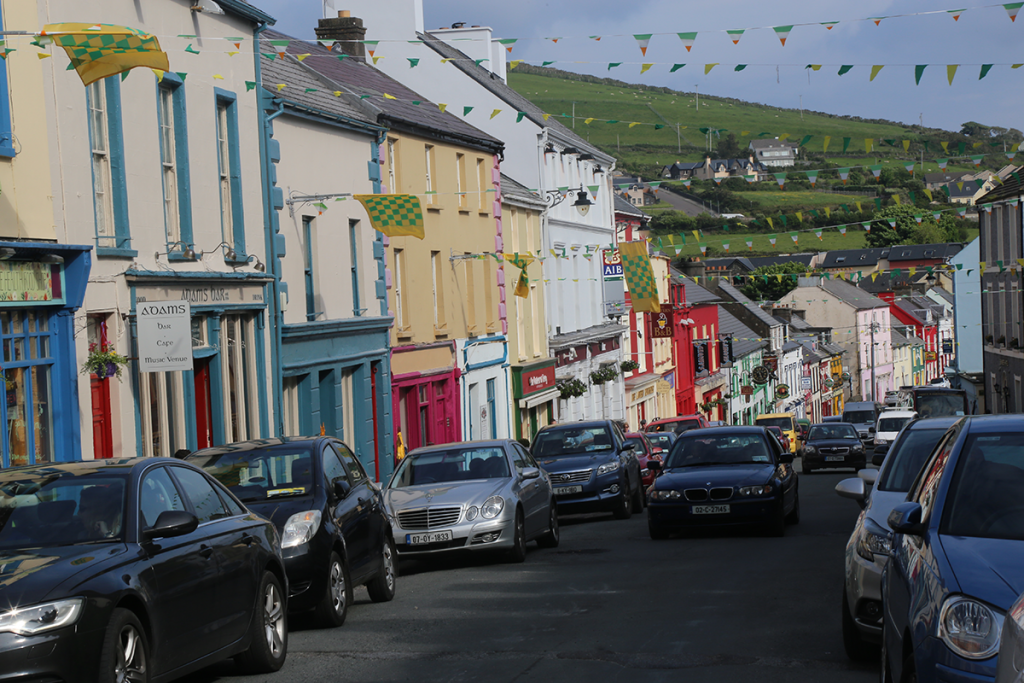 ____________________________________________________________________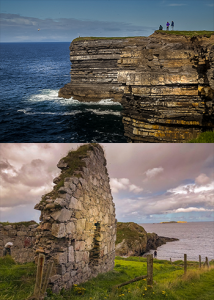 19 days, 21 Counties, 22+ excursions
Special "Northern & Western Edges" Double Tour Rebate
Includes full registration, bonus hotel night in between tours, and 21 days in Ireland tracing the northern and western edges.
Single supplements apply for solo travelers
Thin Places Mystical Tours is hosting two Ireland tours that are back-to-back.
Northern Edges – Ireland – October 6-15, 2023 covering the northern edges of Ireland for $2695 per person
Western Edges – Irlenad – October 16-24, 2023 covering the western edge of Ireland for $2795 per person
For guests who would like to attend both Ireland tours listed above for a 21-day tour with over 40 group excursions, visiting the most mystical sites in Ireland, consider booking a double tour.
The Double Tour – Northern and Western Edges of Ireland offers both full tours, all transportation, and a hotel room and group dinner for the night in between the two tours (October 15). Plus a $100 discount off what the tours would cost separately.
Alumni discounts ($50 per Thin Places tour you've attended before 2023) can also apply.
The Double Tour – Northern and Western Edges is an unforgettable option and a total immersion into the wild and mystical Irish landscape and culture. It will feed your mind, body, and spirit with joy, healing, and peace, creating memories that will last your lifetime.
_____________________________________________________________________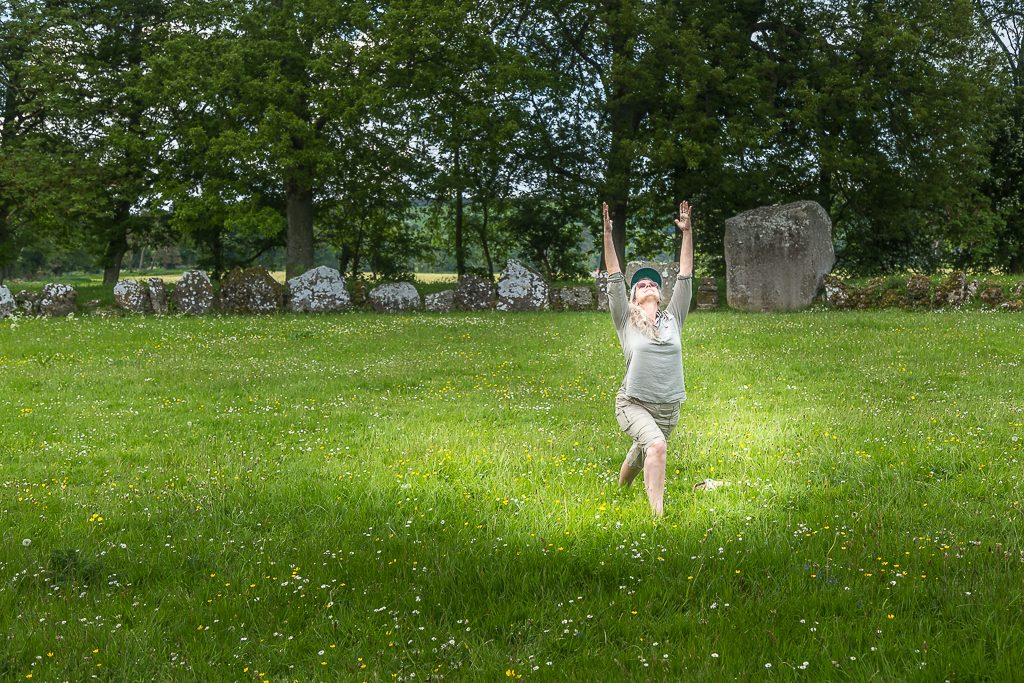 ITINERARY – Western Edges
Day 1, Oct. 16th –  Tulsk sites – Rathcroghan
Guests will meet tour guide and coach at Dublin Airport at 10 am (flights should be arranged to arrive before 9 am on 9/21)
From there they will head west stopping at Rathcroghan in County Roscommon to explore the ancient royal site related to the kings and queens of Connaught. Here guests will receive a dowsing lesson on finding energy lines in the landscape. A short stop a Boyle Abbey ruins will happen if time permits. Then guests will head to the hotel in Sligo for a welcome dinner and early night's sleep.
Welcome Dinner and overnight in Sligo.
Day 2, Oct. 17th – County Donegal – Slieve League, Glencolumbkille
Guests head for County Donegal this day and view the tallest cliffs in Ireland at Slieve League. Then they'll trace the old pattern trail of Glencolumbkille seeing both pre-Christian and Christian monuments. Guests will stop at Drumcliff Church seeing the grave of William Butler Yeats, and stop in the gift shop there for late lunch. Then back to Sligo to enjoy the town.
Overnight in Sligo
Day 3, Oct. 18th – Carrowmore, Downpatrick Head
Guests will visit Carrowmore megalithic cemetery – the largest collection of megaliths in one location in all of Ireland. Then they'll head for Mayo and enjoy the magnificent views at Downpatrick Head and Dun Briste (the sea stack). If time permits, there will be a short stop at Rosserk Abbey and Holy Well. Then off to the hotel in Mulranney for a good night's sleep.
Overnight in Mulranney.
Day 4, Oct. 19th – Achill Island – Kildownet Church and Castle, St. Dymphna's Holy Well
Guests will spend the day on Achill Island – a landscape charged with amethyst minerals embedded into the stone landscape. There will be a guided tour by author, Patricia Byrne (Veiled Woman of Achill), a visit to Kildownet church and castle, St. Dymphna's Holy Well, the Deserted Village of Slievemore and the pristine beaches Achill Island is known for.  Then back to the hotel in Mulranney for a group dinner.   Overnight in Mulranney.
Day 5, Oct. 20th – Connemara through Westport
Guests will visit the vibrant town of Westport, stop at the Stone of Boheh and pause at Doolough before heading into the rolling landscape of Connemara – one of the most scenic and beautiful drives in all of Ireland. Guided tour of this region will be provided by Archeologist, Michael Gibbons (pending confirmation). Guests will walk deep into the Irish landscape for magnificent views.
Overnight in Galway.
Day 6, Oct. 21st – The Burren – Cliffs of Moher
Guests will visit the mystical landscape known as The Burren in County Clare. Then they'll head out to the Cliffs of Moher and St. Brigid's Holy Well.  There will be a stop at The Rock Shop – a store that sells a large variety of crystals and metaphysical items. Then guests will take a farm tour watching the process of making cheese and other items. There will also be a tasting.   Overnight in Galway.
Day 7, Oct. 22nd – Yeats sites – Quin Abbey
Guests will have a morning visit to Lady Gregory's estate of Coole Park followed by a stop and William Butler Yeat's castle, Thoor Ballylee. Then guests will tour the ruins of Quin Abbey, then head for County Kerry and Dingle.
Dinner and overnight in Dingle.
Day 8, Oct. 23rd– Free Day in Dingle
Guests will enjoy a free day in Dingle to explore, do a cruise (optional), visit the Blasket Islands, visit galleries and shops. So many possibilities in this fun town.  There will be a concert featuring local traditional Irish musicians in the town that evening.
Overnight in Dingle
Day 9, Oct. 24th –Lough Gur, Grange Stone Circle, Glenstal Abbey
On this last day, guests will enjoy touring the magical landscape of Lough Gur, Ireland's enchanted lake. Then nearby they'll visit the largest stone circle in Ireland – The Grange Stone Circle. They guests will make their final stop at Glenstall Abbey for an escorted walk through the Abbey forest. Then off to the airport hotel for farewell dinner and overnight.
Overnight and Farewell Dinner at hotel near Dublin Airport. 
 Oct. 25th – Depart – Fly Home
Guests depart from Dublin Airport or extend stay on their own
The itinerary is subject to change considering weather and availability factors.  Overnights are in Sligo, Mulranney, Galway, Dingle, and Dublin Airport

Thin Places Tours can help guests make arrangements for pre-night stays. There is also a $100 rebate and transportation for guests that want to continue on to the next tour, Western Edges
MAKE YOUR RESERVATION TODAY.   Call us at 443.735.2433
$1000 per person deposit is needed to reserve your spot (plus the $750 single supplement if applicable). The final balance is due to be paid 30 days before the tour.
NOTE: A PRE-NIGHT STAY IS SUGGESTED FOR OCTOBER 15TH
A pre-night in Edinburgh is highly recommended.  Coming in a day early not only allows you to rest and shake some jet lag, but it also protects you from trying to catch the tour in progress if your flight is delayed or you miss a connection. Thin Places Tours can book the prenight for you at a hotel in Dublin. 
QUESTIONS? Email us contact @ thinplaces.net or call  443.735.2433