Ireland Tour – September 2018 – the Northwest
a spiritual tour for Artists, Mystics, and Healers
Registration Closed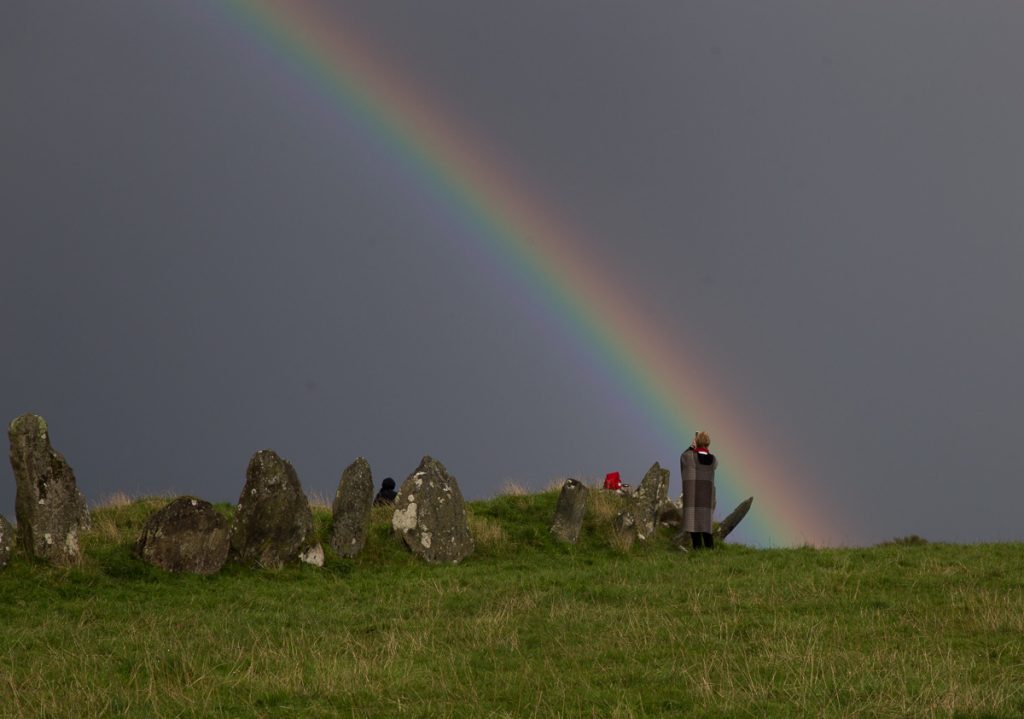 Join us for a Spiritual Tour of Ireland

Sept. 4-12, 2018 – 8 days – $2499 + Air


Sligo, Donegal, Fermanagh, Tory Island

This spiritual tour of Ireland and of thin places in the northwest allows the guests to become images in Ireland's mystical landscape in some of Ireland's last totally wild places. Guests will be encouraged to sense the connection with all living things. We'll traverse part of Ireland's wild Atlantic Way around the northwestern rim noted for its stunning cliffs, expansive beaches, and rugged mountains. Guests will visit some of the most scenic and high-energy sites in Ireland and will do so at a leisurely pace, interacting with local experts who will share information on Ireland's archaeology, history, and mystical connections.

On the first day as we make our way from Dublin Airport into the north, we will be stopping at St. Brigid's Holy Well at Faughardt (St. Brigid's birthplace).
Artists, Mystic,  and Healers
This is a perfect tour for those with artistic / creative inclinations as the energy in the landscape will ignite the creative energy within each person. We've found on this tour the painters, photographers, writers, even textile artists like knitters become overwhelmed with the desire to create. Visioning is journeying also seems to be more easily facilitated and guests who are engaged in the healing arts become rejuvenated.
But even if you're not a healer or an artist, the Images in the Landscape tour will awaken your mystical and intuitive gifts. And we all have them.
Guests will travel with a small group of people who will likely become lifelong friends. Our tour groups are small – 15 to 25 people – so as to be flexible and intimate.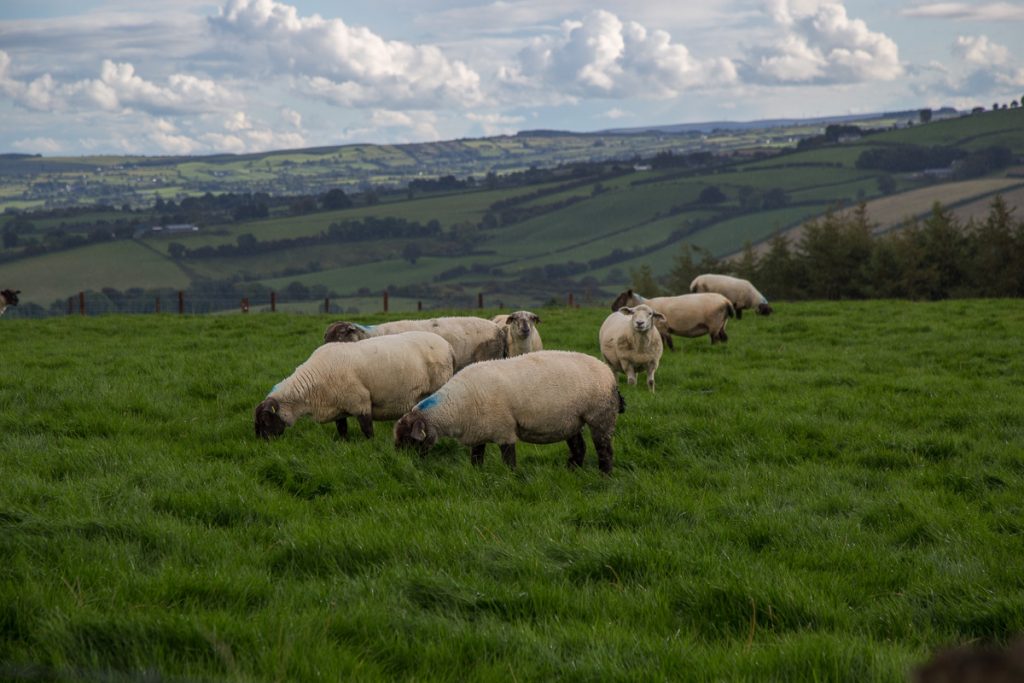 TORY ISLAND VISIT – The sites include a visit to Tory Island, an inhabited off-shore island off of the coast of Donegal where St. Colmcille (Columba) founded a monastery in the sixth century. Tory has recently become a haven for artists and the local people produce some amazing artwork and music. Tory is also home to the last "King" in Ireland. Since the times when clans had kings or chieftains, Tory Island never did away with theirs. Guests are likely to meet the king, Patsy Dan Rogers, and if they're lucky, they may hear Patsy Dan and others perform some awesome traditional Irish music.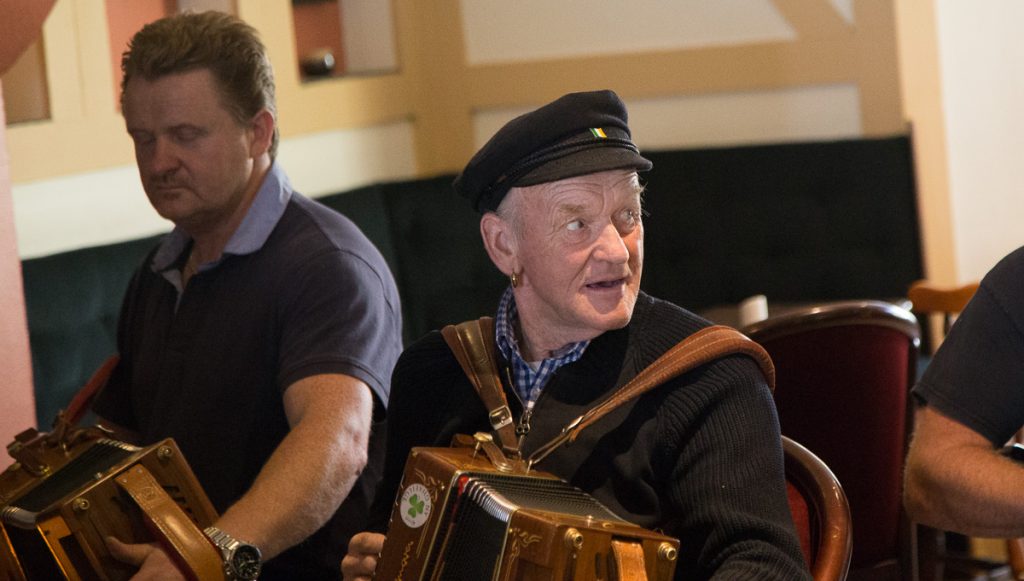 The Focus is thin places
The focus of all our tours is "thin places" or places where the veil between this world and the eternal world is thin… where both worlds are woven together.  And as on all of our tours, you'll see the unspoiled hidden places few visitors ever see on other commercial tours. You'll be traveling within the context of a story while peeping into the ancient past of mystical hills, stone circles, passage tombs, holy wells, monastic ruins, castle ruins and archeological wonders.  There will be quiet time as well as fun group excursions. This is a spiritual tour you will never forget.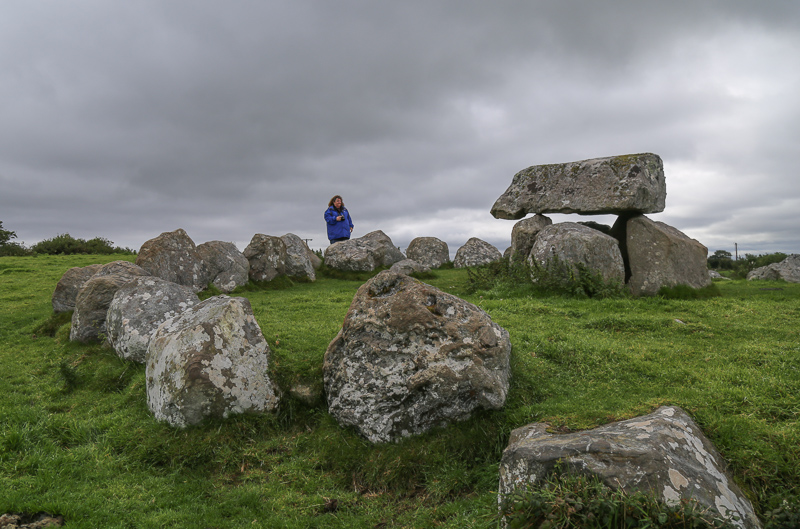 Images in the Landscape (north) is this tour's theme.  There are so many sacred sites in the north – some pagan, some Christian and even some that are unmarked.  Over the years the rituals performed at these sites and the emotions of pilgrims have melded together to create a unique and single spirituality is layered into the landscape.  Guests on this tour become an image – a living part of the ancient landscape. On this tour, there will many mystical sites – thin places – where one might experience walking in two worlds.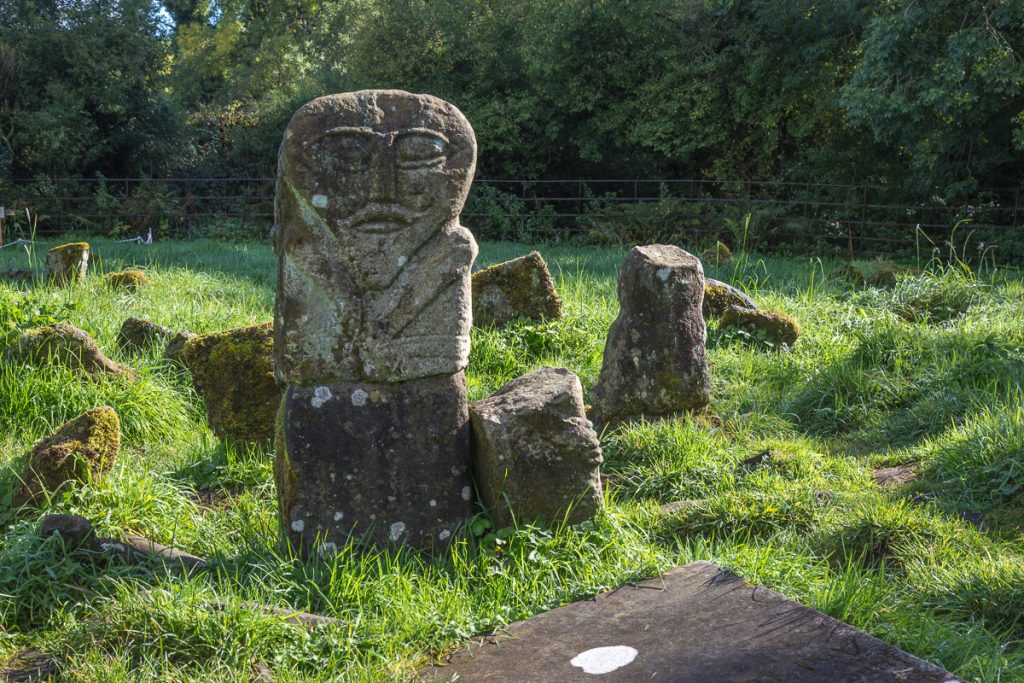 IMAGES IN THE LANDSCAPE (NORTH) – ITINERARY & DETAILS
A full-time tour guide will be with the tour from start to finish as will our coach driver. Your guide will be Mindie Burgoyne, tour operator and owner of Thin Places Mystical Tours. She has a long history of investigating thin places in Western Europe and an understanding of earth energies and the power of spiritual pilgrimage.
Tours & admissions for 22 Group Excursions – St. Brigid's Shrine and Holy Well • Navan Fort • Beltany Stone Circle • St. Patrick's Chair • The Altadaven Forest •Grianan of Aileach • Malin Wee House and well • Malin Head Cliff Walk • Lacknacoo – stone of loneliness • Tory Island • Donegal Town• Portnoo Beach • Creevykeel Court Tomb • Drumcliff – Yeats' Grave • Caldragh Graveyard • Carrowmore Megalithic Cemetery • Sligo Town • Knocknarea • Keshcorran • Hill of Uisneach
Expert local guides will be with your group for a more in-depth visitor experience. These guides are local to the area and will be able to speak specifically about some of the sites on the tour. Images in the Landscape includes a guided tour with one of Ireland's leading field archaeologists, Michael Gibbons.
Ground Transportation – We enjoy the comfort of our own motorcoach for the entire 8 days. Guests are free to leave things they use daily (walking sticks, jackets, etc) on the bus. The bus may also include an onboard bathroom and wifi (depending on the size of the tour group).
Excursion to Tory Island included – Enjoy a cruise to Tory Island. See the gorgeous and wild landscape, hike up to the "wishing stone," visit the local gallery, listen to some music and hopefully – meet the last king of Ireland. *weather permitting. 
Airfare is not included.  Guests must arrange their own airfare to and from Dublin International Airport
TOUR START and END – We start and end the tour at Dublin Airport. Our coach driver will pick up the tour group at Dublin International Airport on Tuesday, September 4, 2018, at 12 noon. From there we will begin our tour, heading for St. Brigid's Well in Faughardt and then to our hotel near Armagh for our Welcome Dinner and a good night's sleep. On the last night of the tour, guests are booked into a hotel close to Dublin Airport where they can easily take a short cab or shuttle ride to the airport the following morning.
NOTE: Guests may want to consider a PRENIGHT  (Sept 3rd) in Dublin for a little extra time to unwind, adjust before the tour and visit some sites in that popular European city. From there you can take a bus back to the airport on September 4th to meet the group. We can help with hotel suggestions before and after the tour.
COST – $2499 + airfare
Cost of $2499 (based on double occupancy) is for the land only. It includes lodging, all breakfasts, and four dinners. It also includes land transportation, admission costs, and the private guides. Posts about some of the sites will appear periodically on the blog.
Single room supplement is $550.
Single Rooms are limited. Single supplement will go up when the limit (6) is reached. We will try to pair people who request a roommate, but cannot guarantee a roommate.
We strongly suggest guests purchase travel insurance on their own.
Deposit of $500 (plus $550 single supplement if applicable) per person must be submitted to hold the spot.
Tour is limited to 25 guests.
DISCOUNT FOR ALUMS
$50 discount for every Thin Places tour they've been on prior to 2018.
WHAT'S INCLUDED?
20 Group Excursions
8 nights in hotels / B&Bs
Double, triple & single occupancy available
All hotel taxes/fees
Transportation via personal coach  for daily touring
Breakfast every morning
4 dinners
Full-time host & guide – for all 8 days of the tour
Private tour with archaeologist, Michael Gibbons
Ferry tickets and passage to Tory Island (weather permitting)*
Island excursions to Tory Island (weather permitting)*
Emergency Local Contact available 24/7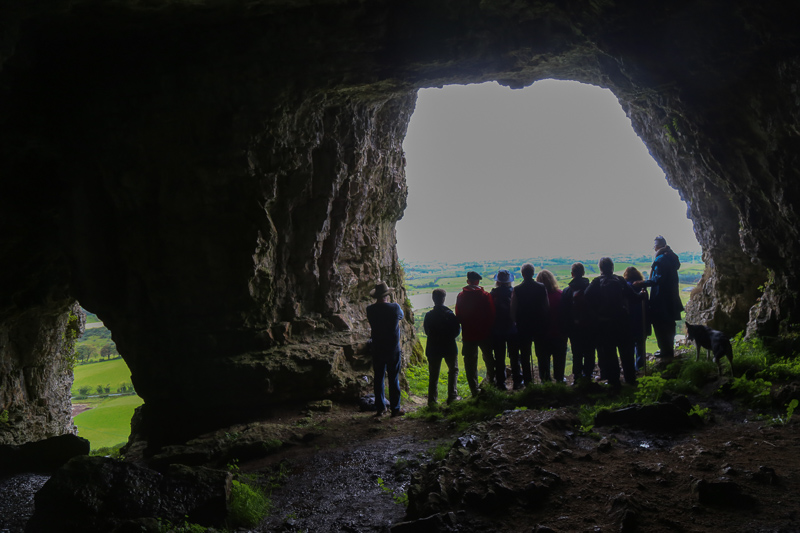 ITINERARY – Images in the Landscape (north)
Day 1,  Tues., Sept 4th – ST BRIGID – After meeting guests at Dublin Airport, the group will head to the ultimate ancient royal site in Ireland – the Hill of Tara where the Irish High Kings were crowned and the first fires of Beltaine were lit.  Following the Hill of Tara, the group will stop at Monasterboice monastic ruins where some of the most beautiful high crosses in all of Ireland are located. Then the group will head for its final stop for the day – the ancient site of St. Brigid's Holy Well on Faughardt Hill for a welcome ceremony and blessing. Then guests will head to a hotel in Dundalk for their  Welcome Dinner.  Overnight is at the Carrickdale Hotel and Spa in Dundalk.
Day 2, Wed., Sept. 5th – ARMAGH to DONEGAL – Visit the sacred sites at Navan Fort – former home of the mythological Knights of the Red Branch. The to Altadaven Forest and the Cliff of the Demons to walk the ancient forest road to St. Patrick's Chair. Then head for Beltany Stone Circle for an evening reflection, then on to your accommodations for three nights at the gorgeous and luxurious Castle Grove Country House, a seventeenth-century manor house in a remarkable setting of gardens and country lanes. Overnight at Castle Grove Country House – Letterkenny.
DAY 3, Thur., Sept 6th – INISHOWEN PENINSULA –   Spend the day taking in the awesome views of the Inishowen Peninsula including the Malin Wee House, a mystical cave at Malin Head where it is said that there is "always room for one more person." Beachcomb along the beach that has many colored and semi-precious stones. Visit the Grianan of Aileach, the mystical fort overlooking the Donegal and Derry countryside. Then spend a second night (with dinner) at the lovely Castle Grove Hotel. Dinner and overnight at Castle Grove Country House – Letterkenny.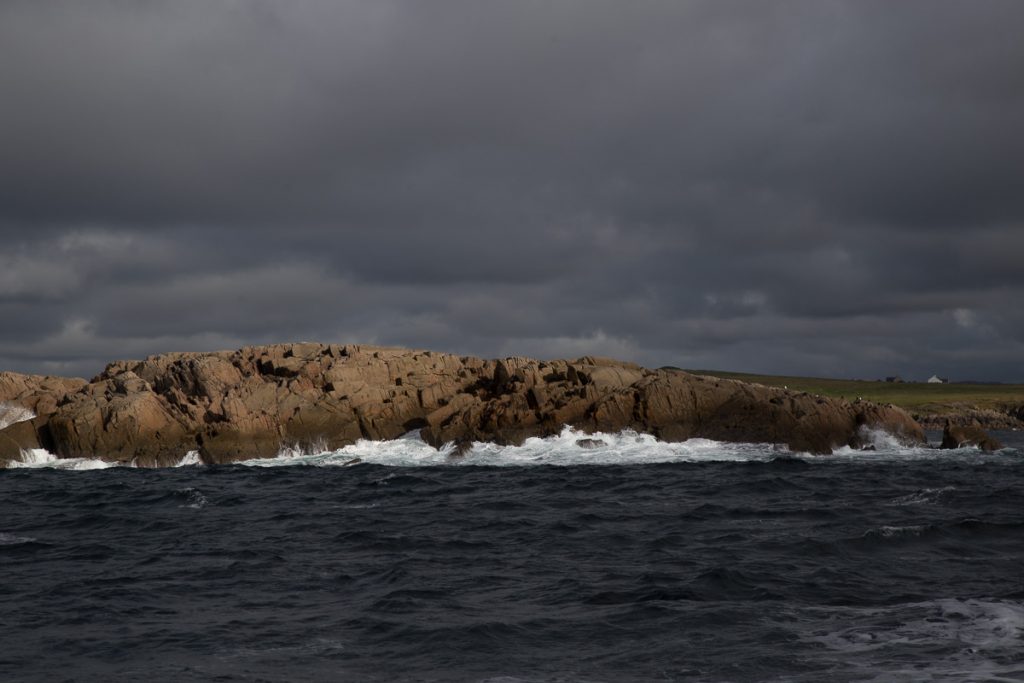 Day 4, Fri., Sept. 7th – TORY ISLAND  – Visit Lacknacoo, the Stone of Loneliness and lay your worries down before heading for Magheroarty to catch the boat to Tory Island. After your arrival on  Tory Island, enjoy a tour of the island art gallery, a walking tour of this unique island of artists and a traditional Irish music session with the last King in Ireland – Patsy Dan Rogers, the King of Tory Island. Overnight at Castle Grove Country House – Letterkenny.
Day 5, Sat., Sept 8th- HILLS OF DONEGAL -Today you'll weave in and out of the hills of County Donegal and take in some of the most amazing scenery in Ireland. Then stop at Drumcliff where you'll see the grave of W.B. Yeats. Other stops include Caldragh ancient graveyard, home of the famous "Janus Figure" and Creevykeel Court Tomb. Overnight and dinner at Riverside Hotel, Sligo. A local Irish Music group called Trad Counsel will perform for the group that evening after dinner.
Day 6, Sun., Sept. 9th – TOUR WITH MICHAEL GIBBONS – Enjoy a private tour with one of Ireland's top archaeologists, Michael Gibbons. The group will explore sites in and around Sligo.  You'll have some free time in the afternoon to explore Sligo town – visit the shopping, Michael Quirke Studio, river walk and fun food. Overnight at Riverside Hotel, Sligo
Day 7, Mon., Sept 10th -SLIGO – In the morning visit Carrowmore ancient graveyard followed by Knocknarea, the holy mountain of Connaught with a huge cairn on top said to be the grave of Queen Maeve.  Overnight at Riverside Hotel, Sligo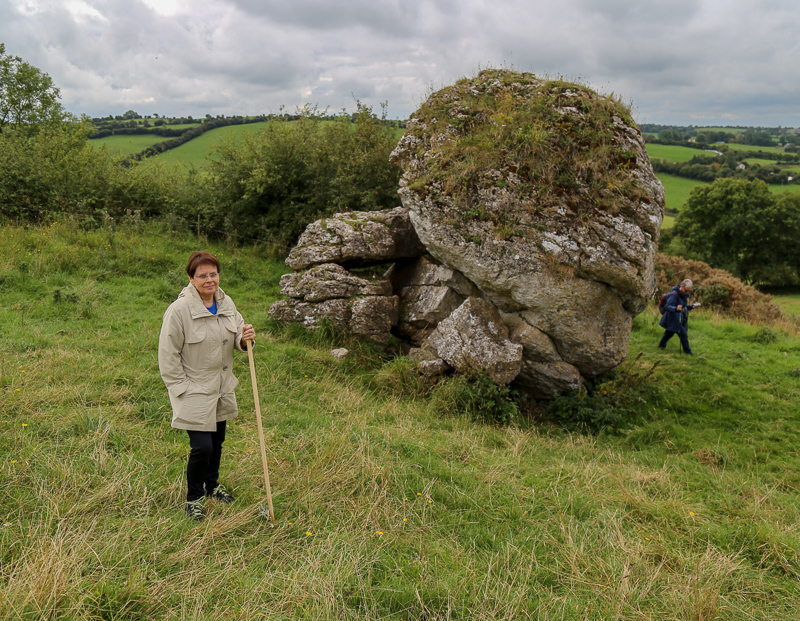 Day 8, Tues., Sept. 11th – UISNEACH & KESHCORRAN  – Visit Keshcorran – high caves with magnificent views that stretch all the way to Croagh Patrick in County Mayo. Then head for the Hill of Uisneach – the mystical center of Ireland from which all four provinces were drawn. Uisneach is said to be the culmination of all the ley lines in Ireland. The "Catstatopsits atop the hill at the culmination point. Uisneach is also known for the fire festival at Bealtaine (May 1st). Enjoy the power and energy of Uisneach.  Overnight and Farewell Dinner at Hilton Dublin Airport.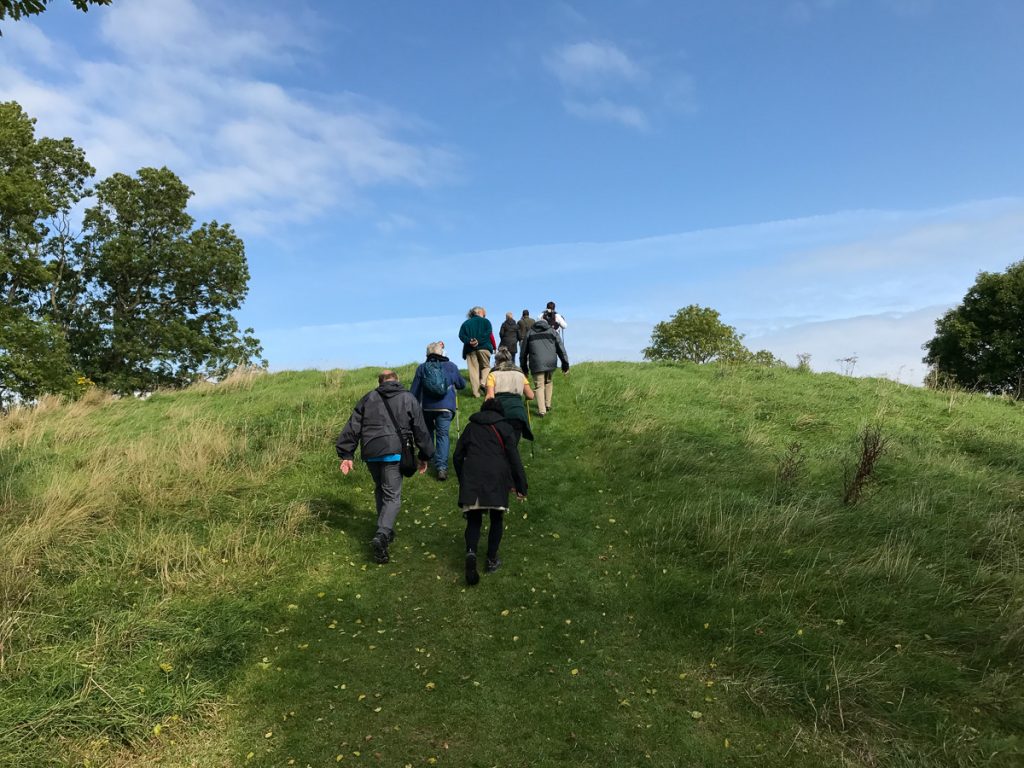 Day 9, Wed., Sept. 12th – DEPART – Awaken at your Dublin Airport hotel and either head for home, or continue touring on your own (we can help with suggestions for pre-tours or extended tours).
The itinerary is subject to change considering weather and availability factors.  Overnights are in Monaghan, Letterkenny, Sligo and Dublin Airport
* In the unlikely event that weather will prohibit the excursion to Tory Island, a substitute excursion to Derry City will be implemented.
MAKE YOUR RESERVATION TODAY.

$500 per person deposit needed to reserve your spot (plus the $550 single supplement if applicable). Final balance due to be paid by 90 days before the tour.
Still have questions? Email Mindie at mindie@ thinplacestour.com or call 410.623.2193 or 301.648.2010
*NOTE: Itinerary is subject to change based on availability and in some cases – the weather.