For eight days, Mindie Burgoyne will guide tour guests across the western counties in Ireland  – including Westmeath, Sligo, Roscommon, Fermanagh, Mayo, Galway and Clare – exploring thin places, sites with mystical qualities.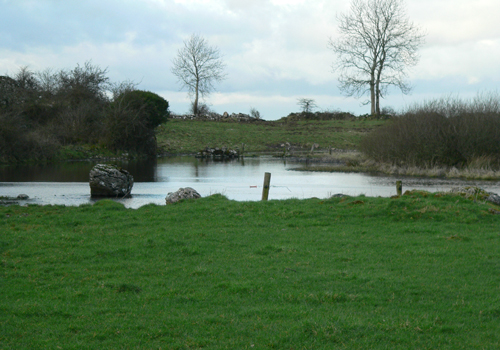 Mindie will share information on the history of the sites, its mystical charism and the local lore associated with the site.   Guests will stay in premier town-center hotels in Sligo, Galway and Westport with all breakfasts included.
See the Map online of the routes we'll travel
DAY 1 – Saturday, September 8 – Welcome to Ireland !
Connemara – Clifden – Croagh Patrick – Murrisk – Westport
After a full Irish breakfast in Galway, we'll travel through Connemara, one of the most scenic areas in Ireland, where the light is like no other place.  Even in the rain (and if rains often), Connemara and the western landscape is magical.  We'll take the Sky Road to the west of the seaside town of Clifden and enjoy a late lunch there.  They pass by Doo Lough for the stunning views there.  Then we'll be off to visit to the holy mountain – Croagh Patrick, and have a chance to explore the lower regions of the mountain known to have been made holy by St. Patrick himself.  We'll take in scenic views of Clew Bay and the 365 (really there are about 100) islands scattered in its waters.  Then we'll visit the National Famine Memorial and the ruins of Murrisk Abbey before we head to the scenic town of Westport for dinner and two nights lodging.
DAY 2 – Sunday, September 9 – Knock and Ballintubber Abbey
Shrine of Our Lady of Knock and Ballintubber tour
After a full Irish breakfast enjoy the morning at the Knock Shrine where in 1879, villagers between the ages of five and seventy-five simultaneously saw a vision against the back gable wall of the Knock church.  In the apparition were the Virgin Mary, Sts. John and Joseph and a lamb on an altar.  It lasted over 2 hours in a rain storm. The apparition has been recreated in statuary and a shrine built that has become the most traveled to pilgrimage site in all of Ireland – and one of the top ten in Europe.  After Knock the tour will visit Ballintubber Abbey, a restored monastic church on St. Patrick's Pilgrim Road to Croagh Patrick.  Then back to Westport with the evening on your own.

DAY 3 – Monday – September 10 – Sligo town – and sites
Carrowmore Megalithic Cemetery, Knocknarae, Drumcliffe
After a full Irish breakfast travel to Sligo and visit several sites in and near the town.  Visit Carrowmore Megalithic Cemetery and Knocknarae – the mountain with a cairn on top said to be the tomb of Queen Maeve. Also see the high cross of Drumcliff in the shadow of Benbulben… Ireland's famous flat topped mountain, and the grave of W.B. Yeats.  Dinner on your own in Sligo town.
DAY 4 – Tuesday – September 11 – Fermanagh
Boa Island, Caldragh Cemetery, Drumskinny Stone Circle
After a full Irish breakfast spend the day relaxing or exploring Sligo town.  Or take the optional tour to County Fermanagh in Northern Ireland.  Boa Island has magnificent light and sits in scenic Lough Erne connected to the mainland with causeways.  Caldragh Cemetery is ancient and houses two Janus figures and a remarkable Hawthorne tree.  Nearby is Drumskinny Stone Circle.  The landscape in Fermanagh is positively enchanting.  Dinner is on your own.

DAY 5 – Wednesday – September 12 – Roscommon – Tulsk sites
Rathcroghan – Ancient Royal site of Connaught and Ceshcorran
CONCERT – CHERISH THE LADIES & MAURA O'CONNELL
After breakfast at your hotel, venture with the group to Tulsk in County Roscommon for a tour of Rathcroghan with guide, Mike Croghan.  See the mounds where the ancient kings and queens of Connaught were crowned and buried.  This is the largest complex of Celtic Royal sites in Europe, and also includes a cave.  After Rathcroaghan, visit the caves of Cesh or Ceshcorran, the entry place of the Tuatha de Dannan (people of the otherworld).
CONCERT – After the tour, return to Sligo for a quick dinner and then off to a live concert at the Hawk's Well Theater in Sligo where Cherish the Ladies will be performing.  Joining them will be singer, Maura O'Connell.
DAY 6 – Thursday – September 13 – Hill of Uisneach – Fore Abbey
Visit the geographic center of Ireland
After a full Irish breakfast visit the Hill of Uisneach in County Westmeath, also known as the geographic center of Ireland.  Many believe all ley lines and earth energies intersect at this point.  Next stop at Fore Abbey to take in "the Seven Wonders of Fore" which include water that flows uphill and a tree that won't burn.  Then on to Galway with an overnight in Galway City.
DAY 7 – Friday – September 14 – Yeats sites & the Burren
Tour the Burren and visit Coole Park and Thoor Ballylee
After a full Irish breakfast at the hotel, guests will take a morning tour of the Burren, a mystical landscape in County Clare resembling a moonscape for all its rocky ground.  There are several monastic ruins and megalithic tombs.  The highlights will be the portal tomb – Poulnabrone Dolmen and Corcomroe Abbey.  We'll also stop at the Kilfenora church.  Then on to Coole Park, the former estate of Lady Gregory, one of the leaders of Ireland's literary revival and close friend of William Butler Yeats.  Drive by Thoor Ballylee, the restored tower and home of W.B. Yeats.  Back to Galway for dinner on your own and overnight.
DAY 8 – Saturday – September 15 – Holy Island – Quin Abbey
Tour of Lough Derg, Holy Island, Scariff, Mountshannon and Tuamgraney
Holy Island or Inis Cealtra at the mouth of Scarriff Bay on Lough Derg, is one of the most famous monastic sites in Ireland.  It's many attractions include a well preserved round tower, the ruins of six churches and a cell like structure which is one of the most extrordinary buildings in Ireland.  Guide, Ger Madden who is a local historian and author of the Histories of Holy Island, Scarrif, Mountshannon, and Tuamgraney will host us on his boat and interpret these sites.  After Holy Island the group will proceeded to Killaloe, hometown of Brian Boru and then on to Quin Abbey.  Overnight will be in Ennis.
DAY 9 – Sunday – September 16 – Farewell
Breakfast and depart for Airports
After a full Irish breakfast depart for Shannon airport for the group's departure flight home.
Optional Tour – Aran Islands – September 7th
For anyone interested an optional tour of Inis Mor, the largest of the Aran Islands is available upon request.  Tour includes transportation to ferry launch, ferry ride and tour of the island.  Inquire separately for more information.