Art Spirit Tour | Itinerary | Registration | What's Included? | The Wyeths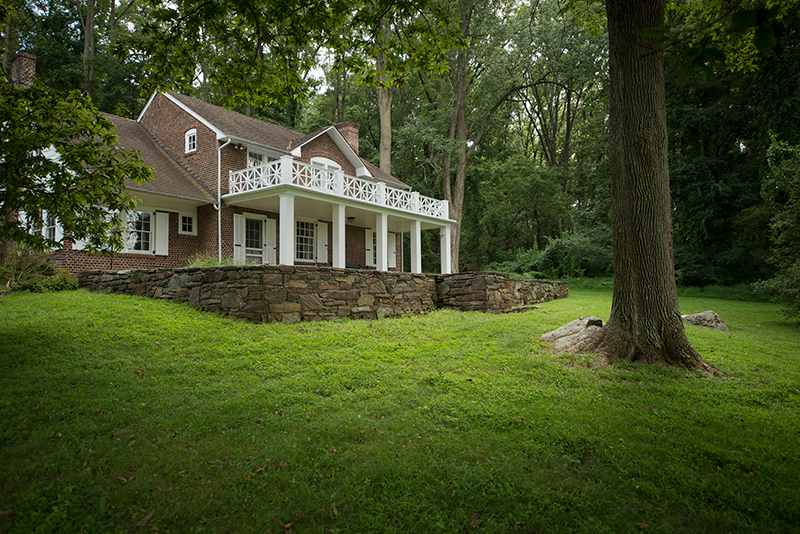 The Cost of Registration for The Art Spirit Experience
$495 per person
Hotel accommodations are paid separately by each guest.
There are 10 double rooms available. Rooms must be booked online.
(See Registration for booking hotel booking) Tour is limited to 15 guests.
Included in The Art Spirit Experience:
Guided tour of the Brandywine Museum of Art
Tour of the N.C. Wyeth House and Studio
Tour of the Andrew Wyeth Studio
Tour of the Kuerner Farm
2 private group sessions with artist, Karl J. Kuerner (mentored by Wyeths)
Pre-night Welcome reception
First-night group dinner
Plein Air opportunities on Museum grounds.
copy of Karl J. Kuerner's book, Beyond the Art Spirit
Transportation to Studio tours and Kuerner Farm tour
Included in The Art Spirit Tour:
Guided Tour of the Brandywine River Museum of Art
Guests will receive a guided tour of this art museum that houses the largest collection of Wyeth art worldwide. Also featured is a gallery devoted to N.C. Wyeth, a gallery focused on Andrew Wyeth, and art from Jamie Wyeth.  There are numerous other artists featured as well. The museum is housed in a restored, historic grist mill that sits on the banks of the Brandywine River. The gardens feature native plants, and there are walking trails along the river. The museum also has a café, a large book and gift shop, as well as numerous areas to sit and take in the views.. of both the art and the landscape surrounding the building.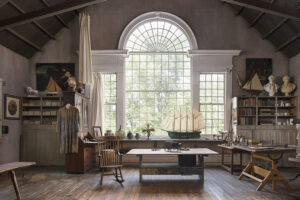 The N.C. Wyeth House and Studio
American illustrator, N.C. Wyeth moved to the Brandywine Valley to study under artist Howard Pyle. N.C. found this land overlooking the valley and had his home (shown at the top of this page) built on a ridge that gave perfect views.  He had his studio built a few yards away from the house, set against a woodland. It was here that N.C. Wyeth raised his five children, his youngest being Andrew Wyeth. Four of his five children became fine artists, and the fifth became a talented engineer and inventor. Creativity and The Art Spirit were prevalent in this house.
Among those misty gray hills of Chadds Ford, along those stretches of succulent meadows with their stretches of peaceful cattle and those big sad trees, and the quaint and humble stone farmhouses tucked underneath them, there is that spirit that exactly appeals to the deepest appreciation of my soul. To me, it is like wonderfully, soft, and liquid music. ~N. C. Wyeth, letter to family, 1925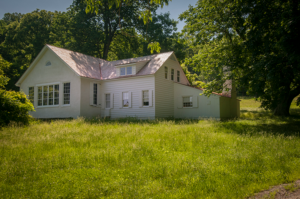 The Andrew Wyeth Studio
The studio where Andrew Wyeth created and finished so many of his masterpieces is a repurposed schoolhouse built in 1875.  He began using this building as a studio in 1940 and it continued as his Pennsylvania workspace until his death in 2009. small house on a country road in Chadds Ford.
"To better understand my father's world, one need only visit his studio."
—Jamie Wyeth
In 1940 when Andrew and Betsy Wyeth purchased the building, it served as their home, and it was there that they began raising their two sons, Nicky and Jamie. The studio was a single room.  Later they moved into a larger home, but Andrew continued to work in this building. It is only a short distance from where N. C. Wyeth raised Andrew and his siblings.  In fact, this schoolhouse building was previously owned by Andrew's oldest sister, artist Henriette Wyeth, and her husband (also an artist), Peter Hurd.  There's a palpable vibe in this building. And Andrew Wyeth's studio is much as he left it when he passed away.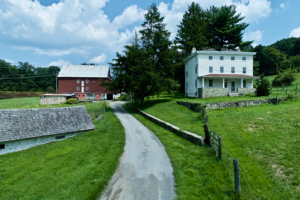 The Kuerner Farm
This farm, its buildings, its inhabitants over the years, and the hill across the street were featured in nearly 1,000 paintings and drawings of Andrew Wyeth accounting for about one-third of his work. It has become an iconic representation of Wyeth Country in Pennsylvania. The farm was purchased by Karl Kuerner, a German immigrant, and his wife, Anna rented the farm in 1926 and later purchased it in 1940. Karl and Anna were featured in several well-known Wyeth paintings.  Karl II eventually worked the farm until his death. Karl II and his son, Karl J. Kuerner donated the farm to the Brandywine Conservancy and it has been named a National Landmark of historic significance. Karl J. Kuerner, now a practicing artist and art teacher, lives on the hill opposite the farmhouse.  He knew Andrew Wyeth well and was mentored by Andrew and more formally by Andrew's sister Carolyn who tutored art students out of her father's (N. C. Wyeth's) studio.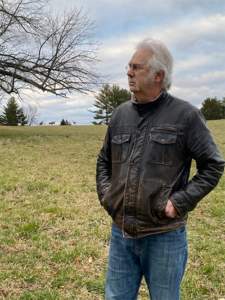 2 Sessions with Karl J. Kuerner
Karl J. Kuerner will offer two sessions to guests on The Art Spirit Tour. He will also discuss art techniques and insights. He will also share stories about the impact Andrew and Carolyn Wyeth had on his development as an artist.  There will be a 2-hour presentation on the second night and a one-hour presentation on the last morning.  Guests will be able to ask questions in an informal setting.
Karl has been markedly inspired by Robert Henri's book The Art Spirit, which is also the focus of this 3-day experience.  He will address some of those concepts and premises on the creation of art.  Karl will also talk about how the Brandywine landscape has ignited his own creativity his entire life.
All guests will receive a copy of Karl's recently published book, Beyond the Art Spirit. (retail $45).
Register online now!
Additional Includes:
Pre-night Welcome Reception on Nov 9th
Boxed lunch prepared by Millstone Café, Nov 10
Group dinner on Nov 10 at Antica restaurant
Plein Air opportunities on the Brandywine grounds, Nov 12th
Transportation to all studios and Kuerner Farm
NOTE: The Museum of Art as well as Antica, and Oso Sweet Bakery Café are within walking distance of the Brandywine River Hotel.  For the Free afternoon on November 11th, guests will carpool to those destinations, which are still within two miles from the hotel.
Art Spirit Tour | Itinerary | Registration | What's Included? | The Wyeths
For more information contact us contact @ thinplaces.com