Spiritual Tour of Ireland 9/21-30, 2020

Northern Edges -Ireland
9 Counties across the northern region of Ireland
focus on earth energy and the mystical landscape
DOWNLOAD REGISTRATIONS FORM – Call for more information 443.735.2433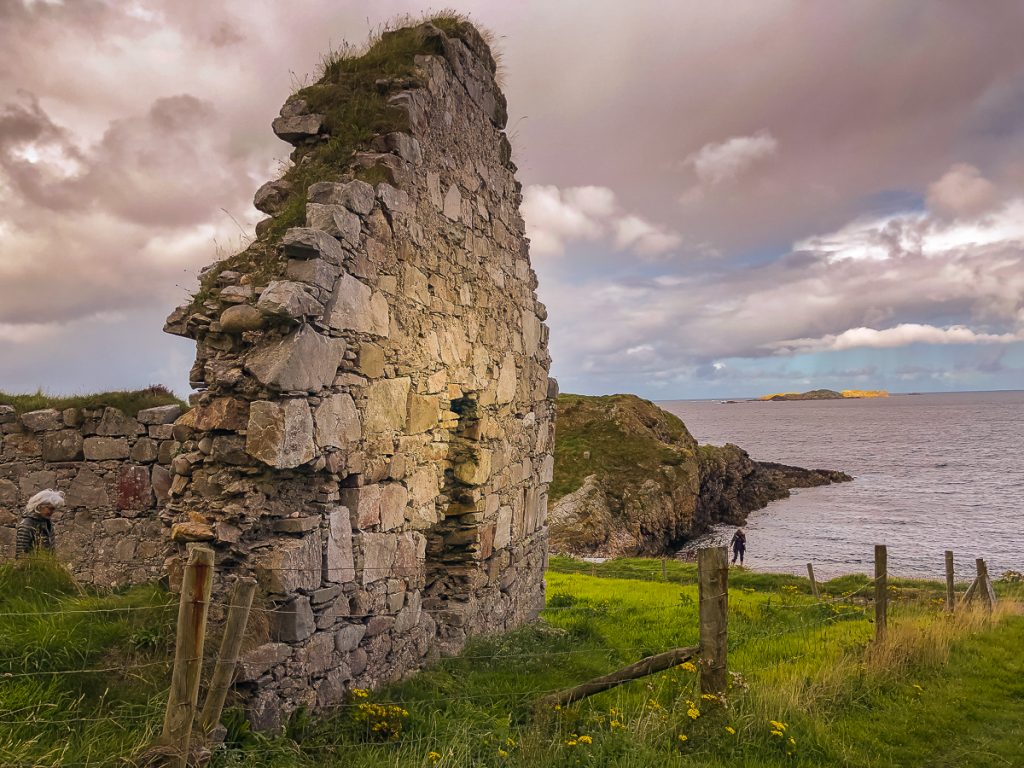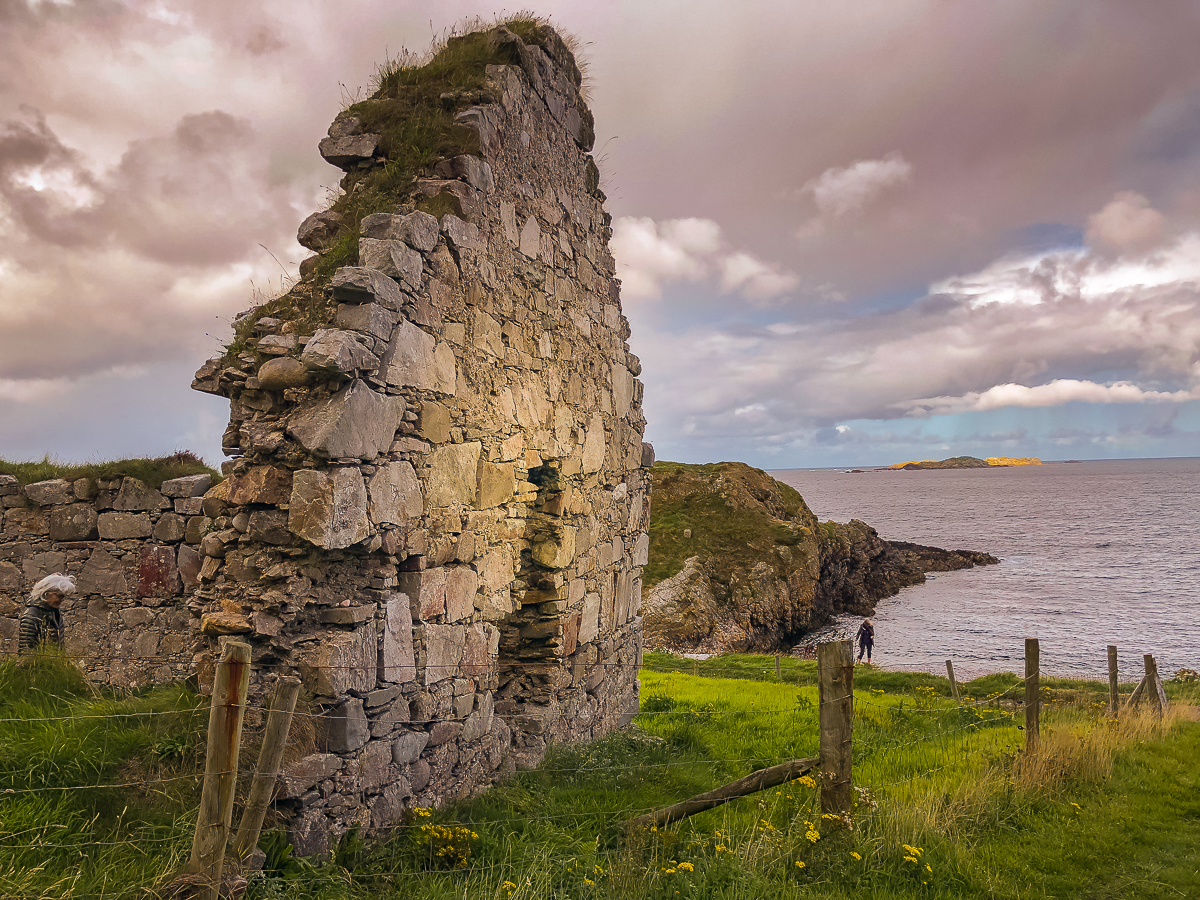 Ireland – Northern Edges

Sept. 21-30, 2020 – 9 days – $2695 + Air
Armagh, Derry, Tyrone, Donegal, Down, Antrim
Book online now!
This spiritual tour of the northern edge of Ireland (including Northern Ireland), Northern Edges starts from Dublin Airport and moves into the north country, tracing the edge of the land, touching some of the most ancient, sacred sites in Western Europe.  This is the land of St. Patrick, of St. Brigid, of St. Columba (Colmcille), and the land of Fin MacCool, Cuchullain, Macha and Ossian the poet. This part of Ireland that is least visited and is still relatively undeveloped. The north has amazing energy, and the elements of the Irish countryside are magnified in this unspoiled landscape.
The first stops are in County Louth – St. Brigid's birthplace and holy well and the Hill of Ward – an ancient druidic site. That is followed by the Cooley Peninsula and Downpatrick – where St. Patrick likely began his life in Ireland and found his final resting place. Then it will be a time to trace the Antrim Coast visiting the Glens of Antrim, Tiveragh Hill (fairy hill), the ancient stone circle at Ossain's Grave (the poet), and wander through the Dark Hedges made famous by being featured on The Game of Thrones tombs.
Be stunned by the views at the Giant's Causeway and Dunluce Castle. Visit the walled city of Derry. Explore the Inishowen Peninsula and see the Wee Cave at Malin Head where there is always room for one more person. Spend the last magnificent days exploring Tory Island – the rugged island of primitive artists and drive through the scenic hills of Donegal with views of Mount Errigal, the Poisoned Glenn and the Stone of Worries. Stone circles, holy wells, natural caves, and sacred mountains are all part of this tour.
On the last day, you'll sit in St. Patrick's Chair at an ancient druid site, then stand on the mystical hill at Navan Fort, where there's an ancient temple buried beneath. Finally take in the views at the old Armagh Cathedral, a sacred site for thousands of years, now capped with a cathedral that stands on the site of St. Patrick's first church and on the ground where Brian Boru – the great High King of Ireland and his two sons are buried.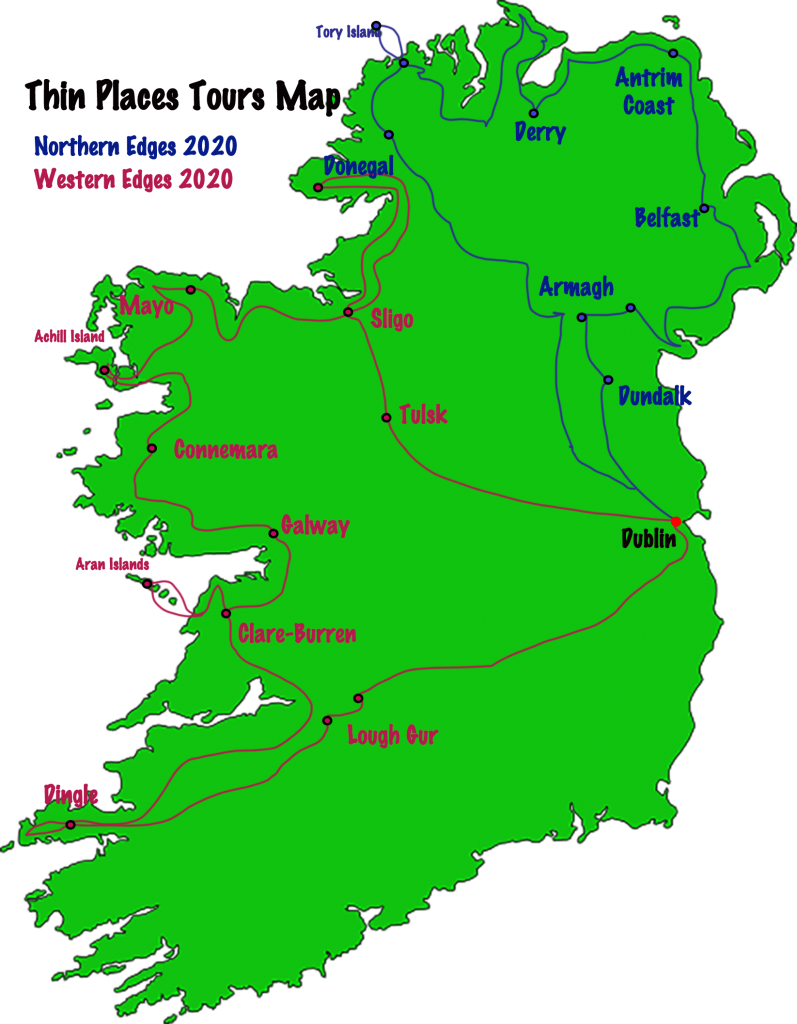 *** MUSIC & STORYTELLING – This tour also includes a private evening with a traditional Irish music group, an opportunity to visit with a legendary Irish Storyteller, a free day in Derry City and a visit to a sheep farm to get close to the land and learn a bit about Irish culture, farming, and local food.
A spiritual tour that connects guests with the maternal elements of the land
The Earth is our mother and is associated with the divine feminine. This tour with its selection of sites goes deep into the northern Irish landscape and connects with the understanding of the earth as our mother. Themes of rebirth and accessing ancient wisdom surface all along this tour. This tour is ideal for healers, artists, and those interested in earth energy and nature – especially the wild places. If you feel especially connected to the land, the spirit of the plants and trees, then this tour will be exhilarating for you.
There will also be time for fun. Guests will stay two nights in Castlegrove Country House, a beautiful old Irish estate with stunning accommodations and food. Then there's a free day in Derry City explore the city walls, visit the museums or view the magnificent art. Guests will also be able to engage with local guides who will provide an authentic cultural experience in Ireland.
This tour is limited to 15 to 25 people – so as to be flexible and intimate.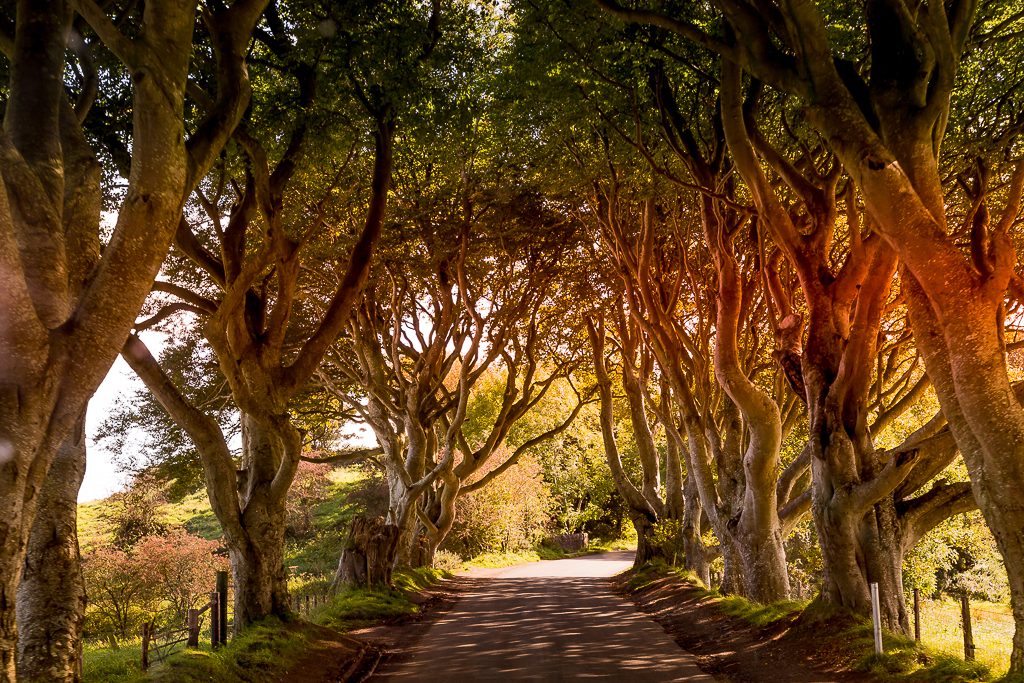 The Focus is thin places
The focus of all our tours is "thin places" or places where the veil between this world and the eternal world is thin… where both worlds are woven together.  And as on all of our tours, you'll see the unspoiled hidden places few visitors ever see on other commercial tours. You'll be traveling within the context of a story while peeping into the ancient past of mystical hills, stone circles, passage tombs, holy wells, monastic ruins, castle ruins, and archeological wonders.  There will be quiet time as well as fun group excursions. This is a spiritual tour you will never forget.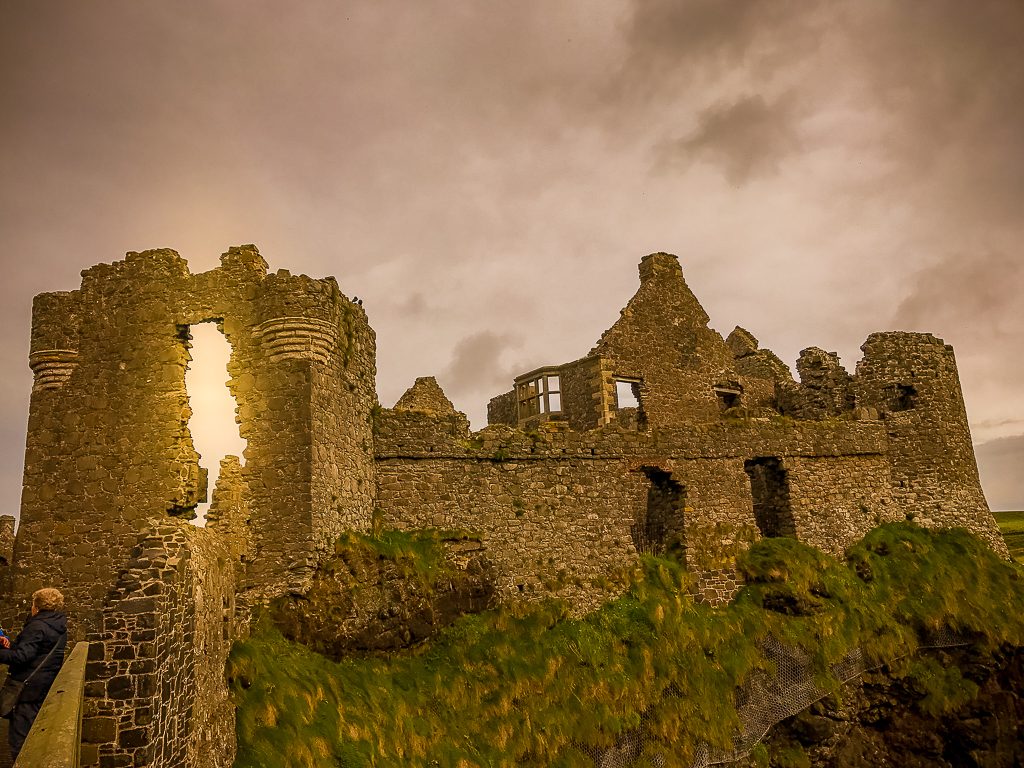 NORTHERN EDGES – ITINERARY & DETAILS
A full-time tour guide will be with the tour from start to finish. The tour has its own private coach and driver for the full nine days.  The guide will be Mindie Burgoyne, writer, tour operator and owner of Thin Places Mystical Tours. She has a long history of investigating thin places in Western Europe and an understanding of earth energies and the power of spiritual pilgrimage. Overnights will be in Dundalk, Antrim, Derry, Letterkenny, and Dublin Airport.
WHAT'S INCLUDED:
Full-time tour guide / Private Coach – Mindie Burgoyne will be the full-time tour guide. A private motor will be secured for the entire duration of the tour.
All Accommodations in 3 or 4-star hotels or high-end B&Bs – two nights at Castlegrove Country House
All breakfasts
Four dinners – Welcome and Farewell dinners on the first and last nights, plus one dinner at Castlegrove and one in Antrim.
All private tours/ guides & attraction admissions
Farm visit – sheep farm.
Night of music with local Irish musicians
Cruise to Tory Island
Over 25 Group Excursions
WHAT'S NOT INCLUDED:
Air Fare
lunches and 5 dinners (does not include alcoholic beverages)
shopping, incidentals, expenses incurred on free day in Derry City
tips for hotel staff, private guides, and driver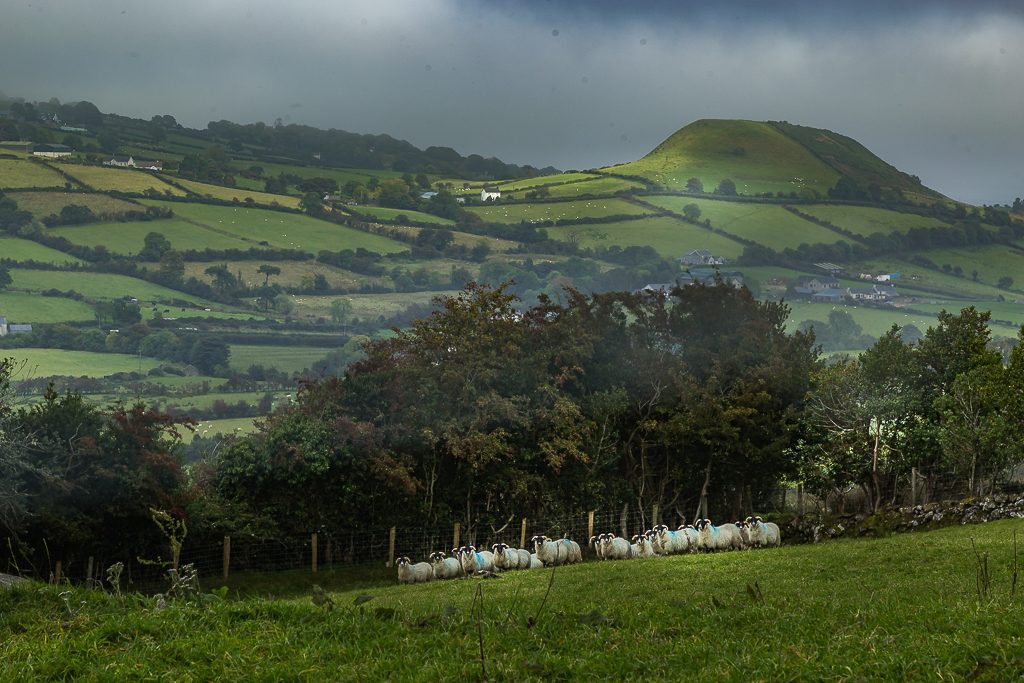 Expert local guides will be with your group in some locations for a more in-depth visitor experience. This includes a farm tour, food to table discussions, Guided Walking tour of Derry, Tory Island, and evening with Irish Musicians.
Ground Transportation – We enjoy the comfort of our own motorcoach for the entire 9 days. Guests are free to leave things they use daily (walking sticks, jackets, etc) on the bus. The bus may also include an onboard bathroom and wifi (depending on the size of the tour group).
FREE DAY in Derry town is also included.  Derry – the name derived from "Dara" meaning "oak" is the site of where St. Columba founded his most famous monastic community in a sacred oak grove.  It was likely a site embraced by druids (holy men in pre-Christian times) before Columba settled there. It's also a city steeped in history with its city walls still intact and its connection to the "Troubles" and Bloody Sunday. Derry is also a thriving arts community with galleries and museums displaying local art all over the city. is a city of ancient history and art.
Airfare is not included.  Guests must arrange their own airfare to and from Dublin International Airport. For guests who book both Ireland tours, airfare should be arranged to fly in and out of Dublin Airport.
TOUR START and END – The tour begins when the tour guide and coach driver meet the guests at Dublin International Airport (DUB) at 10 am on September 21st.  Guests are responsible for getting themselves to DUB at that time in order to meet the tour.  A map and exact location will be provided.  On the last night of the tour, guests are booked into a hotel close to Dublin Airport where they can easily take a short cab or shuttle ride to the airport the following morning or extend their stays and continue touring.
NOTE: Because guests coming in from the USA and Canada have overnight flights, it is wise for guests to consider a PRENIGHT(s)  on Sept 20th  in Dublin for a little extra time to unwind, adjust to the time change and visit some sites in Dublin. From there you can take a bus back to the airport on September 21st to meet the group. Thin Places Tours can help with hotel suggestions before and after the tour. Arriving a day early would also protect against missing the first day of the tour if a flight is delayed or circumstances upset your scheduled arrival on September 20th. For guests who expect to spend a few extra days in Ireland, it is best to put those days on the front end of the tour.
SEE "DOUBLE TOUR" BELOW FOR GUESTS BOOKING TWO BACK-TO-BACK IRELAND TOURS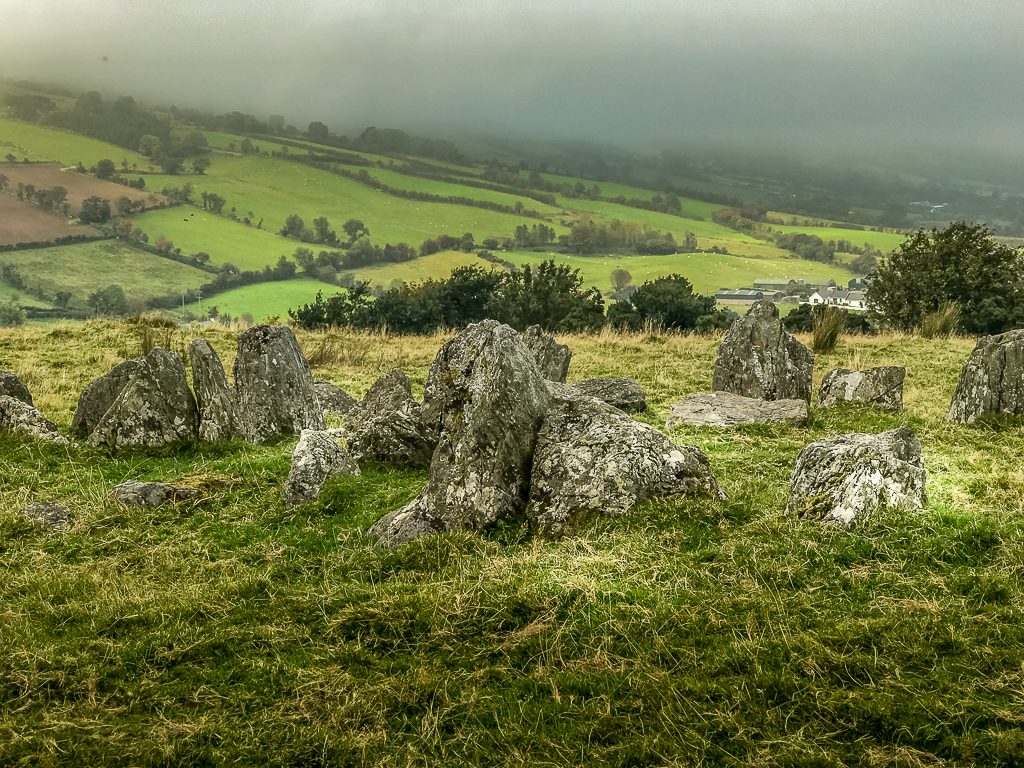 COST – $2695 + AIR
Cost of $2695 (based on double occupancy) is for the land only. It includes lodging, all breakfasts, and four dinners. It also includes land transportation, admission costs to all attractions, and private guides. Posts about some of the sites will appear periodically on the Thin Places blog.  In addition to the cost of the tour, guests would be responsible for airfare, lunches, and dinners that are not included, plus any incidental expenses unrelated to the group tours and accommodations.
Single room supplement is $550, is due with the registration deposit. There are a limited number of Single rooms available.
Single Rooms are limited. Single supplement will go up when the limit (6) is reached. We will try to pair people who request a roommate but cannot guarantee a roommate.
Booking the Tour –Deposit of $500 (plus $550 single supplement if applicable) per person must be submitted with the online form to hold the spot.  Deposit is refundable for 30 days. The deposit also locks in the price.  Due to the unpredictability of the British Pound exchange rate, the price of the tour may rise before the tour date.  But a deposit locks in the price of the tour.
Tour balance is due 60 days before the tour start.
Travel Insurance –We suggest guests purchase travel insurance on their own. Thin Places Mystical Tours does not sell Travel Insurance or represent any travel insurance vendor, though we can make recommendations based on what other guests have used.
Tour is limited to 25 guests.
DISCOUNT FOR THIN PLACES ALUMNI
Guests receive a $50 discount for every Thin Places tour they've been on prior to 2020
Book online now!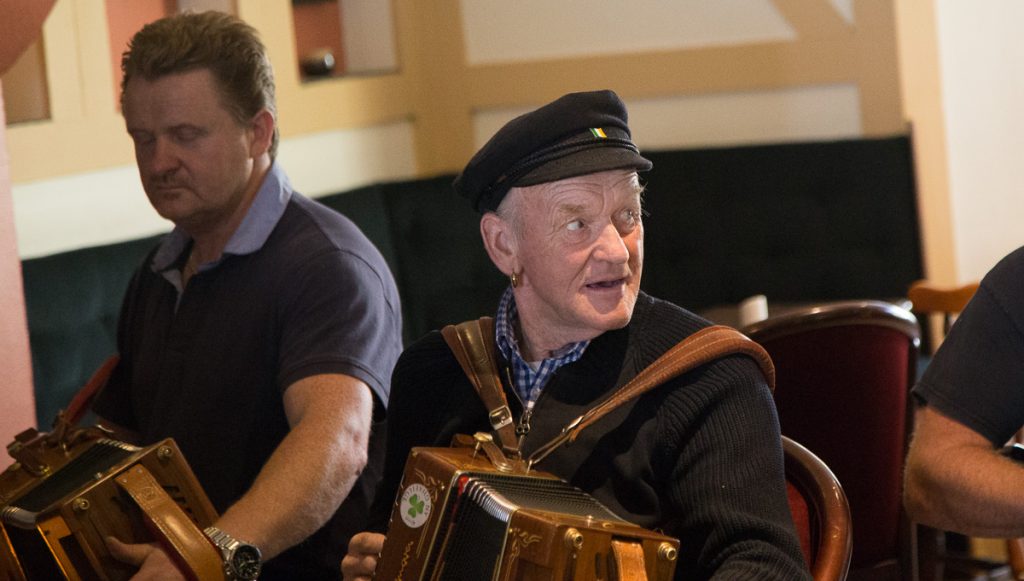 ________________________________________________________
Special Double Tour option – $100 discount and bonus hotel night for booking a double tour  – Northern and Western Edges  
Thin Places Mystical Tours is hosting two Ireland tours that are back-to-back.
Northern Edges – Ireland – Sept 21-30, 2020 covering the northern edges of Ireland for $2695 per person
Western Edges – Irlenad – October 1-11, 2020 covering the western edge of Ireland for $2795 per person
For guests who would like to attend both Ireland tours listed above for a 21-day tour with over 40 group excursions, visiting the most mystical sites in Ireland, consider booking a double tour.
The Double Tour – Northern and Western Edges of Ireland offers both full tours, all transportation and a hotel room and group dinner for the night in between the two tours (Sept 30). Plus a $100 discount off what the tours would cost separately.
Book online now!
Alumni discounts ($50 per Thin Places tour you've attended before 2020) can also apply.
The Double Tour – Northern and Western Edges is an unforgettable option and a total immersion into the wild and mystical Irish landscape and culture. It will feed your mind, body, and spirit with joy, healing, and peace, creating memories that will last your lifetime.
________________________________________________________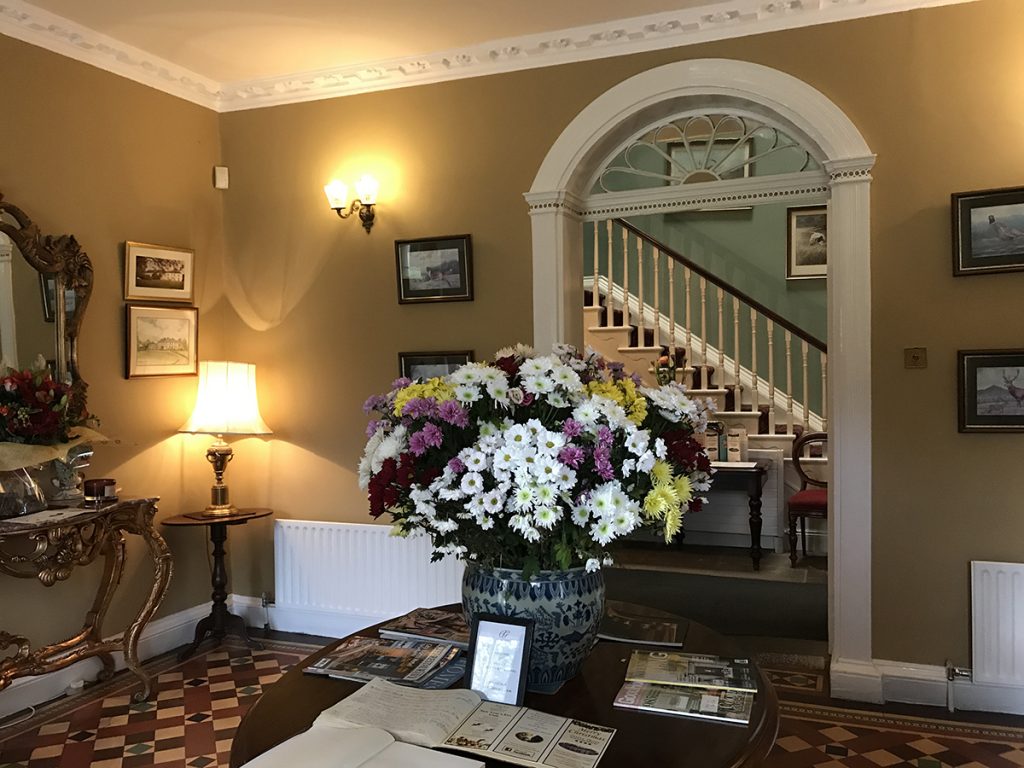 ITINERARY – Northern Edges
Day 1,  Sept. 21st –  ST BRIGID'S BIRTHPLACE, The Cooley Peninsula
Guests will meet tour guide and coach at Dublin Airport at 10 am (flights should be arranged to arrive before 9 am on 9/21)
From there they will arrive at the birthplace of St. Brigid in Faughart. They will visit the holy well there and explore that ancient site. This day also includes church ruins, standing stone, and a dolmen used for wishing. Then they will head to the hotel for a welcome dinner and early night's sleep.
Welcome Dinner and overnight in Dundalk.
Day 2, Sept. 22nd – Carlingford Lough and Narnia Inspirations
Guests will venture out exploring the north side of Carlingford Lough and will visit Rostrevor Fairy Glen, the inspiration for C.S. Lewis's Narnia. Other sites include Kilbroney Church and Cross and a Sheep Farm tour in a region famous for sheep dog training.
Overnight near Newcastle.
Day 3, Sept. 23rd– Downpatrick, Inch Abbey, and Ballynoe Stone Circle
Guests will visit the region where St. Patrick was likely held as a slave after being kidnapped as a young boy by the Ui Neill tribe. Then visit the believed burial site of St. Patrick as well as abbey ruins and a stone circle.
Overnight near Newcastle.
Day 4, Sept.24th – The Giant's Ring, Glens of Antrim, Ossian's Grave
Guests will visit the largest ritual site in northern Ireland – the Giant's Ring – and have an opportunity to crawl into 5000 year old dolmen. Then they'll have a scenic view of the Glens of Antrim and finish the day with a brisk walk up a sacred hill dedicated to poets known as Ossian's grave. Its marked by a stone circle and sits in view of Tiveragh Fairy Hill. Remarkable scenery this day.
Overnight in Antrim.
Day 5, Sept. 25th – Dark Hedges, Whitepark Bay, Giants Causeway, Dunluce Castle
This is a day for popular tourist sites. Begin with a visit to the Giant's Causeway – a World Heritage Site, then head to the famous ruins of Dunluce Castle, also an inspiration for C.S. Lewis' Narnia and many other writers. Guest will walk the magical beach of Whitepark Bay and then head for The Dark Hedges, an ancient road lined with beech trees that were featured as a setting in The Game of Thrones.
Overnight in Antrim.
Day 6, Sept. 26th – Inishowen Peninsula, Wee Cave, Grianan of Aileach
Guests will depart early for a day on the Inishowen Peninsula – the northernmost part of Ireland. They will spend a few hours at the Malin Wee Cave, situated on a beach covered with semi-precious stones of many colors. There will be a quick visit to Malin Head… the northernmost point in Ireland and then a visit to the Sun Palace – Grianán of Aileach, an ancient ring fort with views of six counties and the sea.  Then head to the hotel within the historic walled city of Derry.   Overnight in Derry.
Day 7, Sept. 27th – Free Day in Derry
Guests enjoy a walking tour of the city in the morning and then have the rest of the day to explore one of Europe most beloved cities, rich in culture and history. There's a fabulous metaphysical store in Derry, and the Bloody Sunday museum is a memorable and worthy visit as is the Guild Hall.  Then head off to Castle Grove Country House for a group dinner and an overnight similar to what one might experience in a castle manor house. Dinner and overnight at Castle Grove Country House – County Donegal.
Day 8, Sept. 28th – Tory Island, Gartan, Hills of Donegal
Guests will spend this day taking a trip to Tory Island and having an authentic experience visiting islanders who descend from other islanders who made their homes on Tory hundreds of years ago.  This is an old culture and an isolated existence.  Guests will be able to visit with islanders and learn their ways, hear their music, taste their food and view their award-winning art.  The primitive artists of Tory Island have work displayed in New York and Paris galleries.  After Tory Island, you'll head through the upper hills of Donegal and have a chance to visit Gartan where St. Columba was born, and lay your worries and emotional burdens down on the Stone of Sorrows – believed to be the ancient birthing stone of the saint himself.
Overnight at Castle Grove Country House – County Donegal.
Day 9, Sept. 29th – St. Patrick's Chair, Armagh Cathedral, Navan Fort
On this final day, guests must make their way back to Dublin. There will be a stop at St. Patrick's Chair, an ancient druid site in the Alta Daven Forest with a chair hewn out of a bolder on clifftop named for St. Patrick. Then guests will head to Armagh to visit the Navan Fort, also known as Emain Macha after the goddess Macha, who like Tlachtga had a multiple birth (twins) that killed her on a sacred hill at this site. This is a place of powerful earth energy, a former temple that attracted visitors from all over the continent. It's also believed to be the home of the Knights of the Red Branch and Cuchulain. Just before leaving Armagh, guests will stand at the summit of the town by the old Cathedral, where St. Patrick ruled as bishop of Ireland and were the bodies of the great High King, Brian Boru and his two sons are buried.  Then back to Dublin for a farewell dinner.
Overnight and Farewell Dinner at hotel near Dublin Airport. 
Day 10, Sept. 30th – Depart
Guests depart from Dublin Airport or extend stay on their own
The itinerary is subject to change considering weather and availability factors.  Overnights are in Dundalk, Letterkenny, Derry, Antrim, Newcastle, and Dublin Airport

Thin Places Tours can help guests make arrangements for pre-night stays. There is also a $100 rebate and transportation for guests that want to continue on to the next tour, Western Edges
MAKE YOUR RESERVATION TODAY.   CALL 443.735.2433

$500 per person deposit needed to reserve your spot (plus the $550 single supplement if applicable). Final balance is due to be paid 60 days before the tour.
Still have questions? Email  contact @ thinplacestour.com or call  443.735.0771
Book online now!