2017 Spiritual Tour of Scotland


September 7-16, 2017  (SOLD OUT)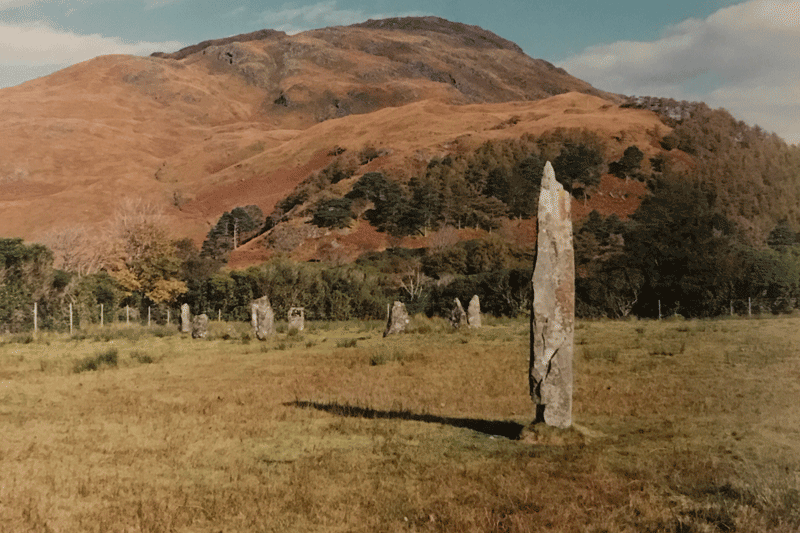 Iona & Lindisfarne
9 days – Borderlands, Hebrides & Highlands
$2895 + air
Sorry, this tour has reached its maximum registrants. Please consider Discover the North (just across the sea from Scotland). 
This spiritual tour of Scotland goes from the North Sea at Lindisfarne (which is actually England) to Iona, an island on the western coast of Scotland. The tour moves within the context of the old stories of the monks of Iona and Lindisfarne who carved out a sacred trail between these two monasteries. Those two places are indeed sacred and there are many places of healing and mystery on the trail in between.
On day one you'll take a walking tour of historic Edinburgh and overnight there. Day two you'll visit the mystical Rosslyn Chapel and Holy Island – also known as Lindisfarne – an island only accessible during low tide. You'll spend a few hours on the island, which has amazing seaside views of the old castle and monastic ruins. You'll soak up the energy of Lindisfarne, which is both healing and inspiring. On day three we'll travel to Melrose Abbey ruins, then head for Glencoe in the Highlands. This is the site of a famous battle and region is said to be haunted by the many people who have died there and nearly unparalleled in its beauty.
On day four you'll visit the Isle of Mull and an obscure stone circle in a mystical valley, and later explore some other ancient sites in this Mull landscape that is ever changing. On day five we'll visit the Isle of Iona – where Christianity was begun in Scotland under the guidance of St. Columba or Colmcille after he left Ireland in exile. On day six the group will leave the Isle of Mull and travel past Lough-Lomond to Stirling Castle, site of the famous victory of William Wallace (Brave Heart) and then settle into a lakeside hotel set in rural Scotland. Day seven is a free day at this hotel – a day of relaxing that can include fishing, walking or travel out to a little island in the middle of the lake. This is a day to revive your energy, refocus your journey and reflect on all you've absorbed so far. On day nine you will journey back to Edinburgh for the farewell dinner.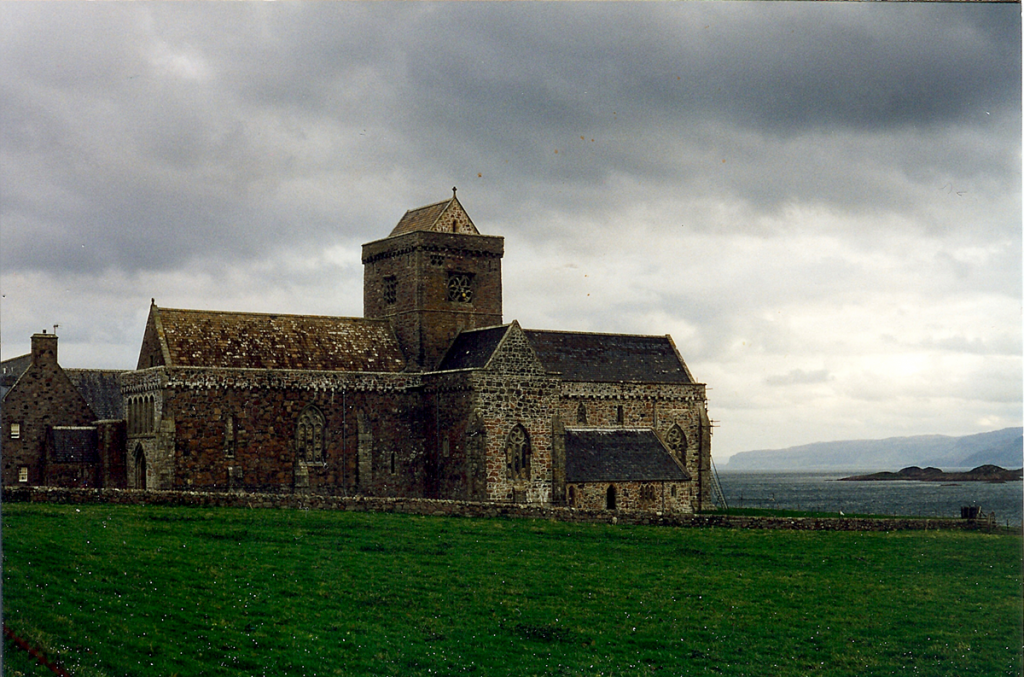 The Focus is thin places
The focus of all our tours is "thin places" or places where the veil between this world and the eternal world is thin… where both worlds are woven together.  And as on all of our tours you'll see the unspoiled hidden places few visitors ever see on other commercial tours. You'll be traveling within the context of a story while peeping into the ancient past of mystical hills, stone circles, passage tombs, holy wells, monastic ruins, castle ruins and archeological wonders.
The Monks Trail is this tour's theme.  There are many sacred site son the borderlands between Scotland and England and on up into the Highlands. Some of the Christian sites are built on former pagan sites. Over the years the rituals melded together and a single spirituality is layered into the landscape.  On this tour, there will many mystical sites – thin places – where one might experience walking in two worlds.
THE MONKS TRAIL – ITINERARY

& DETAILS
A full-time tour guide will be with the tour from start to finish as will our Irish coach driver. Your guide will be Mindie Burgoye, tour operator and owner of Thin Places Mystical Tours. She has a long history of investigating thin places in Western Europe and an understanding of earth energies and the power of spiritual pilgrimage.
Expert local guides will be with your group for a closer look at in Edinburgh, Iona and Lindisfarne. These guides are local to the area and will be able to speak specifically about some of the sites on the tour.
COST – $2895
Cost is $2895 (based on double occupancy) and is for the land only. It includes lodging at hotels, all breakfasts and four dinners. It also includes land transportation, admission costs, and the private guides. Posts about some of the sites will appear periodically on this blog.
Airfare is not included.  We start and end the tour close to the Edinburgh Airport. We can assist you with information regarding the best options for airfare and quick / easy transport between the airport and your  hotel on the first and last day. We also can help you arrange an extended stay on either side of your tour.
Single room supplement is $550.
We suggest guests purchase travel insurance on their own.
Deposit of $500 (plus $550 single supplement if applicable) per person must be submitted to hold the spot.
Tour is limited to 25 guests.
DISCOUNT FOR ALUMS
$50 discount for every Thin Places tour they've been on prior to 2017.
WHAT'S INCLUDED?
Visits to over 20 sites
9 nights in hotels – all with private baths
Double, triple & single occupancy available
All hotel taxes/fees
Transportation via luxury coach (bathroom and wifi on board) for daily touring
Traditional full breakfast every morning
4 dinners
Full-time host & guide – for all 9 days of the tour
4 local expert guides
Island excursions to Iona and Mull
Emergency Local Contact available 24/7
ITINERARY
Day 1,  Sept 7th – EDINBURGH – Meet at your hotel at 2pm and enjoy an excursion in the historic town of Edinburgh. Then join your new friends for a Welcome dinner. Overnight in Edinburgh.
Day 2, Sept 8th – LINDISFARNE – Head out to the North Sea in Northumberland and cross into Holy Island (Lindisfarne) during low tide. Visit the monastic ruins, walk the beach, hear the stories of monks and princes and Vikings, then say a prayer at Cuthberts Isle then depart Holy Island and head for Rosslyn Chapel where some believe the Holy Grail ended up. Rosslyn is filled with mystery and a very heavy energy. If there is time, we'll stop at Melrose Abbey – the burial place of Robert the Bruce. Overnight in Edinburgh
DAY 3, Sept 9th – HIGHLANDS – Leave Edinburgh and head into the Highlands enjoying the scenic views. Stop in Glencoe – a haunted place where a terrible betrayal and massacre of thirty-eight McDonald clan members took place. It was the betrayal more than the murders of McDonalds in their sleep that has kept this story alive for over three-hundred years. Dinner and overnight in Oban
Day 4, Sept 10th – KILMARTIN GLEN  – Visit the royal center of Dál Riata where the first Scottish kings were crowned – and where St. Columba likely traveled to converse with an early king. Hear that story, place your foot on the inauguration stone and look out over the Kilmartin Glen where you see remnants of one of Scotland's largest concentrations of neolithic and Bronze age ruins . Overnight in Oban.
Day 5, Sept 11th  -ISLE OF MULL – Head for the Port of Oban where the bus will board a ferry to cross over onto the Island of Mull – the second largest island of the inner Hebrides. You'll hear stories of mystical patches that transcend our existence, and then visit a stone circle in one of those locations. Overnight and dinner in Mull.
Day 6, Sept 12th – IONA- Take a short (15 minute) cruise over to the Isle of Iona and spend the day exploring the ruins, the beaches, the old abbey and hearing the stories about this enchanted land of Columba and his monks. Overnight in Mull.
Day 7, Sept 13th – LAKE OF MENTEITH – Head back to the mainland from the Isle of Mull and travel to the Lake of Menteith where your overnight accommodations will be in an old manor house on the lake. Relax and enjoy the setting. Have dinner and get some sleep. Overnight and dinner in Lake of Menteith Hotel.
Day 8, Sept 14th – FREE DAY LAKE OF MENTEITH – Awaken at the Lake of Menteith Hotel and enjoy the day at your leisure. Take a walk, go fishing or take a cruise out to one of the islands in the center of the lake and visit the 13th-century ruins of Inchmahome Augustinian Priory.  Overnight in Lake of Menteith Hotel.
Day 9, Sept 15th – STIRLING CASTLE – EDINBURGH – Heading back to Edinburgh you will tour Stirling Castle and finally arrive in Edinburgh where you can enjoy the late afternoon in the city before your farewell dinner with your new friends. Overnight and dinner in Edinburgh.
Day 10, Sept 16th – Awaken in Edinburgh and either head to the airport for home, or continue touring on your own (we can help with suggestions for an extended tour).
The itinerary is subject to change considering weather and availability factors.  Overnights are in Edinburgh, Oban, Mull, Lake of Menteith Hotel. 
MAKE YOUR RESERVATION TODAY.

$500 per person deposit needed to reserve your spot (plus the $550 single supplement if applicable). Final balance due to be paid by 60 days before the tour.
Still have questions? Email Mindie at mindie@thinplacestour.com or call 410.623.2193 or 301.648.2010
*NOTE: Itinerary is subject to change based on availability and in some cases – the weather.