2017 Ireland tour exploring sacred sites linked to feminine spirituality 


May 4-13, 2017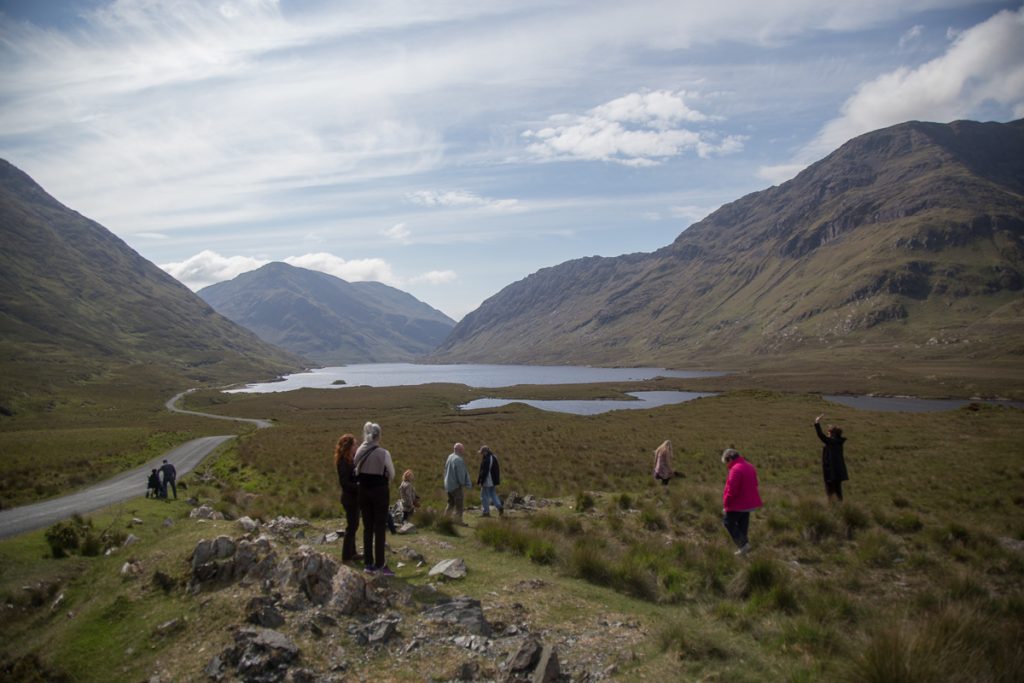 9 days -(east to west across the center) over 20 group excursions
$2499 + air
Enjoy this unique Ireland tour in 2017 as you absorb an authentic journey to some of the most spiritually powerful sites in Ireland – a landscape few visitors get to see in such an intimate way.  You will travel through sixteen counties seeing (and touching) amazing megaliths, stunning scenery, holy wells and sites with powerful earth energies – all affiliated with feminine deities, mythological and legendary women.
You will get all the beauty Ireland has – majestic mountains, sheer cliffs, lakes, rolling hills, holy wells, stunning and rugged coastline and even a visit to an off-shore island. You'll spend time in vibrant cities such as Dublin and Galway, and enjoy some of the most remote and rural landscapes in Ireland.
You will stand in the spiritual center of Ireland where all the ley lines are said to intersect. You'll walk the shores of the Atlantic, visit a mystical lake, enter magical caves hear about the legends of women and female deities – wise women – that are woven into Irish history and literature. Sites include holy wells, several ancient royal ritual centers, a passage tomb complex (where you can enter one of the ancient tombs), an off-shore island linked to Saint Gobnait and a site related to apparitions of the Virgin Mary.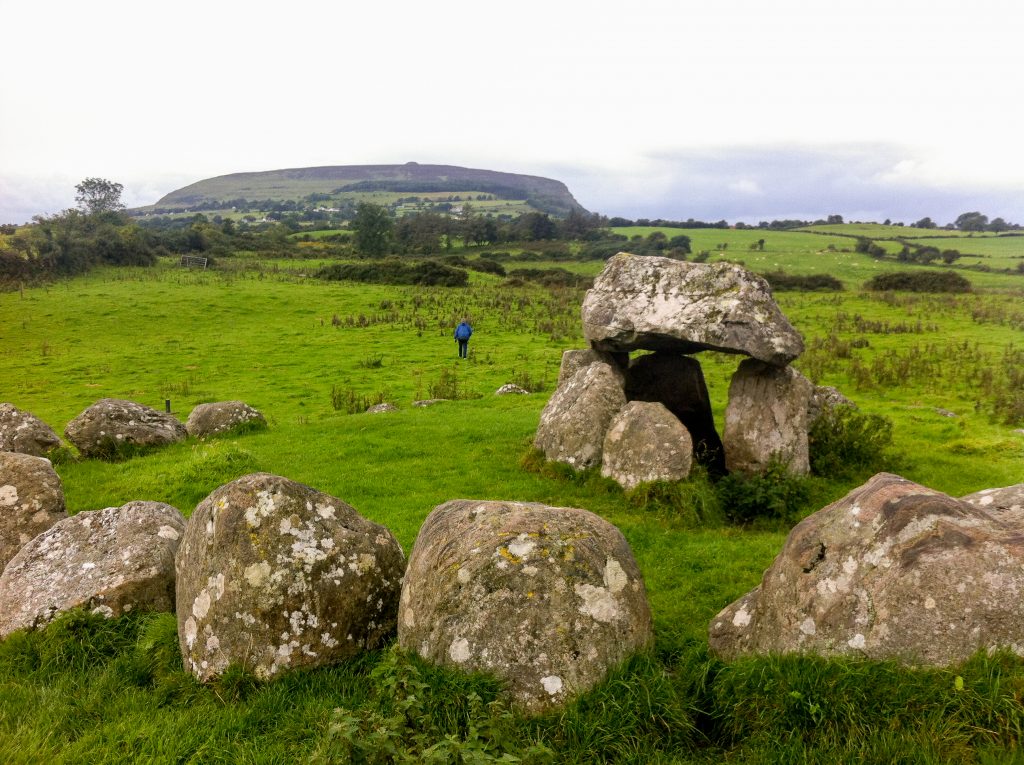 The Focus is thin places
The focus of this and all of our tours is "thin places" or places where the veil between this world and the eternal world is thin… where both worlds are woven together.  You'll see the unspoiled hidden places few visitors ever see. You'll be traveling within the context of a story while peeping into the ancient past of mystical hills, stone circles, portal tombs, holy wells, monastic ruins, enchanted forests and archeological wonders.
This tour includes well-known sites such as Loughcrew Cairns – a complex of passage tombs atop a hill known as "the Hill of the Hag, and Carrowmore Megalithic Cemetery and Knocknarea, the legendary burial site of Queen Maeve. We'll also visit Navan Fort, Hill of Uisneach (spiritual center of Ireland), St. Brigid's fire temple and holy well in Kildare, Hags Head at the Cliffs of Moher, Inis Oirr (one of the Aran Islands) and the Knock Shrine in County Mayo. Plus additional sites along the way.
You'll be part of traveling family for 9 days. Our groups are limited to 25 guests and we travel in our own roomy motor coach (bathroom and wifi on board) using major cities as a home base (overnights will be in Dublin, Monaghan, Sligo, and Galway City).  In the morning we head out together for a day journeying through thin places, and we return home in time for you to venture out into town and visit with locals, listen to some traditional Irish music or simply relax in your room or the hotel lobby and pub. We plan no evening excursions – so all evenings are free. We also allow one free day in Galway City – a vibrant city with so much to see. So you can break away from the group and enjoy your leisure time that day.
TRAIL OF THE HAGS

ITINERARY

& DETAILS
A full-time tour guide will be with the tour from start to finish as will our Irish coach driver. Your guide will be an expert on mystical and sacred sites in Ireland, with an understanding of thin places, earth energy and spiritual pilgrimage.
Expert local guides will be with your group for a closer look at Navan Fort, Rathcroghan, Inis Oirr and Carrowmore. These guides are local to the area and will be able to speak specifically about some of the sites on the tour.
COST – $2499
Cost is $2499 (based on double occupancy) and is for the land only. It includes lodging at hotels, all breakfasts and four dinners. It also includes transportation, admission costs, and the private guides. Scroll through the posts on this blog site to see more about the sites on the tour.
Airfare is not included.  We start and end the tour close to the Dublin Airport and can assist you with information regarding the best options for airfare and quick / easy transport to and from your Dublin hotels.
Single room supplement is $550.
We suggest guests purchase travel insurance on their own.
Deposit of $500 (plus $550 single supplement if applicable) per person must be submitted to hold the spot.
Tour is limited to 25 guests.
DISCOUNT FOR ALUMS
$50 discount for every Thin Places tour they've been on prior to 2017.
WHAT'S INCLUDED?
Visits to over 20 sites
9 nights in hotels – all with private baths, located in or near city centres
Double, triple & single occupancy available
All hotel taxes/fees
Transportation via luxury coach (bathroom and wifi on board) for daily touring
Traditional full Irish breakfast every morning
4 dinners
Full-time host & guide – for all 9 days of the tour
4 local expert guides (Navan, Carrowmore, Inis Oirr and Rathcroghan)
Island excursion to Inis Oirr (weather permitting)
Emergency Local Contact available 24/7
ITINERARY
Day 1 – DUBLIN – Meet your group at The Gresham Hotel at 2:00 pm, then enjoy a welcome excursion to Kildare and St. Brigid's Holy Well followed by hotel check-in and a welcome drink in hotel lounge. Overnight in Dublin
Day 2 – WEST MEATH – Visit Loughcrew passage tombs located on The Hill of the Hag Dinner and overnight in Monaghan
DAY 3 – ARMAGH – Tour the Navan Fort (home the goddess Macha, mother of twins), Altadaven Forest (St. Patrick's Chair) and Armagh Cathedral (burial place of Brian Boru). Overnight in Monaghan
Day 4 – ROSCOMMON / SLIGO – Visit the ancient royal site of the Kings and Queens of Connaught – Rathcroghan and enjoy a tour of the site including the Cave of the Cats. then head for Sligo and visit the mystical caves of Kesh. Overnight in Sligo
Day 5 -SLIGO – Take a guided tour of Carrowmore Megalithic Cemetery followed by a trek up to the top of Knocknarea where you'll be in the presence of the giant cairn covering what is believed to be Queen Maeve's grave. Then take a mystical ride to The Glen on the Coolera Peninsula in Strandhill and explore one of the most luxuriant little forest hideaways in Ireland. Overnight and dinner in Sligo.
Day 6 – SLIGO TO GALWAY – Visit Lissadell House, childhood home of ConstanceMarkievicz – one of the leaders of the 1916 uprising and the first woman to be elected to Dáil Eireann… and the first woman to be elected to the House of Commons at Westminster. Her sister, Eva Gore-Booth was a well-known poet. Then head to the Knock Shrine and touch the healing stone that pilgrims have been touching since the apparitions of the Virgin Mary happened there in the nineteenth century. Overnight in Galway
Day 7 – FREE DAY – GALWAY CITY – Enjoy a day exploring one of the most vibrant cities in Western Europe. Galway is a city of art, music and history. Enjoy shopping, relaxing at the classic Meyrick Hotel or take a day trip to somewhere wonderful. Overnight and dinner in Galway.
Day 8 – HAGS HEAD & ARAN ISLANDS – Take a cruise out to Inis Oirr, the smallest of the Aran Islands and enjoy a guided tour of this mystical place. Coming back on the boat, view the mystical Cliffs of Moher – and Hags Head – from the water – stunning scenery.  Overnight in Galway
Day 9 – UISNEACH – Visit the spiritual center of Ireland. This old ancient site of ritual has been visitor friendly with identified paths and easy access to the mystical portals. Here you will be able to see and touch the enchanted Cat stone. Overnight and dinner in Dublin.
Day 10- Awaken in Dublin and either head to the airport for home, or continue touring on your own (we can help with suggestions for an extended tour).
Itinerary is subject to change considering weather and availability factors.  Overnights are in Dublin, Monaghan, Sligo and Galway. 
MAKE YOUR RESERVATION TODAY.

$500 per person deposit needed to reserve your spot (plus the $550 single supplement if applicable). Final balance due to be paid by 60 days before the tour.
Still have questions? Email Mindie at mindie@thinplacestour.com or call 410.623.2193 or 301.648.2010
*NOTE: Itinerary is subject to change based on availability and in some cases – the weather.